Comparing one's love of a football club to another's dedication to a religion is a pretty regular thing. "'X' club is my religion' and 'X stadium name' is my church'" – we've all heard it and, to be honest, most of us have probably even said something similar at some point.
Such comments and discussions are probably most common in the pub, or at least among people who have sunk a few shandies. "Dean Marney is basically a deity," said one devout Burnley fan.
But now, in the age of social media 'followings', football clubs themselves are starting to have delusions of grandeur, because apparently each 'follower' indicates a supporter, according to some.
SEE ALSO: Zlatan Ibrahimovic needs to get his head checked after latest comments
Manchester United have previous in this area, having claimed to be the "most supported club" in the world in 2015, as they pointed to their figure of 70 million followers on social media.
Perhaps they are, but that claims brings with it a whole range of follow-up questions; what constitutes being a 'supporter', how many of these 'supporters' also like other clubs et cetera, et cetera.
And it won't surprise you to know that United are at it again.
"The level we are engaging at, to put it in context, is akin to religion.

"John Lennon was famously quoted as saying The Beatles were 'bigger than Jesus'.

"Whilst we wouldn't want to be disrespectful in that way…"

Managing director Richard Arnold
(Sly dig at Liverpudlians with that Beatles jibe there…)
"… What you are seeing from a measurement point of view is that the level of engagement and fervour we get is on par with the world's major religions and those are the only things at the same level as Manchester United in terms of that interaction and engagement."
Now to be fair to Arnie, there are some obvious religious comparisons to be made using United players, current and former.
For example, who's more religious than God? If you remember, 'God' joined United on a free transfer from Paris Saint-Germain this summer.
Ibrahimovic, via @Aftonbladet: 'I heard what Cantona said. But I won't be King of Manchester. I will be God of Manchester.' #mufc

— Samuel Luckhurst (@samuelluckhurst) July 18, 2016
And then there's two people vying for the role of Jesus. Wayne Rooney fits the bill nicely; once considered United's great saviour and he could seemingly do no wrong (on the pitch) at least, but some people are starting to suspect he isn't quite as magic as was initially suggested. The same could be said for the 'Special One'.
Keeping things chill as our Buddha representative would be yoga and meditation guru Ryan Giggs… You know, before we found out about his rather more deviant 'hobbies'.
In David de Gea, Ander Herrera and Juan Mata United have themselves a few of respectable choir boys. Or the Spanish Inquisition, depending on your opinions of them, but no one would expect that.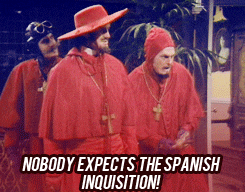 As for Chris Smalling. Well, he's definitely the donkey which carried Mary and Joseph to Bethlehem, while Mourinho would probably pin the 'Judas' tag on Luke Shaw following his ALLEGED  recent betrayal.
Perhaps United is like a religion after all.