In 1995, Middlesbrough made a glorious return to the Premier League after a two-year absence. With survival the primary objective, several high-octane signings were needed. Nearing the exit door of Old Trafford, Andrei Kanchelskis was one such target.
Ultimately, Kanchelskis ended up at Everton, enjoying a blistering season. With his pace and firepower, the Toffees enjoyed a then-rare season without relegation worries and finished sixth. There can be no doubt that he would have proven influential at Boro, but what if he had opted for the Riverside Stadium over Goodison Park?

SEE ALSO: Giroud joins Celtic in an alternate version of 2010
27th April 1996 – Andrei Kanchelskis becomes Boro hero
Two Kanchelskis goals at Anfield, one a powerful Kop-end header in off the post, cemented fifth place for Middlesbrough in 1995/96. The Russian winger had also been combining well with fellow newcomer Juninho in midfield all season.
The duo looked likely to continue that form in the upcoming UEFA Cup campaign, but it was not to be.
September 1996
Middlesbrough suffered an early exit at the hands of Borussia Mönchengladbach in the UEFA Cup.
Understandably, this caused a rift in the Riverside Stadium dressing room and prompted several other clubs to target Middlesbrough's finest.
Liverpool eventually won the Russian winger's coveted signature.
11th May 1997
Middlesbrough sank like a stone after Kanchelskis' departure. They were relegated after losing points for the illegal postponement of a match with Blackburn. Meanwhile, Liverpool kept pace with Manchester United, all the way to the final weekend of the season.
Already one point ahead of United, Liverpool ran out 3-0 winners over Sheffield Wednesday at Hillsborough, and lifted the Premier League trophy for the first time, in 1996/97.
Immediately, Alex Ferguson resigned from his position as Manchester United manager. His replacement, Walter Smith, had good credentials but failed to galvanise a promising squad. One by one, the golden generation departed Old Trafford, with Andy Cole and Roy Keane even defecting to Anfield.
26th May 1999
Though Kanchelskis would leave at the end of the 1997/98 season, his influence lived on. Liverpool F.C was once more an unstoppable force, and a regular feature in the Champions League. In 1999, the Reds proceeded all the way to the final for a showdown with Bayern Munich.
With 90 minutes gone, Liverpool and Bayern Munich were locked at 0-0 in Barcelona. Then, with Extra-Time looming, a late goal from Andy Cole gave Liverpool their fifth European cup in dramatic circumstances.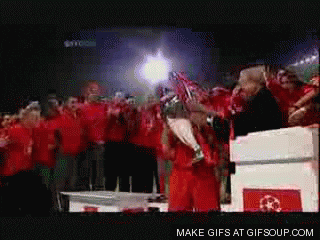 SEE ALSO: Why Liverpool's "You'll Never Walk Alone" will never be beaten
After the match, studio guest Kenny Dalglish was (understandably) in a buoyant mood. When asked if he felt that Manchester United could ever win as many league titles as Liverpool, he had only this to say:
"Alex (Feruguson), if you're watching this, read my lips. You are history, and the club you abandoned two years ago will NEVER knock the Liver bird off her perch!"
Two more European titles followed, in 2005 and 2007. Meanwhile, Andrei Kanchelskis, once a cup double-winning hero of Old Trafford, would go down in folklore as the man who destroyed Manchester United.
Andrei Kanchelskis may not still be kicking a ball about, but quite amazingly, these former Red Devils are!