The year is 2001 and Michael Owen is crowned European Player Of The Year. However, it was another England legend who was on the three-man shortlist for FIFA's World Player Of The Player: David Beckham.
That game against Greece, with the last-minute free-kick was fresh in the memory, as much as the hat-trick Owen scored in Germany in another qualifier earlier that year that helped him secure the Ballon d'Or. But, unfortunately for Beckham, the then-Manchester United winger was screwed out of the World Player of the Year and it was Luis Figo that was crowned the World's Best Player due to a typically controversial FIFA voting system.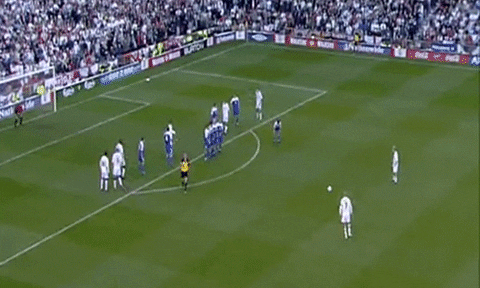 Beckham received the highest amount of 'top' votes from international managers and captains who decide the winner. However, it was a combination of second and third place votes that Figo received – which are added on top – that gave him the crown. Basically, David Beckham was robbed of going down in history as of one of the best.
This is how the voting worked: international managers and captains voted for their top three players in order of best, runner-up and thrid place. Their no.1 vote received five points, their runner-up received three points and their third vote would receive one point. All of the points received would be tallied up and the overall winner would be declared. Sounds pretty fair right? Well not really. This is how the final scores tallied up:
SEE ALSO: Remembering Platini before the politics
Amazingly both the top two players received the same amount of votes overall with 72 each, in comparison Raul who came third only received 32. As you can see David Beckham received the highest amount of 'winners' votes with 30 but it was Figo's higher amount of 2nd place votes that gave him the overall 'victory'.
So despite 72 managers and captains both thinking Beckham and Figo deserved to be in the running and 30 of them thought Beckham should win it outright, the award goes to the guy who received three votes less with 27? What a crock and total mockery this is. Who at FIFA thinks of these things? Let's have a voting system where the player who received the most 'winner' votes can come second? Good old FIFA never let you down.
What else is somewhat ridiculous is that Michael Owen was crowned Europe's Best Player but officially came eight in the World Best Player award despite every single player ahead of him all playing and being from Europe…what?
Thankfully this system of having the Ballon d'Or and FIFA World Player Of The Year as separate awards were scrapped and both were moulded together in 2010 to form the World's Best Player being given to one man and one man only. Lionel Messi and Cristiano Ronaldo have exchanged this honour back and forth ever since. However, new FIFA President Gianni Infantino has inexplicably split the awards up again! All so FIFA can have their name up in lights.
So in 2016, Cristiano Ronaldo was crowned the Ballon d'Or winner then had to wait a month or so to receive another award from FIFA to be told he was the best player last year as well…ridiculous. But still not as ridiculous as receiving the highest amount of winners votes but not actually winning like Becks back in 2001!
Now check out the Ballon d'Or winners if Messi and Ronaldo didn't exist