An emotional Vince Wilfork fought back tears during his retirement speech in front of a packed house. The legendary defensive tackle signed a one-day contract so he could retire as a New England Patriot, where he spent the first 10 years of his career.
There's nothing sadder than watching a big man cry, and boy, does Wilfork's speech tug at the heartstrings. The gracious, reflective Wilfork on stage is sharply contrasted with the Vince Wilfork we came to know and love on the football field; an enormous, barrel-shaped, defensive monster who struck fear into opposing quarterbacks.
"Only one thing I regret in my 13 years of playing NFL football is my parents didn't get a chance to see their son live out a dream he told them at the age of four I was going to be. Physically, it hurt every day. By the hour. Daily. Not a minute go by, but I know they had the best seat in the house."

Vince Wilfork
It's evident from the applause after his speech, which was well-attended by teammates and coaches, the level of respect Vince commands from his peers. There have been a lot of great defensive tackles in the NFL, but there will only ever be one Vince Wilfork.
The two-time Super Bowl champ made five Pro Bowls during his time in the league and was an unmistakable presence out on the field. Even in a scrum of abnormally large men, you could always find Vince. He's even easier to spot off the gridiron…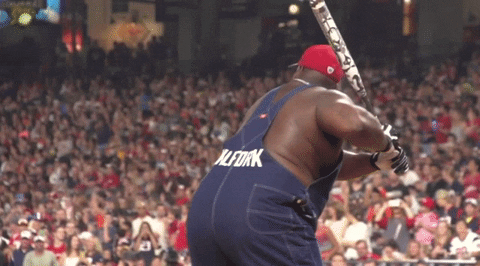 After Wilfork's retirement ceremony, Patriots coach Bill Belichick said that one of the biggest surprises of his 43-year NFL career was that Vince was still on the board when the Patriots snagged him with the 21st overall pick in the 2004 NFL Draft.
It's uncanny for a man of that stature to be so light on his feet, and while it's time for Vince to start the next chapter of his life, it's a bittersweet day for football fans because Vince Wilfork leaves some awfully big shoes to fill.