Many casual fans may not realise that there's a life to be had outside WWE, especially when you're one of the most underrated professional wrestlers in the world. Tama Tonga, who recently spoke exclusively to CLICKON Sports, fits directly into that category.
The 34-year-old has been forging quite the legacy for himself over in Japan, with his association alongside the iconic Bullet Club faction making him one of NJPW's biggest foreign superstars.
"I feel like some people should join the military right after high school, because it teaches a lot of discipline. Some of the draw backs were that you become property, you lose your freedom. You don't get your freedom that you're fighting for."
But, aside from that, Tama has also had quite an interesting life up until this point. As you can probably guess, he was born on the island of Tonga, before moving to Florida at a young age where he was able to flourish on a number of different levels.
Looking forward to our chat with @Tama_Tonga today! #BulletClub pic.twitter.com/91IhNwx9rF

— CLICKON Sports (@CLICKONSports) August 30, 2017
After initially being interested in a range of different sports it was the US Air Force that helped transform Tama into the man that he is today. Despite this, the king of the drop kick isn't shy when it comes to pointing out both the pros and the cons for people who may be interested in taking the same path.
Following years of service, Tonga was ready to spread his wings and try something new, which led him into the squared circle. His tutors were none other than The Dudley Boyz, who the majority of people reading this should know even if you only watched wrestling in your younger years.
"The traveling back and forth to Japan was okay at first, but I've been doing it for seven years now and it's getting pretty hard. Especially now that I have a family, it's hard sitting there on a plane for 15-16 hours and then it's a 24 hour travel day altogether. It gets old."
Of course, he also sought out the help of his father and Ricky Santana, and given how many different view points Tama must've had it's no wonder that he's been able to become such a well-rounded performer.
The man himself will admit that the travel situation isn't ideal, having to bounce back and forth between Orlando and Japan. Still, spending time with his family is a precious commodity for Tonga regardless of how much time he gets, which goes to show that this is a man who has his principles firmly in order.
Tonga, at his core, is much more than just the glue that holds Bullet Club together. He's a performer that continues to learn and grow which each passing day, refusing to settle for being 'one' of the best in the business.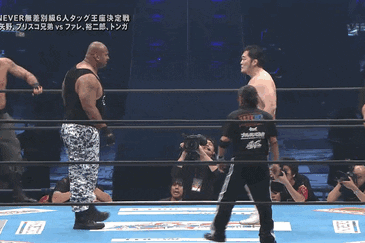 "I really enjoy wrestling, the creativity of it. I don't want to be stuck doing one or two styles. I really want to learn everything there is and be the most versatile wrestler there is. I have to constantly be on the move, I get bored easily. I have to keep moving."
His journey has been one of intrigue thus far and as we move into the back half of 2017, there's no doubt in our minds that the name Tama Tonga will be seen making the headlines for years to come.