NBA All-Star Rudy Gobert took to Twitter to call out the phony charity organizations profiting off the destruction Hurricane Harvey has caused, a disturbing pattern that is endemic whenever a disaster strikes.
Where can i donate if i want all of it to go 2 the victims? I just can't stand "charity" organizations taking advantage of these situations.

— Rudy Gobert (@rudygobert27) September 1, 2017
Gobert, a member of the All-NBA second team last year who led the league in blocks, is the latest athlete to leverage his platform for good.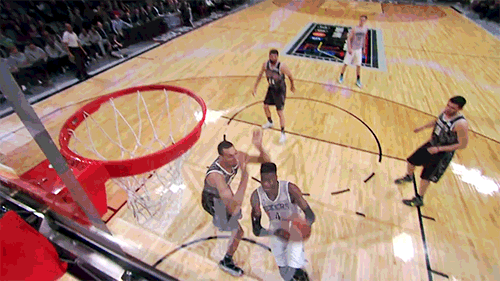 JJ Watt put the entire Houston metropolitan area on his back by raising nearly $10 million dollars that will go directly to those affected by Harvey. Watt, like Gobert, is taking precautions to make sure donations aren't going into the pockets of charity "executives" or other bullsh-t administrative costs.
The Red Cross, a globally recognized organization that has helped out millions of people, exists in a weird space where it's a hybrid charity/brand. When you start dealing with billions of dollars, foreign governments, and corporate partners, the waters get muddled.
The Red Cross won't, or can't, say what percentage of donors' dollars will go directly to helping Harvey victims https://t.co/wijjXGGNBg pic.twitter.com/hqF8DwxNdW

— NPR (@NPR) August 31, 2017
After the 2010 earthquake that devastated Haiti, the Red Cross raised more than half a billion dollars for relief efforts and ended up building six houses with that money. Six.
The American Red Cross is the United States' affiliate of the International Federation of Red Cross and Red Crescent Societies, ostensibly formed when Swiss businessman Jean-Henri Dunant traveled to Italy in 1859 to meet French emperor Napoléon III to discuss conducting business in Algeria.
During his trip, Dunant saw the aftermath of the Battle of Solferino, a brutal engagement that saw 40,000 men killed or wounded in a single day. Stunned by the lack of medical care for those wounded in battle, Dunant abandoned his original mission to secure the Algerian bag with Napoléon and spent three days tending to the wounded.
Profoundly affected by what he saw, Dunant wrote and published a book called A Memory of Solferino using his own money and sent it to top military and political figures in Europe. The book found its way into the hands of a group of influential Swiss doctors, politicians, and generals, who squadded up, formed the International Committee for Relief to the Wounded, hit up all their big homies across Europe, and held a conference the goal of making rules to mitigate what suffering they could on the battlefield.
Just one year later, in 1864, the actual Swiss government invited the governments of all European countries, the US, Brazil, and Mexico to the first Geneva Convention. In 1876, the committee changed its name to "International Committee of the Red Cross" and in 1919 The International Federation of Red Cross and Red Crescent Societies was established, which today coordinates activites between 190 National Red Cross and Red Crescent Societies.
For his troubles, Jean-Henri Durant went bankrupt (because he completely neglected his business endeavors after witnessing the horrors following the Battle of Solferino) and was effectively exiled from Geneva. However, he was the co-recipient of the first Nobel Prize ever awarded in 1901.
Long story short, the Red Cross and affiliated organizations were formed with altruistic intent, but have become global conglomerates dealing with billions of dollars, and the administrative costs and logistical realities of running such massive operations, compounded by people's inherent greed, means that a substantial percentage of money donated never reaches the people it's intended for. And Rudy Gobert don't play that.