The difficulties of fantasy football don't come from drafting the right team. They come from making the right adjustments for your lineup every week. It's the simple moves that transports you from Gronk spiking your phone through the floor when someone on your bench goes off, to shoveling trash talk into your opponents face when you bury him.
Instead of becoming the office pariah by constantly asking coworkers who you should start this week or bothering your significant other with tedious questions until you find your clothes on the front lawn, please find solace on a weekly basis with the start/sit options for you.
Week 1 of fantasy football season is perfect for everyone. No matter how early you picked a kicker or how many players that were once on the roster already find themselves on the IR, everybody's team has a chance to bring home the prize this year. Some may take Week 1 as a time to just plug in your early round picks and just let the season unfold. You know who those people are? The ones who will be sitting in the consolation bracket during playoff time wondering what went wrong. If you want to start your season on the right foot, here are your start/sit options for Week 1.
Start Em
Carson Wentz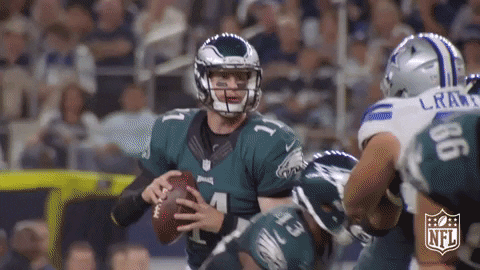 Me as I highjack the loud speaker on public transportation before Wentz's Week 1 matchup against the Redskins: "It's time to get aboard the Wentz Wagon boys and girls. Please try to arrive at the wagon as early as possible, as it is bound to fill up in a few weeks. Keep your arms and feet inside the vehicle at all times as you may be pulled off by stragglers hopping off the Dak Prescott train, sit back, relax, and enjoy the touchdowns."
After a mediocre rookie fantasy season for Wentz where he only saw five weeks with over 15 points and just one over twenty, all the pieces are in place for the Wagon to pick up speed this year. Not only does Wentz have the luxury of throwing to weapons like Torrey Smith and Alshon Jeffery this season, paired with an actual rushing attack and an upgraded offensive line, but he has the chance to show it all off Week 1 against the defense that was 25th in passing yards allowed last season. He started off hot last year, and he'll start off hot this year.
Bilal Powell
While everyone was spending their summer coming up with jokes about the Jets becoming the first football season to follow the NBA's footsteps and to tank, they overlooked the fact that the Jets have a solid runner in Bilal Powell. When he finally got a chance last season, he turned his only starts over the last four weeks of the season into 29, 15, 7, and 19 points in ESPN Standard Scoring Leagues. That last 19 point effort also came against the Buffalo Bills.
Bilal Powell was tough to take down in 2016 pic.twitter.com/xXe127ybdA

— Pro Football Focus (@PFF) September 5, 2017
In typical Jets fashion, the team still doesn't really have a passing attack in place. The battle between Christian Hackenberg and Bryce Petty turned into ancient Josh McCown, while their best receiving threat in Jermaine Kearse only joined the team days ago. Without any sort of offense likely coming through the air, this team is going to ride Powell against the defense that finished 29th against running backs last season, who also lost their best linebacker in Zach Brown. You may feel nauseous now betting on a Jet, but you won't when he goes off Week 1.
Stefon Diggs
At this point last year, you would've penciled in Diggs to start off your season after a breakout campaign in 2015. He may seem like a stretch as a starter now, but there are few players that have more upside Week 1 than the Vikings' top receiver.
We learned a few things last year: 1) Sam Bradford doesn't like to air the ball out by any definition, which led to 2) Stefon Diggs couldn't be relied on. While the third-year wideout wasn't exactly consistent week by week, he was consistent in another way; he absolutely torched bad defenses. Diggs put up positive performances in just five games last year against the Titans (the 31st best team against wideouts last season), the Packers (32nd), the Bears (25th), the Redskins (15th) and the Lions (27th). Guess who Diggs is going up against this week? The New Orleans Saints, who gave up the most passing yards in the league last season. I'll let you do the math on that bad boy.
Sterling Shepard
While everyone and their mother who drafted Odell Beckham Jr. wonders whether or not they should start the superstar who's currently questionable with an ankle injury, those who have Shepard should feel confident in starting the man who will ultimately benefit from this injury in a huge way. Even though he was another player who was streaky last season, the second-year wide receiver has a perfect storm brewing that can be explained very simply. If OBJ does sit out, those targets will come Shepard's way. Even if he doesn't sit out, he's still clearly dealing with an ankle injury. He'll likely be slowed down, and could see a poor production week, while Shepard reaps the rewards.
Plus, it's not exactly like they're going against the cream of the crop in this secondary. Just ask Head Coach Ben McAdoo who's covering the Giants' wideouts.
Ben McAdoo quips that the Cowboys' secondary looks different in 2017. "If you know who's playing corner for them, you can let me know."

— David Helman (@HelmanDC) September 6, 2017
OBJ or not, this is an attractive matchup for a receiver who will be overlooked by many defenses. All eyes will constantly be on Brandon Marshall and Beckham, leaving Shepard to make the Cowboys' corners pay.
Todd Gurley 
If you're one of those people who are still bitter about Todd Gurley and how he ruined your fantasy season last year, don't worry you aren't alone. Let the man make it up to you.
He isn't expected to have the same output he did in 2015, but he'll completely fool you after his performance Sunday against the Colts. Indianapolis is one of the worst teams against the run, finishing 24th best against running backs in fantasy rush last year while finishing 25th in rushing yards allowed. If that isn't enough, then here's the simple reminder that you don't go against Gurley when he's a favorite at home.
In Todd Gurley's last six games as a home favorite, he's averaged 19.6 DK ppg. Never been below 13.6.

— Adam Levitan (@adamlevitan) September 7, 2017
Gurley is expected to have an even bigger role in the offense this year to to his involvement in the passing game. With even more opportunities to crush a bad defense, Gurley is going to get fed early and often on his way to a huge start to his third year.
Sit Em
Russell Wilson
Every year, the same trend occurs. The Seahawks head into the season with big expectations, the offense starts off incredibly slow, and people absolutely panic. Instead of rinsing and repeating and joining the impending sh-t show, get out of the way, and store Wilson on your bench.
He does manage to be one of the best fantasy quarterbacks in the league, but in the first few weeks of the season he's simply not good. Last year, Wilson delivered a bland 11, 11, and 13 during the first three weeks of the season for an average of 11.6 points per game. You know who averaged 11.6 points per game last season? Trevor Siemian. That's not exactly the name that brings comfort with your decision to start Wilson. Plus, the man simply can not win a game at Lambeau Field.
Time for a streak to end: The #Seahawks have lost their last seven games at Lambeau Field. Haven't won there since 1999. #Packers

— Aaron Levine (@AaronQ13Fox) September 6, 2017
Last year at Lambeau, Wilson put up just four more points than you and I during a performance that featured five interceptions. Look for things to stay the same, and stash Ciara's husband on the bench.
Kareem Hunt
Yes, Kareem Hunt is now the starting running back with Spencer Ware shelved for the season with a torn PCL. Yes, he was one of the best sleepers in fantasy football before this news, and yes, he will have a big rookie season. That doesn't mean he's the kind of player you blindly start each and every week, especially not this one.
Hunt is the perfect example of a good player who's just in a bad matchup. The Chiefs are expected to lean heavily on the run this season, but as Mike Tyson famously said: "Everybody has a plan until you get hit in the mouth." The translation for that iconic phrase for this scenario means everyone has a plan until Tom Brady takes them out back and has his way with them, just like he always does on opening night at home.
Tom Brady in Game 1 home openers

(8-0) – 26.8 PF/G – 19.3 PA/G

186 Cmp – 273 Att – 2,098 Yds
19 TD – 3 INT – 109.5 QB Rate

nice pic.twitter.com/BYEe6tTRhN

— Boston Sports Info (@bostonsportsinf) September 6, 2017
If Brady plays like he always does, you can expect the Chiefs to be in a whole, and they could abandon the run game. Even if they don't, Hunt would be slated to go up against an extremely underrated defense that finished 5th overall against running backs in fantasy last season. Expecting a rookie to have a big week with all of that stacked against him is an extremely tall order.
Frank Gore
We are Frank Gore (23) days away from @Colts football! @TheBlueMare #FrankTheTank #HoF #ColtsNation pic.twitter.com/niS7mjgwbn

— Colts366 (@Colts366) August 18, 2017
Normally you'd bench a wide receiver when his superstar quarterback isn't expected to play, but in the case of Frank Gore, it's the rushing attack that will be affected in Indy.
It's a simple philosophy that for some reason doesn't make sense at times in the NFL. When your passing game takes a hit, you lean on the run. For the Colts, they still just try to chuck and duck, while Gore's fantasy owners are the ones who have to pay. In the past two seasons over the 10 games Andrew Luck has missed, Gore has scored double digit points just three times, including a two point stinker last year when backup Scott Tolzien took the reigns. Until Luck is back, stay far away from Gore.
Joe Mixon
Mixon is one of the most troubled players to enter the league, but there was no denying his talent. Even though he looked like he'd never meet his full potential due to his past actions, the Bengals decided to snag him in the second round, miraculously transforming him from damaged goods into intriguing fantasy option. It's truly amazing how that works. Yet still, even that can't help Mixon overcome one extremely important obstacle.
The other two running backs ahead of him on the depth chart.
Bengals Week 1 RB depth chart:
1) Jeremy Hill
2) Giovani Bernard
3) Joe Mixon

— Andrew Siciliano (@AndrewSiciliano) September 5, 2017
Mixon may end up taking over at some point in the future, but as of right now, he's just a rookie sitting behind the two-headed monster that has owned the Bengals backfield for the past few seasons.
Marshawn Lynch

For all of you looking for a vintage Beast Mode performance for the first time in years, you won't get it this week.
Lynch returning to the NFL to play for his hometown team may be one of the most touching stories in the league, but you won't feel touched as he goes against the league's top defense against running backs in fantasy football last season. The Raiders all laugh and joke about how they'd give Beast Mode the ball on the one-yard line unlike the Seahawks, but that might not work against a Titans team who only gave up six rushing touchdowns all year.
With Carr and a loaded passing attack going against one of the worst pass defenses in the league, keep your Skittles packed away. You won't be celebrating with those this week.