The difficulties of fantasy football don't come from drafting the right team. They come from making the right adjustments for your lineup every week. It's the simple moves that transports you from Gronk spiking your phone through the floor when someone on your bench goes off, to shoveling trash talk into your opponents face when you bury him. Instead of becoming the office pariah by constantly asking coworkers who you should start this week or bothering your significant other with tedious questions until you find your clothes on the front lawn, please find solace on a weekly basis with the start/sit options for you.
Week 1 is in the books, and whether your curse-laced messages that you sent to the kid you're playing show it or not, everyone is still on a semi-equal playing level. There's no need to panic (seriously, just read here). Whether you spent your time calling Andy Dalton every ginger-based slur you've ever heard of or already built a shrine to Kareem Hunt in your house, every still wants to walk out of Week 2 with a win. Without further ado, here are the top start em/sit em options for your quest to either remain perfect or finally get on the board during your fantasy season.
Start Em
Jameis Winston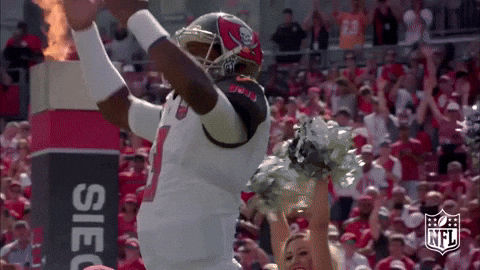 If you're looking for some sort of crab joke here, look elsewhere, because this is Famous Jameis country. Winston performed well last season, but with an offensive-minded coach and even more weapons to throw to this season, he's expected to have what we'd consider a breakout season. Just because the party got delayed one week doesn't mean it's canceled.
In fact, there's no better way for Winston to come back. He's going against a Bears defense that allowed the 12th most fantasy points last season and did not get better in the secondary by any means. Matt Ryan and company didn't even look their best and he still managed to rack up 17 points. Look for the Bucs to control the game and the scoreboard as Winston goes wilder than he does when he pulls up to a Joe's Crab Shack (had to slip one in there).
Rex Burkhead
There are a few things you can pay attention to in fantasy football, and everyone has their own recipe for success. Some pick up players based on the defense they're playing, while others ride a hot hand. All are good, but there's one thing for certain. If Bill Belichick says he's going to do something, you take out every single form of currency you have in your wallet, and you bet that his team does it, especially after a loss. In this case, Burkhead's fantasy owners are going to be the ones benefiting.
Bill Belichick on Rex Burkhead, Mike Gillislee: "Hopefully we can coach them better and make them more productive."

— Henry McKenna (@McKennAnalysis) September 11, 2017
If Belichick wants more production out of Burkhead, you better understand that means he's going to peg the football at him until he gets his way. He may have only had one catch on three targets last week, which is why the Patriots are going to have to get him into the game plan. Luckily for them, they're going up against the team that just made Sammy Sleeves look like Brady himself, the New Orleans Saints. The Saints allowed Vikings' running backs to haul in six catches on eight targets for 42 yards, while two measly incomplete passes were both dropped by rookie Dalvin Cook. If they're going to just let running backs have their way coming out of the backfield, you better believe Belichick is going to exploit it.
Thomas Rawls
Rawls is nothing but risky at this point but let's face it, the Seahawks rushing attack couldn't possibly get worse. It was expected to be a crowded backfield this season in Seattle, but luckily for Rawls, his teammates decided to leave the door wide f–kin open for him as Eddie Lacy rushed five times for three yards in his debut, and Prosise raised the stakes with his four rush/11 yard performance. Since they'd like to have at least a hope of a run game, Rawls will have his starting job back when he returns healthy this week. Plus, Seattle's O-Line coach Tom Cable pretty much made his return sound like the defense should prepare for some sort of horrifying Batman villain.
Run-game coordinator/OL coach Tom Cable on what RB Thomas Rawls' return Sunday vs SF will bring: "Violence." #Seahawks pic.twitter.com/u12ihvm9RI

— Gregg Bell (@gbellseattle) September 13, 2017
He may still be a risk considering he's coming off of a horrific injury-plagued 2016 season where he scored an average of 6.2 points over nine games including just one double digit outing. Still, if there was ever a time for him to bounce back, it's this week. With Russell Wilson leading the team in rushing a week ago and Seattle facing off against San Francisco, arguably the worst defense in football, this is the best time to feel confident about starting him.
Jamison Crowder
Crowder put all the doubt in the world into the hearts of fantasy owners last week after he finished with a three-catch, 14-yard stinker. Even in one of his worst performances, there were a few reasons you can point at. The wideout was coming off a hip injury that may have lingered into the regular season, but has been a full participant in practice last week. Plus, he was just one play away from having a relevant game, but he was overthrown by Cousins.
#Redskins QB Kirk Cousins throws INT on 3rd-and-6 at 14-yard line. Overthrew Jamison Crowder.

— Stephen Czarda (@SCzardaRedskins) September 10, 2017
Crowder was the third receiver in last year's offense, and still came away with 97 targets. His seven targets last week are promising for a down game, pointing to him getting even more looks when he and Cousins are on the same page. The Rams may have looked great last week against a replacement-level team in Indy, but let's not forget they gave up the ninth most fantasy points last season, including the third most touchdowns through the air. With a favorable matchup in what will likely be an empty Rams stadium, you can expect a solid day in all PPR leagues.
Ted Ginn Jr.
Betting against the Patriots is never smart, but don't think of it that way. Think of it like you're betting for the Patriots making this an absolute shoot out, which would definitely be huge for a deep threat like Ginn.
You definitely shouldn't expect the Saints to hang up the same amount of points on the Patriots defense as the Chiefs did a week ago, but one thing Kansas City did do was expose the fact that New England is susceptible giving up the long ball, with two Chiefs touchdowns coming from over 70 yards out. There are few offenses in the NFL that go for the big play more than the Saints, and few guys with more speed than Ginn.
Sit Em
Dak Prescott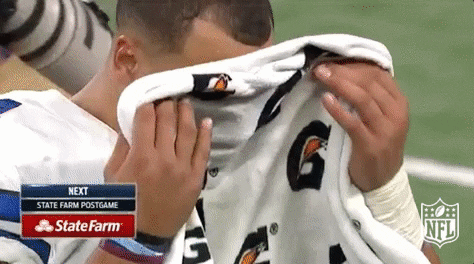 If you want to win a football game, Dak's your guy. He flat out wins. Sadly, you aren't starting an expansion team in your Madden franchise. You're trying to win a fantasy football game, and Prescott is simply not your guy this week.
He may have had some good games last year and shines bright week after week with the right reads, but when he plays good defenses he is nothing more than a game manager. Last year when facing some of the best defenses in the league, he put up a 10 point performance against the Giants, a 10 pointer against the Vikings, and then a measly six against New York once again. He put up a solid 16 points against the Giants this week in his best performance against them yet, but he has an even tougher slate as the Cowboys head to Mile High to play one of the best defenses in football. Denver is just as good, if not better at forcing pressure than the Giants, and has two corners in Aqib Talib and Chris Harris who take wideouts out of the game. Expect a heavy dose of Zeke and a backseat for Dak.
Leonard Fournette 
For everybody who's throwing around Ezekiel Elliott rookie year comparisons after one good game, you need to slow down, take a deep breath of fresh air, and realize he plays for the Jacksonville Jaguars. Sure, they beat up on a solid Houston defense and he may have had one of the best fantasy days at his position, but his success came from the gameplan, not his individual play where he rushed for a mediocre 3.8 yards per carry. What benefited Fournette is the 26 carries that came his way, more than anyone else in football. That's going to be hard to do again, considering it's not often the Jaguars have a big lead in the second half. Normally, they'd put the ball in Bortles' hands instead of letting him throw just 21 times. Do you know when the last time he threw just 21 times was? Never, that's when.
Jaguars QB Blake Bortles threw only 21 passes against the Texans, the fewest he's ever thrown in a game (previous… https://t.co/O5BipZicUt

— Michael DiRocco (@ESPNdirocco) September 10, 2017
In the past two years, he's only thrown the ball fewer than 30 times three times in 32 contests, a trend that will likely restart when the Jaguars are going against the Titans. Let's also remember Tennessee had the best defense against running backs in fantasy last year, and just finished shutting down Beast Mode. Put the Zeke comparisons in the same place you put the Jaguars AFC Championship banners — the land of make believe.
LeGarrette Blount
It wasn't a hot start for Blount, and it doesn't get hotter from here. There's probably a pot smoking joke somewhere in there, but instead, you can focus on Blount's poor 3.2 yards per carry against the Redskins, something that's not going to go up against the Chiefs. Kansas City may have given up three scores on the ground as the Patriots marched down the field, but it's not going to be the same story for Philly who simply does not have the same type of offense to get him in the red zone as often as New England did. It's hard to guarantee production against a solid defense when there are just too many players at your position that get snaps.
Eagles HB snap count today: Darren Sproles 33, LeGarrette Blount 23, Wendell Smallwood 16. Out of 68

— Nathan Jahnke (@PFF_NateJahnke) September 10, 2017
He masked his poor Week 1 showing by scoring a receiving touchdown, another thing you can't count on considering it was just the second of his career and something Darren Sproles specializes in. With Kansas City giving up just 3.5 yards on the ground to New England a week ago, it's going to be more of the same for Blount, which means a bad fantasy performance is on the way.
Golden Tate
Tate may be a monster in PPR formats and will likely get his, but you can't expect the same kind of 10-catch performance he had a week ago against the Cardinals. Even though Patrick Peterson is a monster in that secondary, Arizona was completely manhandled by Matt Stafford, something that won't be happening against the Giants. New York has a better defense, something Stafford knows after his zero touchdown game a year ago. Plus, Tate will have to deal with Janoris Jenkins hounding him all day now that the Giants know better than to put anyone else on him.
Dominique Rodgers-Cromartie takes over for Janoris Jenkins and on the first play Matt Stafford goes 67 yards over DRC to Golden Tate.

— Ralph Vacchiano (@RVacchianoSNY) December 18, 2016
Jenkins just got finished shutting down Dez Bryant who caught just two balls on nine targets, and will likely do the same against Tate. Unless the Lions can find a way to get him open, Tate and the Lions offense are going to have a long day.
Jay Ajayi
Instead of arguing about how Ajayi was good for just four games last season and is as solid as the Bills' claim to the throne in the AFC East after one week, we can focus on the fact that he simply doesn't have a good pass rush. C.J Anderson may have had 80 yards on the ground, but the Chargers showed the ability to completely stuff a ground and pound runner at times, which would limit the space Ajayi had to break off one of those long runs that made him fantasy famous a year ago. Plus, he mysteriously found himself on the injury report in the middle of the week.
Jay Ajayi is on the Miami Dolphins practice report with a knee injury. But he practiced in full today.

— Joe Schad (@schadjoe) September 13, 2017
Instead of feeding him, the Dolphins may take the same approach as Denver by sharing amongst a number of backs, giving Kenyan Drake and Damien Williams a chance to cut into his work load. It's going to be hard to sit a player who was an early round pick, but don't expect him to start his season off on the right foot for you this week.
Looking for the perfect waiver wire pick up to avoid a dud this week? Click here.