What is the line in fantasy football between gaining an advantage from your opponent and cheating?
Yes, there is a commissioner who oversees everything. Let's be honest though, he's trying to win just as much as the next player and rarely spends much time making sure everyone is playing by the rules. Most times, the websites we use to play help keep the game from being overrun by anarchy. Outside of one-sided trades, a player throwing the season or questionable adds and drops the game governs itself.
That being said, there are still ways to gain an advantage from your fellow fantasy players without breaking rules, perceived or tangible.
Every Friday, we will look at alternate angles that can aid to you hosting the trophy at the end of the year.
1. Running Back Battles
There may be no more valuable commodity in football than a stud running back. As top tier players become more valuable, injuries can derail a season. To combat that, more and more teams employ running back by committee strategies to try and preserve their ball-carriers. At the same time, coaches have a hard time trusting a multitude of players. To appease both the notion of preservation and entrusting more than one ball carrier, coaches will employ one player to cover the ground game on first and second down and a more skilled player to handle pass-catching/blocking duties on third down. In the weeks to come, several running back battles will play out. Here's a couple to keep an eye on this weekend.
The hope was Thursday night's game would provide some clarity on the Joe Mixon/Giovani Bernard/Jeremy HIll trifecta. It did not.
In this year's draft, the Bengals took a running back in the second round for the third time in five years. None of those three running backs have double digit carries in either game this season. On Thursday night, the Bengals became the first NFL team since before World War II not to score a touchdown in their first two games. Their offense is in shambles. Quarterback Andy Dalton is so bad he's even laying out his own center. The red-headed delegation has renounced his draft rights. Having said all that, Mixon is definitely the Bengal to own and I would jump on him now because things can't get worse. Mark my words, by Week 7 he'll be doubling his current carries–which isn't saying much, but can be enough in the fantasy world.
I'm not saying Adrian Peterson will dominate the carries this week, I'm also not saying Peterson won't take over for Drew Brees and play quarterback. What I do know is I would never want to be on the receiving end of AP's death stare targeting head coach Sean Payton last Monday. Look, I'm not one to bring up old stuff, but I know Peterson's "alleged" history. If I were the New Orleans Saints head coach, I would have took off the headset right there and disappeared like Coach Klein in The Waterboy.
Last week, Peterson only played nine snaps. Mark Ingram and third down specialist Alvin Kamara both played 26 snaps. New Orleans were down most of the game on Monday night, so Kamara's involvement makes sense. What will be the number to look at this week is the ratio of snaps between Ingram and Peterson. If there's even the slightest of shifts, Payton might be tipping his hand for usage later down the line. Don't forget the Saints scored 17 touchdowns last year. If you don't think Peterson is a threat. Let his eyes do the talking.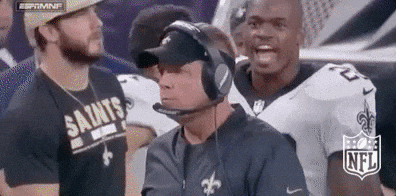 In Denver, it clearly is CJ Anderson's job to lose. Not only did Anderson double backup Jamaal Charles' carries, but Charles also fumbled in the fourth quarter. Having said all that, both Peterson and Charles are coming off major knee injuries last year and it would make sense for both teams to ease these guys back. It's also important to remember Anderson has yet to play a full season in the NFL. Much like Peterson in New Orleans, if you start to see Charles begin to bite into Anderson's carries, it might be a sign its time to jump on Charles.
2. Trendsetting
In Miami, New England and Baltimore there are quarterbacks and wide receivers learning on the go. Either because of injury or free-agency, quarterback-receiver chemistry is still in the early stages of experimentation. As the season goes on, most quarterbacks start to favor wide receivers, a la go-to-guys. Think Andy Dalton and AJ Green. Watch this weekend's games to see who becomes Jay Cutler's guy. In Chicago, Cutler loved to find that one receiver he could turn to when things go hot.
Julian Edelman was that guy for Tom Brady. You could see Brady struggle in week one and part of it was due to that injury. The same thing can be said for Eli Manning without Odell Beckham, Jr. This week, pay attention to who Brady locks on to. I think it's James White. Brady heavily relied on the pass-catcher out of the backfield in the playoffs and Super Bowl.
In Baltimore's first drive, Joe Flacco looked to Danny Woodhead three different times through the air, and would have finished it with a fourth catch and a touchdown had Woodhead not gone down with a hamstring injury. Flacco was 5-7 on that initial drive. After Woodhead's injury, he went 4-12 the rest of the game. Nobody threw the ball more than Baltimore did last year. Unless you are in a 14-team league, Breshad Perriman and Mike Wallace are available. Jeremy Maclin is probably hanging on someones bench. They might be extremely valuable in an offense that loves to sling it.
3. Coaching tendencies
LeGarrette Blount scored 18 touchdowns last year. Run the ball when close to the goal line is the Patriots game plan. Mike Gilislee was the recipient in game one, scoring two short scores. His value is entirely based on goal line carries. Everything else is completely up in the air, or is it? As unpredictable as Bill Belichick is perceived when it comes to running backs, he really isn't.
"The Hoodie" likes to exploit match-ups. Many were caught off guard when Jonas Gray (remember him?) rushed for 199 yards with three scores a few years back. No one took notice that Belichick's game plan was to pound the ball against a putrid Indianapolis Colts run defense. Belichick will always choose the running back that gives him the best chance of winning. Gilislee's job is safe. James White–third down pass-catcher–is safe. I said it in the preseason and I'll say it again, keep an eye on Rex Burkhead.
VIDEO: Bill Belichick says Mike Gillislee, Rex Burkhead bring 'explosive playmaking' #Patriots #GoPats | READ MORE: https://t.co/Glpayhqw63 pic.twitter.com/fAYheXfesL

— The Patriots Wire (@Patriots_Wire) September 11, 2017
There's nothing that gets Andy Reid more jacked up than an all-purpose running back. Outside of running through brick walls, of course.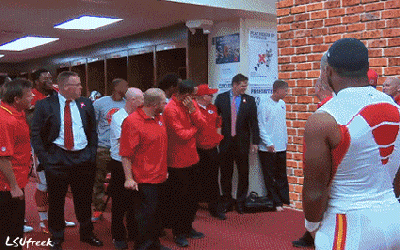 Did I include Andy Reid in this just to have an excuse to show this gif? You're damn right I did.
In the Chiefs' Week one victory, Kareem Hunt touched the ball 22 times on 40 snaps. That is an insane workload. Will Reid continue to ride Hunt? Or was game one a product of circumstance. Keep an eye on his touches because he might be a great sell high candidate as the season progresses and first-year players hit the rookie wall.