Whether your draft has you already deciding between diving head-first into your money Scrooge McDuck style or build a moat with your winnings, or if your roster looks just about as attractive as the Jets, you still want to make the best pick up possible on the waiver wire. Only a fool would let their fantasy roster sit week after week without making the necessary roster moves, unless they're genius enough to play with the type of owners who think it's a smart move to get the best kicker available in the third round. For those in the latter, here are the top waiver wire pick ups for your fantasy football team this week.
With Week 2 in the books, the panic button looks more and more attractive. Maybe you've lost a top-tier pick or you simply can't press the right buttons with your roster to save your life. That's the beauty of the waiver wire. The season is far from over after just two weeks and the waiver wire is here to save your fantasy ass. Just remember the recipe: opportunity creates success. Sure, it sounds like a corny caption The Rock might put up on Instagram, but it still could save your fantasy season.
Honorary Mention: Devin Funchess- Carolina Panthers, WR (6%)
11. Chris Johnson – Arizona Cardinals, RB (owned in 2.1% of ESPN Leagues)
He's baaaccck #birdgang #cj2k @ChrisJohnson28 #NFL pic.twitter.com/h9GVWewqJd

— EAGSportsManagement (@EAGSports) September 12, 2017
He might not be the CJ2K of old, but that didn't stop him from taking the bulk of the carries away from last week's hot fantasy pickup Kerwynn Williams. His 11 carries for 44 yards and no scores aren't going to get your juices flowing and probably won't even pique your interest in any way, shape, or form, but he proved he can be the starting running back in Arizona. Williams will likely remain the starter for now while Ellington commands the pass-catching duties out of the backfield, but it won't be long until Johnson is the starter. If you've got the open bench spot, add Johnson accordingly.
10. Geronimo Allison – Green Bay Packers, WR (.5%)
Not only does he have a first-ballot Hall of Fame name which should be enough of a reason to pick up him, he has the best chance to be a monster out of the majority of the players on this list. Yes, there are a lot of mouths to feed in Green Bay but two of those players took a trip to the sidelines this week thanks to injuries. With Jordy Nelson 50/50 to play this Sunday and Randall Cobb considered day-to-day, there's plenty of opportunity for a backup in Green Bay to snag some targets. After last week's snap count, it's obvious who that is.
Backup Packers WR snaps last night: Geronimo Allison 61, Trevor Davis 17, Janis 1.

— Adam Levitan (@adamlevitan) September 18, 2017
Allison isn't the sharpest tool in the shed which has definitely impacted his productivity over the years including this season where he missed Week 1 due to suspension. Still, he's a freak athlete who can easily come in and take on targets from the best QB in the league. He's currently available in essentially every league that doesn't involve a cheesehead or someone related to him, so he should be around as an early season addition you won't forget.
9. Evan Engram – New York Giants, TE (9%)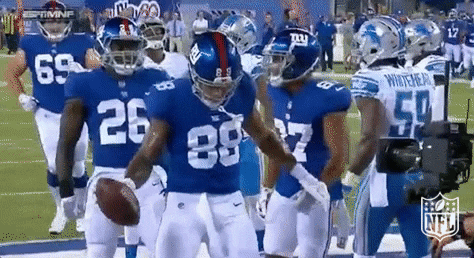 Right now, the tight end position is about as attractive as a stripping contest in an old folks home. If you don't have a big name like Travis Kelce or Zach Ertz, you're floundering around looking at terrible option after terrible option these first two weeks. The best thing you can do is to build for the future, while maintaining at least a bit of consistency. That's why Engram is your guy this week.
Only rookie TEs ever with 7 grabs, 93 yards and a TD through their first two games:

Evan Engram, 2017
Jeremy Shockey, 2002

(via @pfref) pic.twitter.com/siDJaYJYA9

— Thomas Duffy (@TJDhoops) September 19, 2017
Are his eight catches on 10 targets for 93 yards and a touchdown going to blow you away right now? No probably not, and if so, you should definitely raise your standards. Still, those halfway decent stats are still good for the 9th best tight end in fantasy football, and it shows that Engram isn't exactly a boom-or-bust option now that he has four catches in both games. If you're dealing with a Greg Olsen injury on your roster or you simply don't want to deal with Tyler Eifert because of his ginger nightmare of a QB, Engram is a high upside guy who will only get better and better throughout this fantasy season.
8. Markus Wheaton – Chicago Bears, WR (.4%)
It's not exactly every day you put someone with a grand total of zero points on the waiver wire list, but picking up Wheaton will show you're paying attention to the brutal situation in Chicago. This team is losing weapon after weapon with Jordan Howard and Kevin White both injured at the moment.
The entire wide receiver corp is banged up and in need of a new face, which is why his return from injury this week will be perfect for the Bears. He's shown his talent in the past, putting up 749 yards on 44 catches and five scores in a limited role for the Steelers last season. His offense clearly isn't as good as the one in Pittsburgh, but he has a huge opportunity to emerge as the No. 1 wideout this week. Instead of battling everyone else in your fantasy league for the right to pick him up next week, grab Wheaton a week early.
7. Jalen Richard- Oakland Raiders, RB (2.5%) 
We can address the dread-headed dancing elephant in the room right now — Marshawn Lynch is currently the top dog in Oakland. He's still the man by the Bay which hurts Richard's stock greatly, but he's still showing he can be a monster if he gets touches. Yes, playing against the Jets is like going to your local playground and beating up on little kids, but just look at the breakaway speed.
32 teams passed him up 7 times. The 🚀! @RocketRich30 pic.twitter.com/zbgBe2iNIY

— Raider Nation Boston (@RaiderNationBOS) September 17, 2017
Even with Lynch getting the bulk of the carries, Richard proved he's still fantasy relevant, with 51 yards on two catches and 58 yards and a score on six carries against the Jets. His touches are limited but he makes the most out of them which is all you can ask for. He'll get those touches next week against the Redskins, which should be a nightmare for each and every Washington fan.
#Redskins pass defense:

CBs — 16-of-29 (55%), 175 yards (6.0 YPT), 0 TD

LBs and Safeties — 26-of-31 (84%), 384 yards (12.4 YPT), 3 TD

— Chris Raybon (@ChrisRaybon) September 19, 2017
If you're currently in a deep league with a huge bench, definitely pick up Richard as a stash option for the future. If not, at least put him on your fantasy watch list and be prepared to beat yourself up when he has a great season.
6. Jermaine Kearse – New York Jets, WR (6.5%)
Former Seahawks WR Jermaine Kearse with a 35 yard TD reception from Josh Mccown! pic.twitter.com/90kzOLawXX

— NFL Update (@MySportsUpdate) September 17, 2017
From last week's honorary mention on the waiver wire weekly to cracking the list this week! What a time to be alive for Kearse! Of course, he's living life in football hell and may not be apart of a single victory all season, but at least he has his name mentioned on this list to keep his spirits up. The biggest knock against Kearse heading into this season wasn't his talent level. It was his ability to learn the playbook quickly considering he only joined the Jets a few weeks ago. After putting up 11 catches for 123 yards and two touchdowns in just two weeks with this team, it's clear he's acclimated with this offense.
5. Rashard Higgins – Cleveland Browns, WR (.4%)
Following up a Jet with a Cleveland Brown is definitely not great for the legitimacy of this list, but it's just a the way the fantasy Gods dished this one out for us. Higgins is barely owned at all considering he wasn't in the starting lineup at all a week ago, but he got his chance this week and made the most of it.
Rashard Higgins' 7 catches for 95 yards earned starting spot on #Browns depth chart. Still not sure what Kenny Britt did to keep his.

— Daryl Ruiter (@RuiterWrongFAN) September 19, 2017
With Corey Coleman breaking his hand for the second straight year in a row and headed to the short-term IR, Higgins has gone from completely irrelevant to a starter in the NFL. It's unreal how this happens in Cleveland, but he already is one of the more talented weapons on the team considering how bad Kenny Britt has done through two weeks. As the Browns try to match their win total from last year, they're expected to be down a lot. Garbage time fantasy points are still fantasy points boys and girls. Don't ever forget it.
4. Samaje Perine – Washington Redskins, RB (2.2%)
With Fat Rob Kelly currently dealing with a fractured rib, it has quickly become Perine's team. He may not break out like Kareem Hunt just yet, but he's another rookie with a stupid amount of upside that just needed a chance. Kelly was productive for a hot minute before he got injured, but Perrine has the chance to prove he's the better back.
I love Chris Thompson for what he does, but Samaje Perine just out-carried him 21-3 yesterday.

— JJ Zachariason (@LateRoundQB) September 18, 2017
He got the bulk of the carries and still had a decent day against a formidable front seven for the Rams. All he needs is one big week to put Kelly on the back burner and become yet another huge rookie running back this fantasy season.
3. JJ Nelson – Arizona Cardinals, WR (20.7%)
There's a reason why Nelson is the most owned player, percentage-wise on this list. Sure, the Cardinals may look pretty unwatchable at this point, but Nelson doesn't. He's been the one bright spot in Arizona thus far, racking up 10 catches on 13 targets.
The efficiency is there, as is the scoring as he's put up a touchdown in back-to-back weeks. John Brown has been dealing with an injury and isn't productive enough to get his spot as the team's second wideout back. It's Nelson's job now, and he'll lock it up the rest of the season.
2. Trevor Siemian – Denver Broncos, QB (13.6%)
Yes, there are always the Bradys and the Breeses of the world that you can't bench, but that shouldn't stop anyone in the world from owning Siemian. There should be absolutely no reason he isn't owned by 100% of leagues after this week. It doesn't matter if you play in a two QB league, a one QB league, or whatever weird fantasy football setting you play in; Siemian has proven he should be owned.
4 years ago: lol let's call Trevor Siemian "Touchdown Trevor" because he is not good at throwing touchdowns
Today: https://t.co/pzwGzyTrX6 pic.twitter.com/ErtwYMVzUj

— Rodger Sherman (@rodger_sherman) September 19, 2017
After two weeks of play, Touchdown Trevor has put up 21 and 22 point showings in ESPN Standard Scoring Leagues, good for the second most out of any QB in fantasy thus far. He's stupid efficient in the red zone, has weapons all over the field, and is proving he can get the job done and put up big points.
Plus, he's playing the Bills this week. He may have a tough slate when he faces the Chiefs twice, but that shouldn't scare you away from Siemian.
1. Chris Carson- Seattle Seahawks, RB (9.7%)
There's a reason why this entire article was based on opportunity equaling success, and Carson is the perfect example. Thomas Rawls was expected to be the starting running back this season, Eddie Lacy was supposed to prove he's not just a fat mess and can still play football, and CJ Prosise was expected to be the receiving back when he proved he could stay healthy. Yet here we are heading into Week 3, listening to Pete Carroll loudly chew his gum while he names Carson his starting running back.
Carroll on Chris Carson: "He didn't have any problem carrying it 20 times, which is a good sign…we're gonna keep going with him" #Seahawks

— Jessamyn McIntyre (@JessamynMcIntyr) September 18, 2017
The Seahawks offense struggled in their opening two weeks just like they normally do, but Carson's emergence as a top running back option isn't something that's going to change. Once this team wakes up like they usually do around Week 3 or 4, he'll still be the No. 1 guy in that backfield with added red zone opportunities. Pick up Carson this week, and enjoy penciling him into your fantasy lineup from here on out.
For last week's waiver wire pickups, look no further.