Legendary boxer Jake LaMotta has died at age 95. LaMotta was immortalized in Martin Scorsese's 1980 film, Raging Bull, where Robert De Niro won Best Actor at the for his portrayal of the boxer. Almost 40 years after its debut, Raging Bull is widely considered the best boxing movie of all time.
Born almost 100 years ago, LaMotta didn't have an easy life. As a child, his father made him fight other neighborhood kids in the Bronx while adults watched and threw coins into the ring, which his dad used to help pay the rent.
LaMotta turned pro in 1941 at the age of 19. He couldn't fight in WWII because an ear operation he'd undergone rendered him unsuitable for combat in the eyes of the military; a shame, because he would have punched the hell out of some Nazis.
Famous for his brawling style inside the ring, LaMotta subjected his opponents to savage beatings, eating punches all while. Blessed with a thick skull and jaw muscles, LaMotta had one of the greatest chins in history. He walked through punches that would drop most pro fighters.
Think the opposite of Floyd Mayweather's immaculate defense.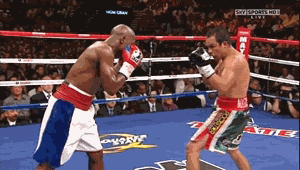 Whe LaMotta entered the ring, he was there to fight. His six-fight rivalry with Sugar Ray Robinson is one of the best in boxing history, and even though LaMotta only won one of the fights, those bouts were the stuff of legend.
LaMotta's ability to absorb punishment was on full display during the 13th round of his sixth and final fight against Sugar Ray Robinson. Held in Chicago on Valentine's Day, it became known as (boxing's) Saint Valentine's Day Massacre, as Robinson hit LaMotta with every punch in the book but could not drop the lion-hearted fighter despite landing a barrage of savage combinations. The ref finally stepped in and stopped the fight, awarding a TKO to Robinson, but it remains as one of boxing's legendary rounds more than 60 years on.
Raging Bull (the movie) was based off of LaMotta's own 1970 memoir, Raging Bull: My Story. To make sure his likeness was captured accurately, LaMotta personally trained Robert De Niro until he felt De Niro was ready to box professionally, and De Niro put on 60 pounds for the role.
Though he's no longer with us, Jake LaMotta will never be forgotten.