The difficulties of fantasy football don't come from drafting the right team. They come from making the right adjustments for your lineup every week. It's the simple moves that transports you from Gronk spiking your phone through the floor when someone on your bench goes off, to shoveling trash talk into your opponents face when you bury him. Instead of becoming the office pariah by constantly asking coworkers who you should start this week or bothering your significant other with tedious questions until you find your clothes on the front lawn, please find solace on a weekly basis with the start/sit options for you.
We may start believing in pretenders and contenders by Week 3, but that doesn't exactly help your fantasy football season. What you need to see is a level of consistency, big time numbers, and a few factors to believe in. It may not be time to pencil in certain players each and every week just yet, so for those looking to sort out their lineup and put out the perfect squad, look no further.
Start Em
CJ Anderson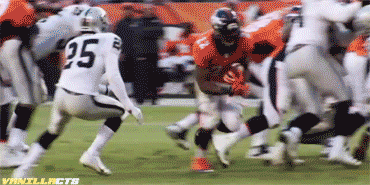 Anderson truly has everything you look for. Do you want consistency? How about the most carries in football through two weeks. Looking for those big numbers? He has nearly 200 rushing yards and two total touchdowns. Now let's see, all we need is a favorable matchup.
Buffalo may be third against the run thus far in fantasy, but's let's not ignore the fact that both the Panthers and the Jets don't have the same kind of rushing attack as the Broncos. Plus, with run stuffer Marcellus Dareus likely sidelined, those rushes up the gut look a bit better for Denver.
Marcell Dareus' ankle injury may keep him out against Denver Broncos. @DandC https://t.co/5aLMAGgNTm

— Dick Moss (@Tavi59) September 20, 2017
Dallas doesn't have a run stuffer in the middle of their defense, just look what Anderson did to them. The Bills may be one of the more unattractive 1-1 teams in the NFL, but their defense has looked impressive in the air and on the ground. Something's gotta give this week, and the right money should be on Anderson.
Christian McCaffrey
It's been a pretty pedestrian start for a player that has a sky-high ceiling, but this is the first week we'll allow McCaffrey to reintroduce himself. He's done absolutely nothing in the run game with just 57 yards on the ground, but he's already proven he's a receiving threat with 9 catches for 72 yards, proving to be one of the best PPR running backs around.
Christian McCaffrey currently struggling on the ground, but ranks 5th out of 29 RBs in receiving success rate via https://t.co/rTAF8i0eOK pic.twitter.com/8aX5IUcsFm

— Warren Sharp (@SharpFootball) September 19, 2017
This Sunday, he goes against a Saints defense that just allowed 12 catches for 137 yards and a touchdown against the Patriots. Cam Newton has struggled thus far and New Orleans is awful at defending running backs through the air. That fantasy ceiling for McCaffrey is sky-high once again.
Tyreek Hill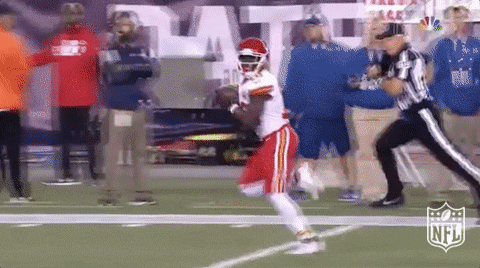 All eyes are on Kareem Hunt and deservedly so, but let's not forget about the man who's fast enough to score a 75-yard touchdown and chuck up the deuces while doing it. The Chiefs are expected to improve to 3-0 against a winless Chargers team, but despite what you might think, this team has been formidable against running backs this season. It may not be because of their talent, but it may just mean teams would much rather pass all over the defense that's 23rd against wideouts.
The Chiefs have one of the most creative offenses in the league, but they don't have to be too creative to beat the Chargers offense. Week 1 they showed they're awful in the red zone, and Week 2 the couldn't contain the quick routes by giving up 13 catches on 15 targets. Hill's a deep threat, a red zone option on jet sweeps and screens, and can get open on quick slants and drag routes. There are plenty of ways to score, and one mediocre defense in his way.
Ty Montgomery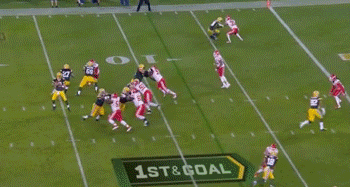 If you're one of those people who vowed Montgomery wasn't going to have a good season since he isn't a true running back, you're going to want to look for support somewhere else. For the Montgomery fan club members still here, you know he's had a fantastic start to the season thanks to his ability to catch out of the backfield. That still doesn't really prove he's a running back and not just a wide receiver dressed as one, but as long as you're getting points, who cares.
This week, it's the best chance he'll have to prove his worth on the ground. Montgomery and the Pack are going against the Bengals who have been just brutal this season, coming in scorching hot as the 25th best team against the run. They only let up six catches for 42 yards against Houston and 33 yards on three catches to Danny Woodhead before he left the game.
Still, knowing just how lethal and creative the Packers offense is, you know he'll get the ball through the air. Plus, Jordy Nelson and Randall Cobb and both banged up. With fewer weapons on his own team in the way and an awful opponent on the horizon, look for a third straight solid fantasy week out of Montgomery.
Devante Parker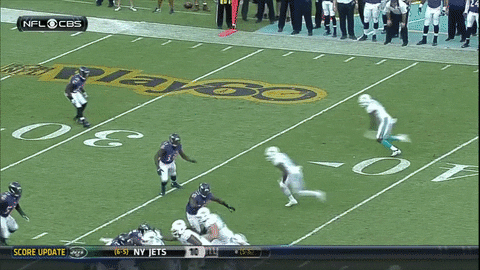 The only reason people aren't sick of hearing the "this is Parker's year" talk for so long is because it's usually drowned out by the "this is Ryan Tannehill's year" babble. With Tannehill gone, Parker proved last week he can still remain relevant with four catches for 85 yards. Sure it's just one week, but he's shown he's going to get a lot of love from new QB Jay Cutler.
Jarvis Landry and DeVante Parker combined to take 73% of Jay Cutler's targets and 70% of Cutler's yards in Week 2.

— Jody Smith (@JodySmithNFL) September 19, 2017
Having two players make up 70% of a team's passing yards and 73% of the targets are insane. What's more insane? One of those two players might not be healthy enough to play this week.
Dolphins RB Jay Ajayi (knee), WR Jarvis Landry (knee) and DT Jordan Phillips (ankle) didn't practice Wednesday,… https://t.co/IY6lFYqIoZ

— James Walker (@JamesWalkerNFL) September 20, 2017
What makes the situation even better than the top running back and wideout possibly sitting is the fact that they're going against the Goddam Jets. They've given up four scores to wideouts this season, including three to Michael Crabtree last week. As one of the only moderately healthy weapons on this team, Parker is primed for a huge fantasy day.
Sit Em
Trevor Siemian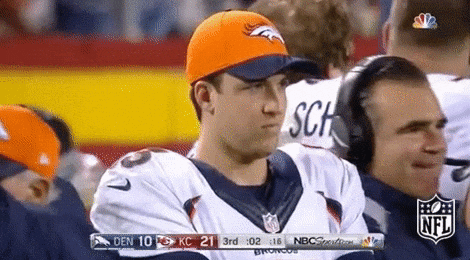 You can read each and every puff piece about how Siemian is a franchise QB now, or you can just read my waiver wire weekly about how he's a legit option for the rest of this season. Either way, it's time for him to head back down to earth a little bit this week.
As mentioned above during the hype up for CJ Anderson, the same thing can be said towards Siemian. The Bills actually have a solid defense and have shut down quarterbacks during the first two weeks of the year including Cam Newton. They don't force turnovers, but they do enough to harass quarterbacks and keep them at bay. Anderson will be able to run the clock, placing Touchdown Trevor in game-manager mode once again.
Chris Carson
It may seem like I'm throwing roadblocks in my own train tracks when it comes to the waiver wire, but it's hard to ignore a bad matchup when it's in front of you. Carson has gotten to the point where he'll likely be the top back for the foreseeable future, and he'll get a steady workload. That workload doesn't exactly include blocking for him. The offensive line is still disheveled, but that's not even close to as bad as his matchup this week.
The Titans were the top defense against running backs last season, and carried it into this year after they shut down both Marshawn Lynch and Leonard Fournette thus far. He should be headed to a solid season, but that doesn't start this week thanks to a tough Titans defense.
Melvin Gordon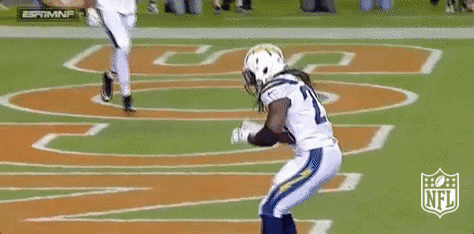 The only thing worse than Gordon's touchdown dance is going to be his week against Denver. He might seem like he's been productive, but all his success has come through the air, not on the ground. In two weeks, he's rushed 27 times for 67 yards for a big fat average of 2.4 per carry. That's not exactly a number that should inspire confidence.
Gordon's numbers come through the air, but they won't this week. Unless you've been bunkered up waiting for nuclear warfare for a few years now, you know the Chiefs' defense is pretty absurd. Through two games, they've given up an average of four catches for just over 25 yards to running backs. Unless he finds the end zone, the numbers just aren't lining up for a big fantasy week from Gordon.
Amari Cooper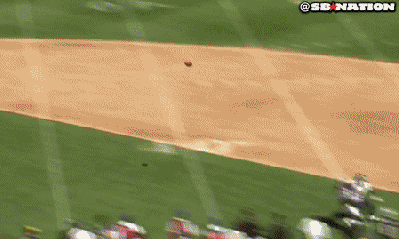 Cooper has been the second banana in one of the best wide receiver corps in the league so far this season, which has hurt his fantasy stock. It's too early, and completely unreasonable, to bail on Cooper all together, but there is a perfect storm brewing against him that screams BENCH ME as loud as it possibly can.
He already has a bad matchup, going against Josh Norman and the 11th best defense against wideouts in fantasy football so far. It doesn't help that he is simply not on the same page as his quarterback, unlike every single player on his team.
Derek Carr to Amari Cooper: 50 percent completion.

Rest of the team? 86 percent.

Hmm …

— Vincent Frank (@VincentFrankNFL) September 20, 2017
Don't worry, this isn't Carr's fault. It's Cooper's since he's having the worst year of his life so far thanks to the two stubs attached to his wrists known as his hands.
Amari Cooper's drops by season:

2014: 8 (132 catchable targets)
2015: 18 (90)
2016: 5 (90)
2017: 5 (14!!!)

— Mike Renner (@PFF_Mike) September 20, 2017
If you're still clinging to the edge of hope, desperately looking to find a reason to start Cooper even though all signs point to the polar opposite, maybe now's not the right time to tell you that he's been dealing with a lingering injury.
Amari Cooper (knee) limited in practice Wednesday. https://t.co/XQDvZqn3jV

— FantasyLabs NFL (@FantasyLabsNFL) September 20, 2017
Unless Cooper robs a liquor store or watches "Concussion" so many times that he has no will to play and retires, the odds can't get any worse for the man. Just bench him and move on to other fantasy options.
LeSean McCoy
LeSean McCoy felt Ezekiel Elliott's pain Sunday. Can the Buffalo RB fare better against the Br https://t.co/ZISPNL5Bjq #bills pic.twitter.com/lBJV01L5tL

— Two Bills Drive 🏈 (@twobillsdrive) September 21, 2017
Denver is doing some hunting this season. The added Melvin Gordon to their wall of conquered running backs after holding him to under three yards per carry and keeping him out of the end zone on the ground. Then they made an even louder statement by completely shutting down Ezekiel Elliott. Now for their next conquest, they're going against the running back that had less than a yard per carry on the ground a week ago, Shady McCoy.
McCoy is the entire offense for the Bills and it shows as he's had the seventh most carries in the league thus far. That doesn't change the fact that the Broncos can make teams abandon their run game immediately like they did against the Cowboys a week ago. With Denver likely running up the score and putting Buffalo down early, it's going to be on Tyrod to change the outcome of the game, not Shady. Don't let Shady have any effect on your fantasy matchup either.