The difficulties of fantasy football don't come from drafting the right team. They come from making the right adjustments for your lineup every week. It's the simple moves that transports you from Gronk spiking your phone through the floor when someone on your bench goes off, to shoveling trash talk into your opponent's face when you bury him. Instead of becoming the office pariah by constantly asking coworkers who you should start this week or bothering your significant other with tedious questions until you find your clothes on the front lawn, please find solace on a weekly basis with the start/sit options for you.
With Week 4 on the horizon, the key is to take a deep breath and remember the basics of finding the perfect fantasy decision. Match-ups are more important than names, consistency is key even if it's against your player, and remember that history has a funny way of repeating itself. That may sound cliche, made up, and borderline stupid to many of you, but it's the dumb sentence that could save you this week. Now, it's time to get the ball rolling this week with the start em/sit em options for your fantasy team.
Start Em
Ezekiel Elliott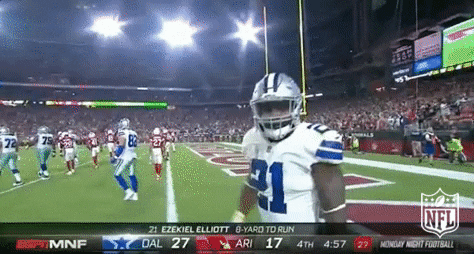 There probably isn't a planet that allows fantasy football that has a resident who would bench Ezekiel Elliott at this point during the season, but for those weekly fantasy players and those who may need to take a trip to the insane asylum, here's all you need to know about Zeke this week. There's a recipe for success in this league, and Dallas has it when it comes to Elliott.
Cowboys are now 12-2 when Ezekiel Elliott gets at least 20 rushing attempts

— Jon Machota (@jonmachota) September 26, 2017
This isn't something new that they recently learned, but his workload after a tough game against Denver should be all you need to hear to put your aching heart to ease. Oh and the best part? Elliott is going against the defense that has allowed a staggering six touchdowns on the ground over the past three games, most in the NFL. Having a running back with a nose for the end zone against the 31st best defense against his position is a pretty gorgeous matchup to lead off with.
Kenny Golladay
If you thought this was just going to be a list of superstars you can pretty much plug in each and every week regardless of the matchup, you must be new here. Welcome, and here's your first boom-player of the week. Golladay is clearly hit-or-miss thus far in the season, following up his two-touchdown Week 1 performance with a steaming pile of filth in the shape of his three catches for 33 yards over two weeks. Many people are looking to add a third game to his current stinker streak since he's playing Xavier Rhodes and the Vikings, which is totally understandable.
Attention all opposing WRs:

🚧 RHODES CLOSED 🚧 pic.twitter.com/99uH039rD5

— NFL (@NFL) September 27, 2017
Rhodes may be a monster, but you know who shouldn't be feared? The other members of the secondary that are apart of the 31st fantasy defense against wide receivers. While the top dogs are constantly getting shut out by the Vikings, the second options have been feasting. Ted Ginn Jr. started us off quietly by racking up more yards than Michael Thomas in Week 1.
Then, we had Martavis Bryant blow the doors open with his three catches for 91 yards and a score in Week 2. Finally, DeSean Jackson waltzed through that giant hole in the secondary for four catches, 84 yards, and a score. Golladay has more catches, yards, and targets than Marvin Jones, making him the de facto second fantasy option thus far this season. Just remember, one closed road doesn't mean the trip is over.
Jonathan Stewart/Christian McCaffrey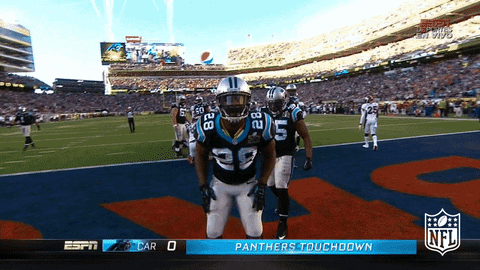 Seeing a two-for-one entry is something most folks play double for, but there needs to be some clarity added to this pick. Believe it or not, it's possible for two different running backs on the same team to simultaneously be primed for breakout fantasy games. That's the beauty of facing a defense like the Patriots that are having such a bad start even the Saints D is laughing at them.
To break down the reason why there are two players crowding around one spot on this list, it's because they both bring things to the table that the Patriots simply can't stop. For example, while McCaffrey has done essentially nothing on the ground, he's made up for it with 18 catches for 172 yards in the air. Just while he's hitting is stride, guess who's hosting one of the best receiving backs in fantasy football?
The Patriots have allowed the 2nd-most receiving yards to RBs this season (253). Might be a good week to have Christian McCaffrey in fantasy

— Zack Cox (@ZackCoxNESN) September 27, 2017
This isn't enough of a reason to assume Stewart is primed for a backup role. He may be old news considering McCaffrey is the new big name in town, but that doesn't stop Stewart from having fantasy relevance this week. After tripling McCaffrey's carries last week, it's obvious he's still the top dog on the ground in this offense. He now goes against a defense that is 26th in rushing yards allowed. They even made Lamar Miller look good at times last week. It may be hard to trot out someone who's technically a backup, but don't let McCaffrey's big name get in the way of making the right fantasy decision.
Joe Mixon
There was no doubt Mixon would be a big-time player once he got his chance, and he looks like he finally might. He's still in a backfield that has more mouths to feed than a Cromartie household, but he's starting to bully his way into proving he deserves the biggest slice of the pie.
Rookie Joe Mixon played 56% of Cincinnati's snaps in Week 3, and he's been the Bengals' most effective running back. https://t.co/I3r0gYyzmh pic.twitter.com/Jo3m6bLgv5

— numberFire (@numberFire) September 27, 2017
The carries looked steady between Mixon, Jeremy Hill, and Gio Bernard over the first two weeks, but the rookie's performance against the Packers earned him his 18 carries, 11 more than Hill. To make matters much better, Mixon has the chance to show off his new increased workload against a Browns defense which is still one of the worst in the league. After giving up 208 yards and two touchdowns over the past two weeks, you can sleep peacefully knowing Mixon will have his first breakout fantasy game of his career.
TY Hilton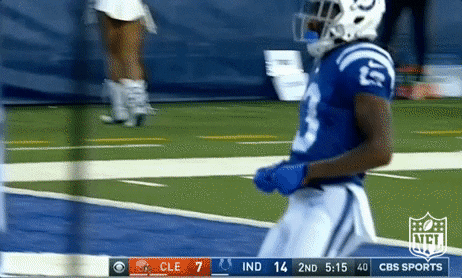 Hilton is easily the riskiest pick on this list and goes against the rule of focusing on the fantasy matchup in front of you, but there's one glaring weakness in Seattle's game so far that could allow Hilton to bust out for a big week. Setting aside the Seahawks matchup against a Bills team without a true home run threat, Seattle has shown they are susceptible to the big play.
Jordy Nelson was the first to make the Seahawks pay with seven catches for 79 yards and one 32-yard touchdown, and Rishard Matthews continued the theory with a 55-yard touchdown of his own.
There are few wideouts in the NFL more explosive than TY Hilton. Even if he is going against a top-10 defense against wide receivers this season, he's a magnet to the deep ball, something Seattle can't seem to stop this season. Considering the fact that Hilton was likely drafted early, here's the convincing you needed to not stash one of your top picks on your fantasy pine.
Sit Em
Marshawn Lynch
It may seem like I'm picking on Beast Mode since this is the second time he's making the sit em section of these articles in just four weeks, but the matchups speak for themselves. When it comes to the Broncos defense, it's hard to convince yourself that any running back is starter-worthy in your fantasy lineup no matter who they are. Just look at their trophy case through three weeks.
Denver has held Melvin Gordon, Ezekiel Elliott, and LeSean McCoy to a combined 83 yards rushing and 2.0/carry through 3 weeks.@NFLResearch

— Andrew Siciliano (@AndrewSiciliano) September 27, 2017
If you think this is the guy to avenge his backfield brothers, take a step back and remember that Lynch has seen his snaps, yards, and touches go down each week this season. That's a perfect storm of terror right there.
Mike Gillislee
If you just look at his stats, you'd be surprised to see that the running back tied for the most rushing touchdowns in the NFL should ever be on the sit em list, but everyone knows Gillislee is a boom-or-bust option that solely relies on scores to find fantasy relevancy. No matter what running back is on the sidelines for the Patriots with an injury, there's always another man ready to step up in front of him.
Patriots final HB snap count: James White 31, Mike Gillislee 21, Dion Lewis 12. Out of 64

— Nathan Jahnke (@PFF_NateJahnke) September 24, 2017
He'll normally have a big week if the Patriots are sniffing the goal line like he did in Week 1, but it's not something you should trust with the Panthers defense coming to town. Carolina has only given up one rushing touchdown this season which came last week on a 27-yard run by Alvin Kamara. Gillislee may be solid, but he's not the kind of running back you have to worry about scoring from 20+ yards out. With no goal line play on the way, save your fantasy prayers for another player.
Ameer Abdullah
Former Nebraska RB Ameer Abdullah named Gruden Grinder for Monday Night Football #Huskers https://t.co/J2OzDw60Ra pic.twitter.com/r3399MrDy4

— Land of 10 Nebraska (@Landof10Huskers) September 19, 2017
Aside from winning an award that truly means nothing, Abdullah has done nothing to give you confidence this week. He hasn't done anything to "wow" anyone over the weeks, finding the end zone zero times despite having the label "dual threat" foolishly attached to him. Theo Reddick is clearly the top receiving option, and the "starter" has done absolutely nothing on the minimal touches he gets in the red zone.
#Lions RB Ameer Abdullah has 52 touches through 3 games but only 4 touches in red zone. He has gained zero yards on those 4 RZ touches.

— Evan Silva (@evansilva) September 26, 2017
With no real reason to have faith in him going into a game where he's going against the top defense against running backs in fantasy, it's better off if you keep Abdullah miles away from your starting lineup so you can enjoy what should be a great game without any fantasy stinker ruining your experience.
Lamar Miller
For those Miller owners who have yet to admit they've swung and missed on a top running back, it's time to go Good Will Hunting Style. It's not your fault.
Miller has shown flashes in the past, but he won't this week against one of the most dominant rush defenses in the NFL. The team that finished first against running backs in fantasy last season is back with a vengeance. They've held Beast Mode to 76 yards, Fournette to 40, and Carson to 34. Every single time a running back comes in with high expectations, the Titans shut him down. Rinse, and repeat. It also doesn't help that Miller has been getting fewer and fewer opportunities to succeed since the year began.
Lamar Miller's percentage of the backfield opportunities in Houston has dropped in each week, from 68 to 55 to 54.

— Alex Gelhar (@AlexGelhar) September 27, 2017
With D'Onta Foreman breathing down his neck and Miller's window of opportunity to prove himself worthy of a start in your fantasy lineup growing smaller and smaller, it's time to get in front of this mess and just store him on your bench.
Alex Smith
It's time to put a boot on the Smith bandwagon before it tricks more riders on. He may be leading the only AFC team who's currently undefeated and is even towards the top of the MVP race. You know how many fantasy points that gets you? Not a single one.
He's still the second-best quarterback in standard scoring ESPN leagues, but that's a result of his top-heavy Week 1 performance than fantasy steadiness. Smith has put up 16 and 14 points respectively over the past two weeks which looks a lot like the point totals of a game manager.
Smith's place towards the top of the charts is a surprise, but not as much of a surprise as the Redskins sitting on top of the chart as toughest defense against quarterbacks in fantasy. They struggled against Carson Wentz in Week 1, but then followed it up by putting Jared Goff and Derek Carr in body bags. Something's got to give at this point, and the smart move is betting that Smith will continue to put up mediocre numbers at best.
For the best waiver wire pickups you missed, click here.