It can be difficult to write about fantasy football while the nation mourns the deadliest shooting in "Modern U.S. History." The images and first-person accounts are horrific. The scene is all too familiar. People reveling and celebrating forced to deal with death and paralyzing fear for the rest of their lives.
When the mayhem clears, hundreds, if not thousands of people will be mourning the loss of loved ones. In a transient, tourist-driven city like Las Vegas, we all know people directly or indirectly who were there. I live in Los Angeles; an hour flight and four-hour drive away. Two people I know were in Las Vegas, their lives forever changed.
It was only a year ago when a terrorist killed 50 people at an Orlando night club. It has been only a little over four months since terrorist killed 23 people, targeting an Ariana Grande concert in Manchester, England. As the death toll continues to rise we must not devalue human lives.
We cannot allow ourselves to be numbed by these terrorist attacks that seem to come in rapid succession these days. This event will soon turn political. Gun control will again take center stage. If history has proven anything, there will be little movement in congress to change the status quo. We can, however do something.
We can tell our family and friends how much we love them. We can attempt to focus more on kindness, respect and love, rather than anger and hate. Don't be so quick to honk at someone in your car. Give strangers the benefit of the doubt. Above all, let's value life. It may be idealistic to think of the world in such utopic turns, but the only way we can attempt to make sense of such senseless acts is by taking power into our own hands and flood it with love.
There's no easy transition, but we're going to try and write about fantasy football. While horrific moments can alter our lives, we can't allow terrorists the power to negatively impact us forever. The best thing we can do is try and continue with our lives the best we know how. That being said, in this week's edition of Lessons Learned, we show some love to those fantasy football players who make the game so much fun.
Kareem Hunt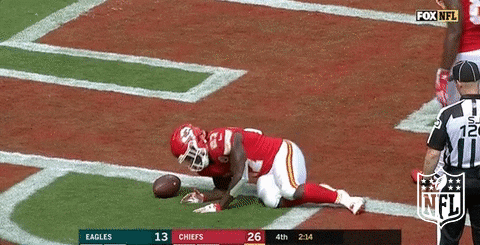 Hunt came into the year as a sleeper. No one's sleeping now. He's averaging 8.5 yards per carry. In three games, the Toledo product has rushed for over 400 yards and scored six touchdowns. No rookie has ever bursted onto the scene so quickly and with such impact as Hunt. Barring injury, there's no telling what this man will accomplish. He has rewarded every fantasy owner who took a chance on the unheralded rookie (I'm one of them). If you decide to name your first born Kareem, who's going to tell you no?!
Todd Gurley
Last year was such a disappointment for the third-year running back out of Georgia that his draft stock tumbled this season. Those who gobbled him up in the middle rounds now look like geniuses. In four games, Gurley has totaled 596 yards of total offense and seven touchdowns. That's already more than he had all of last year. The Rams are 3-1 and Head Coach Sean McVay might be the most handsome coach these eyes have ever seen. That really has nothing to do with Gurley, but it bears being mentioned. In a city like Los Angeles, where beauty counts for something Gurley, the Rams and McVay are a triple threat that has all Angelenos turning heads.
Deshaun Watson
Despite losing just three games in college and being the most talented quarterback in the draft, Watson was the third quarterback taken in this year's NFL Draft. It only took him one half to win the starting job in Houston. In the last two games, Watson has seven touchdowns and three interceptions. He is a dual-threat that has fantasy owners salivating.
Quarterback is a position where rookies only get better with time, unless you're Vince Young. Watson is no Young. With weapons like DeAndre Hopkins, Lamar Miller and an elite defense, the best days are still ahead for Watson. More likely you picked him up with one of your last picks or on the waiver wire. One of those gifts that keeps giving.
Aaron Rodgers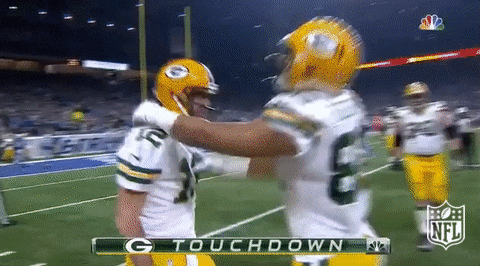 It seems like Rodgers has been the best of the best in fantasy football for an eternity now. This year is no different. The Green Bay signal caller has 10 touchdown passes, each game better than his last. This season he's lost his starting running back, his starting wide receiver, it doesn't matter. The Packers could sign Texas State Armadillos' Featherstone and the dude would end up with 1000 yards and 7 scores. Now Rodgers has announced he's on the Tom Brady diet. Only 33 years old, Rodgers might be joining a new 40/40 club. 40 touchdowns at 40 years old. Draft him in the third, second or first round, it does not matter. You will reap its reward.
Stefon Diggs
Much like Rodgers seems to excel at who ever surrounds him, Diggs might be quarterback-proof. In three years, the Maryland product has caught balls from Teddy Bridgewater, Sam Bradford, Shaun Hill and Case Keenum. Despite that list of quarterbacks, Diggs has established himself as a fantasy stud totaling almost 400 yards receiving and four touchdowns through four weeks.
Keenan Allen
Life has not been kind to the Chargers wide receiver. Broken right collarbone in 2014, lacerated kidney in 2015, torn ACL last year. Three straight years, three really bad injuries. So far, so good this season. Dissecting the first four weeks of the season, the Chargers are going to be playing from behind a lot this season. Phillip Rivers and Allen have an unmistakeable connection.
All that equates to a lot of targets, receptions and yards for Allen. Through four games, Allen is fourth in receiving yards. More than likely, Allen will end the year near the top for receiving. That is, of course, unless he ruptures his spleen. Nothing is out of the realm of possibilities for Allen. Much like life though, you ride her until she bucks ya.