Whether your draft has you already deciding between diving head-first into your money Scrooge McDuck style or build a moat with your winnings, or if your roster looks just about as attractive as the Jets, you still want to make the best pick up possible on the waiver wire. Only a fool would let their fantasy roster sit week after week without making the necessary roster moves, unless they're genius enough to play with the type of owners who think it's a smart move to get the best kicker available in the third round. For those in the latter, here are the top waiver wire pick ups for your fantasy football team this week.
In this young season, we've never had a waiver wire that could be this important. Yes, I could say that each and every week to get you to pay attention to the players that will soon be listed below, but it's the truth, especially with bye weeks officially coming around for the first time this fantasy season. We saw a number of young players take on bigger roles while would-be locks went down with injuries, or just flat out can't hack it this year. This season may be the hardest to predict as teams like the first place Rams and Bills are making you question the reality you thought you once knew, but fantasy is still as solid as ever. With more doors opening and opportunities littered around the league, the waiver wire has never been hotter. Unless you're looking to dominate your next trade, here are the perfect picks for your fantasy week.
Honorary Mention- Taylor Gabriel (owned in 12.2 of ESPN Leagues)
11. Kendall Wright – Chicago Bears, WR (6.9%)
It's normally hard to find positives out of the Bears' offense, especially with their receiving corps. Still, Wright is somehow making himself the most relevant receiving option for your fantasy team. He has decent outputs twice this season in PPR formats including last week's four catches for 51 yards and his first score of the season.
Wright on 🎯!@Mike_Glennon & @1kendallwright put up 6️⃣ for the @ChicagoBears! 🐻 #CHIvsGB #TNF #DaBears pic.twitter.com/YRiyquL4Ag

— NFL Canada (@NFLCanada) September 29, 2017
What truly makes Wright relevant for the first time is the quarterback change. With Mitchell Trubisky kissing titties and slinging touchdowns, the passing game is finally bright in Chicago. It's clearly yet to be seen if these two have a good relationship on the field, but having the top wideout on any team that's likely about to improve is always a positive for your fantasy team.
10. Aaron Jones – Green Bay Packers, RB (2.2%)
Summer is long gone and so are the flings. Every may consider this cuffing season because of relationships, but it's most because of fantasy backups like Jones. With Ty Montgomery and backup Jamaal Williams both going down with an injury during the Packers' beatdown of the Bears, Jones got to show his worth to the tune of 49 yards and a touchdown. No matter how good this passing attack is, they have to balance it out with the run. Thanks to the fantasy injury Gods, Jones has been officially deemed relevant.
Montgomery also said he hopes to play vs. #Cowboys but he's "wary of risking something more serious," like injuring "internal organs." https://t.co/QEGXOr89JG

— Jason Wilde (@jasonjwilde) October 3, 2017
Not only does Jones have serious potential as a handcuff, but he could because the team's starter while Montgomery deals with multiple broken ribs. The Packers' starting job in the backfield has been quite the merry go round over the past two seasons, and now it's Jones' turn for a spin.
9. Wayne Gallman – New York Giants, RB (.2%)
Normally, fantasy owners would want to stay away from Giants' running backs more than athletes should stay away from Kardashians, but Gallman is finally proving to be the exception. Once people were finished saying "who the f**k is that" Sunday, it was clear he was the only running back this season that has given this team anything to be excited about in the run game.
While starter Paul Perkins left the game and finished with just 1.4 yards per carry, Gallman finished with a team-high in carries (11) and yards (42) and added a score in the air. There is little to be positive about for the Giants offense, but this guy is the the one shining glimmer of hope.
8. Cameron Brate – Tampa Bay Buccaneers, TE (9.8%) 
That thing Brate's smelling on his finger tips is the chance to sneak into your starting lineup. While it is absolutely never okay to smell your fingers in any sort of public setting ever, you can forget about it this week as Brate is your best option at the tight end position. There are a number of possible tight ends to pick up with Tyler Kroft (.2%) and teammate OJ Howard finding the end zone this week, but what seperates Brate is his consistency.
.@TBBuccaneers #DemarDotson shuts down #JPP on a play where @Jaboowins needed an extra tick to find #CameronBrate for a TD #Baldybreakdowns pic.twitter.com/mj5hNtZOA0

— Brian Baldinger (@BaldyNFL) October 2, 2017
Kroft likely won't be able to maintain the same two-touchdown breakout he had this week with Eifert eventually taking his starting job back when he returns from a back injury, and Brate has been more of a focal point in the offense than the rookie Howard. With eight catches on 10 targets for 113 yards and two scores over two weeks, you can expect more of the same for Brate this fantasy season.
7. J.D. McKissic – Seattle Seahawks, RB (.2%) 
If you thought Wayne Gallman was going to be this week's entrance for the "who the f**k is that guy" contest, then you did not pay attention to the Seahawks game. With Carson going down and placed on the IR, the Seahawks backfield is now open for business once again. Eddie Lacy is likely the head honcho on first and second downs for the time being until Pete Carroll realizes he's a walking load of laundry who isn't half the player he used to be. McKissic, on the other hand, looks like the explosive threat this team needs out of the backfield, punching in two scores from over 25-yards out on just five touches.
On this McKissic TD, no one touches him. Too fast. Also, WR gets in bw RB and Antonio Morrison to help spring him. It's the little things. pic.twitter.com/KInjys2DoO

— Stephen Holder (@HolderStephen) October 2, 2017
The idea of running that fast has Eddie Lacy breathing heavily and reaching for his extra-large Pepsi that he has next to his bed. C.J Prosise cuts into McKissic's upside, but he's as sturdy as the Jets' chances of making the playoffs. He's already missed 11 out of his 20 games in the NFL. With nothing special in his way, there's nothing stopping McKissic from breaking out and filling in for Collins as the breakout fantasy star in Seattle.
6. Will Fuller – Houston Texans, WR (8.7%) 
Fuller was easy to forget considering he had a collarbone injury that sidelined him for the first three weeks, but you better believe he reminded everybody why he was a first round pick last year. He may have had a rookie campaign that left a lot to be desired, but let's not forget he had the Brocketship and Nicolas Cage look alike Tom Savage throwing the ball to him last season. Now that he's back, it's clear he's going to be the second option in a constantly growing offense.
Texans WR snaps vs Titans:

DeAndre Hopkins 78
Will Fuller 67
Bruce Ellington 66

Chris Thompson 10

— Jayson Braddock (@JaysonBraddock) October 2, 2017
He brought in two touchdowns in his first week with Deshaun Watson at the helm, and didn't even display his deep play ability to find the end zone. Speaking of Watson…
5. Deshaun Watson – Houston Texans, QB (26.9%)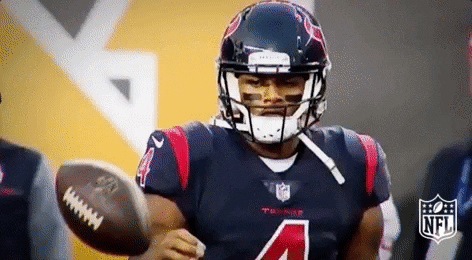 Once everyone is done clapping at that impeccable segway it's time to continue to your applause for the best rookie quarterback in the league by a long shot. Mitchell Trubisky may be getting the headlines this week since he's getting his first start in the bigs, but let's not forget about the guy who's been doing it each and every week. After a rough start, he's gone off for 17, 20, and 33 points in ESPN standard scoring leagues. It's pretty hard to ignore a guy who gets better every week at pretty much every aspect of the game.
Deshaun Watson's PFF Pass Grade, his completion percentage, and his NFL passer rating have each improved in every game so far.

— Nathan Jahnke (@PFF_NateJahnke) October 3, 2017
It's a good idea to pick up a quarterback in fantasy who can possibly add more points on the ground. It also helps when that quarterback is an absolute monster in the passing game and is picking apart defenses on a weekly basis. There's not much else the man can do to impress at this point, so it's time to give him his due and find a spot for him on your team.
4. Alex Collins – Baltimore Ravens, RB (.4%) 
Alex Collins on the run! pic.twitter.com/s6vnsYcjO8

— Baltimore Ravens (@Ravens) October 1, 2017
For those who remember Week 17 of last season, Collins proved his worth in a Seahawks backfield with limited touches. Fast forward to this season and he's doing the exact same thing in Baltimore. He only had nine carries, but he still capitalized by racking up 82 yards including 50 on that play above. The Ravens rushing attack is something that hasn't wowed anymore over the years, considering the fact that Collins' big run was the longest rush since 2014.
Buck Allen may be the running back that's going to get the majority of targets which does limit Collins' upside, but he makes up for it with his chance to be the goal line back. With Terrance West literally taking step backwards this week with negative seven rushing yards, Collins should see an expanded role. When that role grows, you'll be happy he's on your fantasy bench.
3. Devin Funchess – Carolina Panthers, WR (13.2%)
Funchess has gone from the honorable mention list, to third last week to third once again this week. This will be your last reminder that you need to pick up Funchess for your fantasy roster immediately. After his glowing recommendation a week ago, he proved his worth with seven catches for 70 yards and two scores. You can't expect him to do that weekly as he doesn't have the luxury of going against the Patriots defense every week, but putting up huge numbers with Kelvin Benjamin still in the game showed he's a huge part of this offense for the rest of your fantasy season.
2. Latavius Murray – Minnesota Vikings, RB (20%)
Latavius Murray ready to take over for the Vikings with Dalvin Cook out https://t.co/7BFYHhvRQY pic.twitter.com/fxUwoMl9F1

— 1500 ESPN (@1500ESPN) October 2, 2017
Murray should be the top dog on this list considering he's replacing bell cow Dalvin Cook who is now out for the season, but there are questions that need to be addressed. Firstly, his poor 38 yards on 14 carries this season and eight yards on two catches has nothing to do with Cook being in his way. What might have to do with his poor play is the ankle surgery he had, as he still doesn't believe he's 100% healthy.
Latavius Murray said his ankle still isn't 100 percent after offseason surgery, but he's ready for a big workload on Monday if needed.

— Ben Goessling (@GoesslingStrib) October 2, 2017
Lastly, he has no future as the receiving running back in the backfield as Jerick McKinnon (.8%) is clearly the receiving back here. Now, it's time to stop bashing Murray and realize how high his ceiling is. He's shown he can be a huge fantasy value, rushing for 12 touchdowns last season for the Raiders. With Bradford still dealing with an injury, this team is still going to give him a heavy workload even if he isn't at full strength. As for McKinnon, he's also dealing with an injury, leaving Sunday's matchup against the Lions. Taking McKinnon would make sense in some deeper PPR formats, but if Murray is around, you can't pass up the opportunity in front of you.
1. Alvin Kamara – New Orleans Saints, RB (20.9%)
Alvin Kamara made a huge impact today pic.twitter.com/S9qdvxiNIB

— Pro Football Focus (@PFF) October 1, 2017
You normally want to pick up a player who can immediately help your fantasy team. Even though Kamara won't with his bye week coming up, he's still a talent you don't want to sleep on. He's showing he can beat teams in multiple ways, and is still capable of putting up big numbers with Mark Ingram and Adrian Peterson currently in his way on the depth chart.
Kamara's best fantasy day came in a game where Ingram played a season-high 62.2% of snaps. AK busy in a game NO never trailed. Great sign.

— Matt Camp (@TheMattCamp) October 2, 2017
Kamara had his first huge fantasy outburst this past week, but he's been showing he's being given a larger role with his scoring going up each and every week. Will Ingram get more carries than him? Most likely, yes. If you think that matters, then you have not been paying attention to the Saints since Drew Brees arrived years ago. This is a passing team, and receiving running backs will always be fantastic in this offense.
He's also the most talented running back on the roster and will get better as weeks go by. His upside is through the roof and could be one of the top running backs in football by the time the fantasy season is all said and done.