There's an old adage in fantasy football: "You can't win your league in the draft, but you can lose it." Full disclosure, it's unclear if it is an actual fantasy football maxim nor its date of origin, but the message still stands. To win at fantasy football you have to constantly meddle with your lineup. Imagine the worst possible boss.
In fact, imagine this guy:
That's right. To win in fantasy football, you have to be boss-from-hell, Bill Lumbergh. You have to micromanage, constantly check in on your team, and never be satisfied.
To help harness your inner Lumbergh, here are some questions you should be asking as we head into Week 5.
What Can Brown Do For You?
The Arizona Cardinals offense has been a mess since David Johnson went down early in Week 1. A team that averaged 26 points per game last year is only scoring 18 per game to start the year. That includes games against the bottom-dwelling Colts and 49ers.
The one thing you can count on though is when in doubt, Arizona is gonna throw the ball. They lead the league in pass attempts per game. That means there's points to be had.  The Brown Brothers — no relation — Jaron and John are fighting for second on the depth chart.
While John is the more established weapon, he's been battling injuries and health issues. Jaron has stepped up nicely in his place. He had 12 targets last week (the most at receiver) and went over the century mark. John was also in last week's game in a limited role, but that is supposed to increase as he begins to get healthy.
Monitor these two. Keep an eye on targets and receptions. One or both are in line to be the beneficiary of a Cardinal squad that is going to be spraying the ball around for the foreseeable future.
Mitch, Please?
What lasted longer? The Mike Glennon experiment or LaMelo Ball's junior year?
The Bears finally made the decision to start the next chapter and bring in rookie Mitch Trubisky. Not much should be expected from the rookie. Having said that, each rookie has a soft blanket when they're out their on the scary playing field. The question is, who will Trubisky turn to when he needs a completion? While the Bears are committed to the run, there's no doubt defenses will now stack the box and force Chicago to throw the ball.
The dump off will be the throw of choice, as it is for most rookie signal-callers. Play close attention to who that player is for Chicago. Don't care about yards or receptions. All that matters is targets. For a team that will be forced to throw the ball a lot to make up big deficits, garbage points are going to be gobbled up.
Who's Your Texan?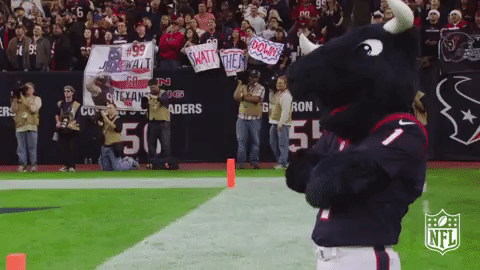 Coming into Houston's Week 4 game against the Titans, there was an emerging running back battle. While Lamar Miller was the starter, he began to concede carries to rookie D'Onta Foreman. Things have tempered a bit after Miler totaled 131 all-purpose yards and two touchdowns against Tennessee. This is still a position you should monitor.
The Texans remaining schedule is a running back's delight. Eight of their remaining 11 opponents have defenses ranked in the league's bottom half. It's an incredible statistic that can lead to consistently great numbers.
Ram It?
Is Jeff Fisher that bad of a coach? Is Sean McVay that good?
Questions will be answered this Sunday (except for the last, which is an obvious yes) when the Rams square off with Seattle's defense. Jared Goff, Sammy Watkins and Cooper Kupp continue to be enigmas unable to provide consistent fantasy output.
If the offense performs well against the Seahawks this weekend, those particular Rams will be must owns. As is the case with most teams, the longer you are in a particular system, the more comfortable you are and the better the chance for success. At least then we might have an idea on "What's Happening."