Whether your draft has you already deciding between diving head-first into your money Scrooge McDuck style or build a moat with your winnings, or if your roster looks just about as attractive as the Jets, you still want to make the best pick up possible on the waiver wire. Only a fool would let their fantasy roster sit week after week without making the necessary roster moves, unless they're genius enough to play with the type of owners who think it's a smart move to get the best kicker available in the third round. For those in the latter, here are the top waiver wire pick ups for your fantasy football team this week.
Another week goes by, another slew of games that caused you to become violently ill because of injuries. Not only were these injuries grosser than the first half of the Bears/Vikings 3-2 slugfest of a Monday Night game, but they caused plenty of owners to go back to the drawing board. We also saw a lot of huge hits from players on last week's fantasy waiver wire, proving once again that the move you take a risk on is better than keeping a mediocre player on your bench. While players like Gallman (26.9% owned), Jones (65.6%), Fuller (56%), and Collins (33.4%) will all be towards the top of certain wires this week if they are available, they were all covered last week. Instead of rehashing the reasons why they should be picked up while simultaneously scolding you for missing out, please just look at last week's article for information.
Here are the big fantasy additions to poach this week.
10. Nick O'Leary – Buffalo Bills, TE (owned in 0.0% of ESPN Standard Scoring Leagues) 
We did it, everybody. We finally got our first player this season who is owned in literally no fantasy leagues. That means if he has close personal friends or family members who claim they're along for the ride, they aren't even pretending to give him the benefit of the doubt while taking up a spot on their fantasy roster. Now, you have the strange chance to say you are more supportive of an NFL player than those who actually love him. If that reason isn't enough for you, you can actually focus on the fact that he does have a chance to be a solid part of this offense with Charles Clay out multiple weeks with a knee injury.
Nick O'Leary likely the next man up. Played 84% of Bills offensive stats. Logan Thomas just 28%. O'Leary line: 6 tar / 5 rec / 54 yds https://t.co/DHEkWooo2g

— James Koh (@JamesDKoh) October 9, 2017
He only had two catches coming into this week, but still managed to immediately become a focal part of the offense the minute his number was called. Clay and Jordan Matthews may both be out, but Tyrod Taylor still needs to throw the ball to an actual person. Due to his love for the tight end slot, O'Leary becomes the best tight end to add this fantasy week.
9. Dion Lewis-  New England Patriots, RB (5.7%)
It's been a long time since Lewis was fantasy relevant after tearing his ACL back in 2015, but with a slow waiver wire week ahead, it's the perfect time to take a risk on someone who could be a huge part in one of the best offenses in the league. We've seen Bill Belichick screw over plenty of fantasy teams in the past with his constant changing of the top dog, so it's completely possible to think that Lewis can get the nod after a season-high in snaps, touches, and yards. Plus, impressing while doing it is never a bad thing.
Dion Lewis wants more snaps. Got a season-high 18 Thursday, and did this to turn something out of nothing #nasty pic.twitter.com/vmgW3OAlJ3

— Michael Giardi (@MikeGiardi) October 8, 2017
You definitely can't bank on him getting the time he deserves thanks to Belichick, but he's definitely worth the risk. If you have a slot open thanks to a recent injury and are looking for a possible big payoff for a simple gamble, If you're down on your luck in fantasy at the moment, take the gamble and invest in Lewis.
8. Marquise Goodwin – San Francisco 49ers, WR (2.5%)
Everyone has been saying Goodwin is a speedster who will eventually have a big day, and we finally got to see it this past week. He has been getting a decent amount of looks in the past, but he's had nothing similar to his 5 catches on 11 targets for 116 yards this past week. Anytime you have a player who has the ability to take the top off a defense and make a play like this, you have to at least pique your interest.
The throw was good, but boy does Marquise Goodwin go up and snatch this out of the air. Great throw, great catch. pic.twitter.com/wiizBxBZIG

— Oscar Aparicio (@BetterRivals) October 9, 2017
Pierre Garcon will still continuously get targets, but it shouldn't cut into Goodwin's looks as he continues to prove himself. You shouldn't expect Goodwin to put up numbers like that consistently, but with a struggling run game on a bad team that will likely be in holes most of the time, picking up a big-play potential wideout would be a steal.
7. Kenny Stills – Miami Dolphins, WR (17.1%) 
A few things stole the headlines for this Dolphins team last week. Whether you were focusing on the fact that Miami somehow beat the Titans this past week or were watching the video of the Dolphins O-Line coach doing booger sugar for the 100th time, you probably missed the fact that DeVante Parker went down with an ankle sprain that put the man on crutches.
NFL: DeVante Parker (ankle) leaves on crutches https://t.co/H7MMwIfrZ4

— Rotoworld (@rotoworld) October 8, 2017
It was deemed not serious and Parker has a chance to play, but it's not something that should be counted on. Even if he does end up playing, Stills' ceiling is still immediately higher in regards to his fantasy value. He's seen outings where he's received a hearty 10-targets like he did in Week 3 or times where he's found the end zone in Week 2. He's always been a solid contributor in the offense, but they've struggled to get the passing game going to the point where Stills had fantasy value. With Parker hobbled, he becomes the home run threat and red zone target.
6. Roger Lewis – New York Giants, WR (.1%)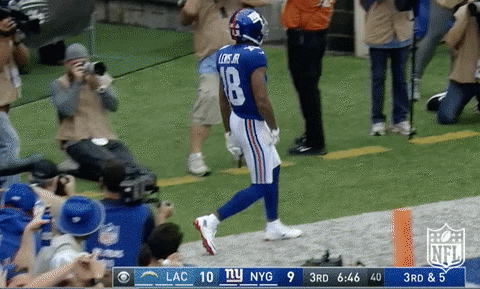 It's hard to say if the Giants will have enough time to play this Sunday night against the Broncos because they may still be cleaning corpses off the field from this past weekend. If they do, the only man that is currently left standing on offense is wide receiver, Roger Lewis.
Roger Lewis is not just the Giants' No. 1 receiver. He is their one receiver.

— Patrick Daugherty (@RotoPat) October 8, 2017
The Giants' season already looked like an absolute sh*t show but it somehow got worse with Dwayne Harris, Brandon Marshall, and Odell Beckham Jr. all headed to IR. Even with Sterling Sheppard still currently displaying a pulse, he also injured his ankle and could be out this upcoming week. New York has a sub-par passing offense and no will to win the rest of the season, but Lewis is still a No. 1 option. That's enough of a reason to pick him up in fantasy. Evan Engram may finally have the role on offense we all thought he would heading into this season, or practice squad promotee Travis Rudolph can prove his huge preseason wasn't just a fluke, but Lewis is the safe option of the three.
5. Elijah McGuire – New York Jets, RB (14.6%)
Elijah McGuire got 13 touches Sunday, making him the Jets' clear RB frontrunner if Bilal Powell misses time https://t.co/KLYr3SF99f pic.twitter.com/stGtboakab

— Sports Illustrated (@SInow) October 9, 2017
You probably didn't expect the Jets to actually be in a position where they want to win games after the first five weeks of a season, but that's neither here nor there. Try to ignore the fact that the Jets actually are trying to win this week, and focus on the fact that is could be Elijah McGuire to be the one to do it. With Forte out and Bilal Powell nursing an injury, he would absolutely be the top dog in an offense that can't solely rely on their passing game. His 11 carries for 20 yards last week are easily forgettable, so instead, focus on his 10 carries for 93 yards and a score one week earlier against the Jaguars. With the Patriots on deck, he'll have plenty of opportunities to stake his claim to the lead dog spot against an awful defense, thus making him a prime-time pick up in fantasy this week.
4. Ricardo Louis – Cleveland Browns, WR (.4%)
The Browns can't win a game, but that shouldn't matter to you. You aren't on the Cleveland Browns and should only care about winning your fantasy league. Believe it or not, Louis can actually make that happen. It's tough placing your trust in a Browns' wideout with their current QB situation up in the air, but he's proven to be the only consistent player on the entire offense.
He's led wide receivers in targets (18), yards (135) and catches (10) over the past two weeks. No matter who's been in at quarterback, he's been able to find a role in the offense. It may be crazy to say it, but this Browns' wideout may be the most consistent fantasy player on this list.
3. Matt Breida – San Francisco 49ers, RB (7.1%) 
If you don't know Breida, it's time to introduce yourself to the man who should absolutely be owned in every single league. Sure, playing for the 49ers doesn't exactly get you a lot of notice as they are usually unwatchable, but he's a fantasy player who could be the top dog as soon as this week. All it takes is a few plays to break out.
#49ers plan going forward in the running game:

– Start with Carlos Hyde
– Spell Hyde with Matt Breida
– Go with hot hand thereafter

— Joe Fann (@Joe_Fann) October 9, 2017
That's a recipe that could not only make him relevant but could make him a must-start in the future. We've seen what Hyde could do when he was healthy in the past on this offense. If Breida is actually challenging him to the point where he can be the lead dog, it's important to give him a chance, especially with Hyde still banged up.
He already showed he should be owned in all fantasy leagues by racking up more touches, yards, and targets than Hyde this past week. Whether you're using him as a handcuff or want to shoot for the stars, you have plenty of reasons why you should snag him.
Nelson Agholor – Philadelphia Eagles, WR (19.5%)
Agholor isn't on this list because he broke free for the best touchdown of the week by putting a Cardinals corner in a blender. He's here because he's on the offense with the fifth most passing scores, and the sixth most passing yards. Now that he's finally proving why he's a first-round pick, he's already having the best year of his career.
Nelson Agholor is on pace to have 851 yards this year. He had 648 yards in 2 seasons. #Eagles

— Zach Gelb (@ZachGelb) October 9, 2017
Nelson Agholor has 3 TDs this season through 5 games, already a career high. #Eagles.

— Martin Frank (@Mfranknfl) October 9, 2017
He may rely on the big play for the majority of his fantasy scoring, but it's something he's come through with. Agholor is second amongst Philadelphia wideouts in targets, second in catches, and first in touchdowns and yards. It's not like he's broken out once and has yet to be heard from again. He provides enough consistency to make his big-play nature ownable in all formats.
1. Marlon Mack – Indianapolis Colts, RB (3.3%)
People have been looking for a player to dethrone Frank Gore as the starting running back in Indy, and we finally may have someone talented enough to do so. With Andrew Luck still sidelined, the Colts have been looking for any sort of spark on their offense, and the rookie was happy to provide it. When he was given double-digit touchdowns for the first time in his career, he racked up over 90 yards and even found the end zone. Pagano has made wrong moves on numerous occasions, but even he knows you can't ignore that kind of performance.
Pagano: Marlon Mack has earned more touches https://t.co/pTmQ04XN1X

— Rotoworld Football (@Rotoworld_FB) October 9, 2017
Gore will likely get more carries for the time being, and that's perfectly fine. Mack will still find ways to be relevant just like earlier waiver wire finds Tarik Cohen and Buck Allen have done for their teams thus far this season. He may make it worth your while in the meantime with performances like this until he finally gets the starting job and ends up as one of the top fantasy pick ups on the season.