For those of you sitting at 2-3 or 1-4, do not give up. Don't ever give up. Quoting the infamous Jim Valvano speech here might be completely over the top and should normally be used for more inspiring situations, but the season is still young for fantasy players. There are always breakout candidates and busts waiting to happen that could turn your season right around. The tricky part is finding out which is which. Here are the perfect buttons to push for your Week 6 fantasy matchup.
START 'EM
Matt Ryan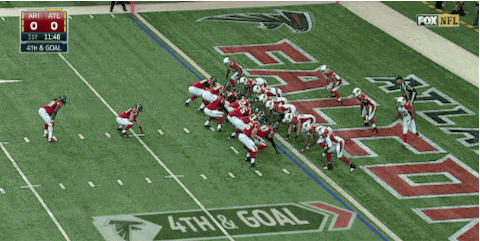 Anytime you can get one of your big guns like Matt Ryan back into your fantasy lineup, you have to be happy. Now those in 1-QB leagues might be hesitant to plug him right back into the lineup considering he's mustered up just 51 points in ESPN standard scoring leagues over the course of four weeks, but the bye week came at the perfect time. It gave Julio Jones a chance to get healthy, as he's been a participant in practice this week. Plus, Ryan has the chance to expose a Dolphins secondary that has somehow managed to disguise themselves as a top ten defense against quarterbacks.
Matt Ryan has consistently graded above avg. after byes.

2012: 79.6
2013: 78.2
2014: 82.3
2015: 77.1
2016: 82.3

Highest 2017 grade: 76.3

— PFF ATL Falcons (@PFF_Atlanta) October 9, 2017
Instead of letting that deter you, look at the simple facts. Miami has picked on early-season Jared Goff, Josh McCown, and an injured Marcus Mariota this season. The only legitimate QB they've faced was Drew Brees who managed to put up 18 points.
Miami is sitting with a big fat goose egg in the interception department, which bodes well for Ryan who has thrown a surprising five picks thus far. Look for Ryan to reintroduce himself to the fantasy world this week.
Jarvis Landry
Last week, Jay Cutler threw for 90 yards. That's it. You can probably tailgate for a few hours out in the beautiful Miami sun and sling for at least 100 yards in the NFL. That might be an over exaggeration, but Landry's production this season despite his involvement in one of the worst passing attacks in the league hasn't been exaggerated enough.
Even though he may not be the red zone monster you want on your team, he is an absolute stud in every PPR format. In just four games, the Dolphins wideout is somehow still sixth in receptions.
Reception Leaders
40 … Antonio Brown
32 … Zach Ertz
32 … A.J. Green
32 … Larry Fitzgerald
31 … DeAndre Hopkins
30 … Jarvis Landry

— Reuben Frank (@RoobNBCS) October 9, 2017
Everyone above him has played more games, and not a single one of them has Jay f**king Cutler pegging the ball at their chest. If that doesn't speak volumes for his production, maybe his matchup will. Atlanta may be having a solid season thus far when it comes to their stats against wide receivers in fantasy this season, but they have shown a weakness when it comes to undersized possession receivers such as Landry.
In Week 3 when going against a very similar receiver in Golden Tate, the Falcons gave up seven catches for 58 yards and a touchdown. He should've even had one more if the Lions didn't get screwed at the end of the game. If Tate's production is any indication, Landry should still be in for a solid game despite QB woes.
CJ Anderson
It doesn't take a ton of explaining to realize why you should start him this week. You can probably smell the stench of the team he's playing coming all the way from the Meadowlands no matter where you are. The Giants are the biggest dumpster fire in the NFL and should be absolutely taken advantage of for your fantasy gain.
While their defense has not been the reason for their abysmal season, the Giants have been bullied by running backs, especially bruisers such as Anderson. To understand how good Anderson will be this week, just take a look at Melvin Gordon's 168 total yards and two touchdowns, as well as this beauty of a stiffy.
That Melvin Gordon stiff arm tho pic.twitter.com/WAGkPTjbVY

— Jordan Heck (@JordanHeckFF) October 8, 2017
Anderson is currently second in the league in yards after contact and should bury a defense that has let running backs slowly but steadily put up solid performances against them this season. Add in the fact that he's coming off a bye with fresh legs and he's got to be bumped up into the starting lineup in every league.
Will Fuller
If you're having trouble wading through the copious amount of rules that go into making the right fantasy decisions each and every week, you can go back to the simplest rule and follow that until the end of time. Ride the hot hand. With four touchdowns in two weeks, there are few hands hotter than Fuller's.
ABSOLUTE DIME from @DeshaunWatson!@Will_Fuller7 is on the other end for the 48-yard TD! #Texans #KCvsHOU pic.twitter.com/FgAG8c1i3d

— NFL (@NFL) October 9, 2017
Whether he's bullying corners in the red zone or finally living up to the deep threat label that was placed on him when he was drafted in the first round last year, he's finding the end zone, which is all that really matters. You'd like Fuller to have more targets and you'd definitely like him to have more than two catches last week, but beggars can't be choosers.
While the Browns have been solid against receivers this season, they're another team that has picked on poor passers like Andy Dalton, Joe Flacco, Jacoby Brissett and Josh McCown. While DeShaun Watson is lighting them up, expect Fuller to take part in the party by extending his scorching hot fantasy start.
Jerick McKinnon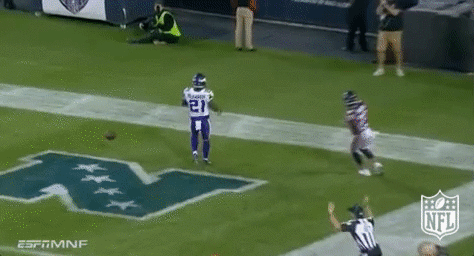 You know that door leading to the starting job of Minnesota's backfield? While Latavius Murray was slowly creeping towards it, McKinnon kicked it down and claimed the top dog role for the Vikings. He may have been the backup heading into the Monday Night Football, but then proceeded to have more carries, rushing yards, targets, and catches than Murray while tallying the only touchdown out of the backfield. Even if this team pretends to split carries, his role as the passing down back puts him leaps and bounds ahead of Murray.
To reward McKinnon for his first week as the top playmaker in the backfield, he has a juicy matchup against the rival Packers. It doesn't take an ESPN insider to remind you that this defense has sucked for a while now, and it has been completely evident over the back four weeks. They've given up a staggering 393 yards and four touchdowns since Week 2, a stat that should make any McKinnon fantasy owner thrilled about his potential this week.
SIT 'EM
Jared Goff
There are going to be a lot of weird and uncomfortable facts thrown your way soon, so please bear with me. The first one is that Jared Goff has actually been good this season. He's shown spurts proving why he was the top pick in the draft a year ago and has been a pleasant surprise for those in 2-QB leagues that have picked him up. The second weird fact, which might be much worse, is the fact that the Jaguars have the best defense against quarterbacks in fantasy thus far this season.
You might be using your totem Inception-style to make sure you're not stuck in a dream, but it's the truth. Thus far this season, the Jaguars have given up more than five points in standard scoring leagues only once to Mariota, who put up only 12 points. Asking Goff to be the one to change that streak is a tall order.
Ty Montgomery
That gif is the exact face I'll make if anyone asks me if they should start Ty Montgomery this week. There's no problem with Montgomery as a running back as he actually did fairly well with the insane workload he was given the first three weeks.
That was then, this is now, and the man has a bunch of broken ribs. Sure, he was a full participant in practice Wednesday for the first time since his injury, but Mike McCarthy did say he was "unsure" if he'd play. One thing he was sure about? The involvement of Aaron Jones in the offense no matter who's healthy.
Packers coach Mike McCarthy said Aaron Jones has "earned more opportunities." He averages 5.4 per carry all other backs at 3.3 per. Yep

— Michael Lombardi (@mlombardiNFL) October 11, 2017
This shows that even if Montgomery plays, he'll likely at best share carries with Jones, if not take a back seat altogether. Dealing with low ceilings and shared backfields is already a curse in fantasy, and that's for players who aren't going against the second-best fantasy defense against running backs this week.
The Vikings have given up just one touchdown on the ground and have been putting running backs on lockdown all season. Don't panic about Montgomery for the rest of the season. Just don't put him anywhere your fantasy lineup this week.
Adrian Peterson
Before the Adrian Peterson hype-mobile starts rolling, allow me to take a bazooka to each and every tire to make sure this thing does not move an inch this week. Yes, Peterson escaped that hell hole he was decaying in down in New Orleans, but that doesn't mean his career will be resurrected in Arizona.
He does have a chance to be the top dog in the backfield for the short term with Chris Johnson gone and David Johnson still on the IR, but let's not forget that this man became a Cardinal just a few days ago. Expected him to come in, learn the playbook, and hop into a time machine to bring back a former version of himself who can actually play is a lot to ask of a man in just a week. Throw in the fact that he's going against a solid Buccaneers defense, and that closes the case on Peterson for the fantasy start this week.
Tyreek Hill
It's pretty hard to bench what is likely one of your top fantasy wideouts at this point in the season, but you know the deal with Hill. While he is a huge part of the Chiefs' offense, he's a big play magnet that has only found the end zone in three games this season. He doesn't have the targets to make him a solid start, making him the most attractive boom-or-bust player in the league. He's good, but that doesn't change the risk of starting someone who could put up a stinker every week.
This week, Hill goes against the defense that is tops in fantasy at defending wideouts. Instead of force-feeding a gadget player, they'll likely rely on the best fantasy player in the league going against the 30th best fantasy defense against running backs. With the odds laying in Hunt's favor, it's a safe bet to pick against big-play Hill this fantasy week.
Carlos Hyde
Remember in the passage about Montgomery when I mentioned how a split backfield was something you wanted to completely avoid. It's only better than two different situations for starting fantasy running backs- being part of a "hot hand" backfield, and being benched altogether. Hyde was benched last week, and now it sounds like the 49ers will be operating with the former this week against the Redskins.
#49ers plan going forward in the running game:

– Start with Carlos Hyde
– Spell Hyde with Matt Breida
– Go with hot hand thereafter

— Joe Fann (@Joe_Fann) October 9, 2017
Factor in San Francisco's matchup against the Redskins who have given up only one rushing touchdown to Todd Gurley this season and that makes Hyde one of the worst starts in the league this week. With Matt Breida playing better, Hyde just coming off of an injury and a tough matchup ahead of him, you shouldn't even think about starting him in your fantasy lineup until next week.