From 2006-2011, the nation fell in love with Coach Taylor and by default, Texas football. Many cried and many laughed during weekly viewings of "Friday Night Lights." The characters were relatable. The story lines were rich and the football action pure. There's one lie that must be corrected, however. Texas is not forever. Football at the University of Texas at Austin is dead.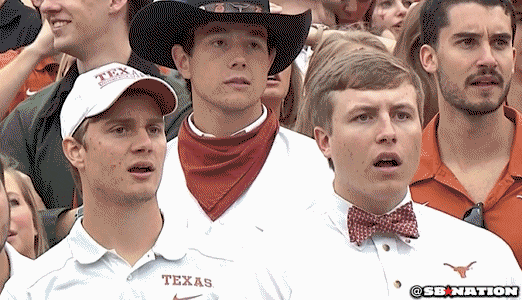 It's hard to put a finger on what exactly makes UT part of the great traditions in NCAA football. Established in 1893, the Longhorns have four National Championships. Good enough for eighth all-time once polling began in the 1930s. It's important to note three of those four titles were won in an eight year stretch (1963, 1969 and 1970). When college football was as white as Texas' road uniforms.
Yet here we are. Texas is more known for football than probably any other commodity outside of Colt 45s (the gun, not the drink) and barbecue (strongly support). Texas and football have been drilled into our collective heads that you can't think of one without the other.
There are some facts to support it.
Before the start of the 2016 NFL season, Texas produced the third-most NFL players. A whopping 160 players call the Lone Star State home. One problem. Out of those 160 players, only 37 went to the biggest and most well known college in the state. Every university, both in-state and out-of-state, own the Longhorns. There are more Texas-born quarterbacks playing in the NFL than any other state. None of them went to Austin.
The lack of UT elite players at the quarterback position could explain why while the other Texas universities get better, the Longhorns are taking a nose dive into irrelevance. Texas A&M, Baylor and TCU have all grown into national contenders. The last time Texas received such praise was 2009. They would lose to Alabama. All they've done since is lose.
The Red River Showdown just happened; a game so pompous they match it with the Texas State Fair, home of the fried…everything. But Texas is even catching Ls at the fair — Oklahoma beat them 29-24.. The Texas Star used to be the biggest ferris wheel in North America. That is until the Star of Puebla, Mexico took that honor in 2013. Losses are coming fast and loose in Texas.
The rivalry has been anything but competitive. The Sooners have won 12 out of the last 18, six out of the last eight. Oklahoma has also doubled up Texas' Big 12 championships this century.
Forget Oklahoma, Texas can't get past Kansas these days. Texas has produced three straight losing seasons. The first time since before World War II.
The one place the Longhorns may have a leg up is in knowing how to make and spend money. Texas was #1 in college football revenue and profit. A university that refuses to pay its players makes more money yearly than 21 NFL franchises, generating an astounding $91+ million.
New Texas football locker room has 43-inch TV monitors in the place of nameplates pic.twitter.com/KDdg5wTqPr

— Darren Rovell (@darrenrovell) August 3, 2017
If Friday Night Lights makes a comeback, they should change "Texas Forever" to "Texas Money Forever" to remain accurate.
It seems that's the only thing that's still winning.