Pittsburgh Steeler Antonio Brown is the hottest receiver in the NFL, with a league-best 700 receiving yards through Week 6. Even more impressive: he's averaging 100 yards a game over his past 77 games; the GOAT, Jerry Rice, put up 95 yards a game during the best 77-game stretch.
Jerry Rice would argue that the game has changed; that today's receivers are a talented but coddled bunch who exist in a utopian NFL. He wouldn't be wrong, but that doesn't take away from what Brown has been doing to the league; torching defenses far and wide. When he's not live streaming the victory party in the locker room, of course.
Brown, like Rice — the archetype for all great wide-outs — is wild. Unpredictable. Flamboyant. Impulsive. Those same traits that keep Steelers coach Mike Tomlin up at night are the qualities that make Brown so effective on the field and the league's most productive receiver.
Mike Tomlin is a no-nonsense guy, but he understands the territory that comes with greatness:
This GIF is a perfect microcosm of Antonio Brown. You're thinking, "What the f**k is he doing?"
The answer: doesn't matter. He just scored a touchdown. He can do whatever he wants.
As the best receiver in the league, he's afforded privileges most players aren't. For example, a license to cuss out the coaching staff: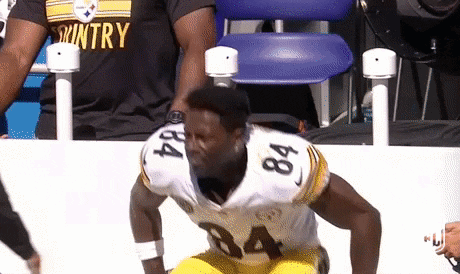 But for every sideline freakout, he does three or four things on the field that are YouTube-worthy. Like Sparta-kicking Cleveland's punter in the most disrespectful hurdle of all-time: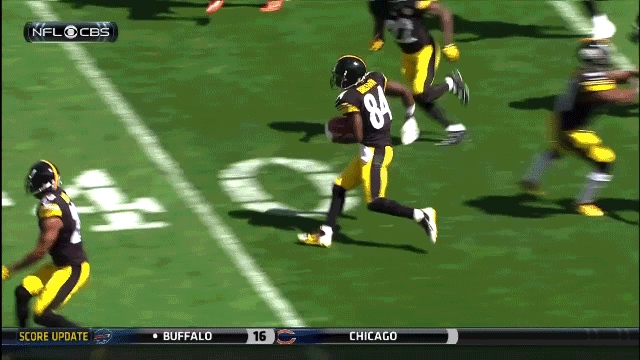 He's a supremely talented football player who's vexed defenses for the better part of a decade. At 29, he's in the prime of his career and at the height of his powers. With world-beating Le'Veon Bell in the backfield and Big Ben (more or less) still slingin' the ball with purpose, the Steelers have an offense no defense wants to face.
On the other side of the ball, they have the third-best defense in the NFL. Championship-caliber stuff.
If Brown can sustain the level of production he's had through Week 6 all season, the Steelers might just win the Super Bowl this year.