At this point in the season, it's hard to ignore just how good or how bad your fantasy team is possibly doing. Normally, six weeks is enough to realize if you should be thanking everyone in your league for the free money they all decided to hand you, or if you should be focusing on the start of the NBA season while you dread each and every Sunday.
As you may have realized, this is not a normal season. You are likely sitting at 3-3, 4-2, or 2-4 while this completely unpredictable NFL wages war around you as you pretend like you know what you're doing. While you are still very much alive, it's time to try to find some easy things to predict on the waiver wire for your fantasy team.
Honorable Mention – Marqise Lee – Jacksonville Jaguars, WR (owned in 30.4% of ESPN leagues) 
10. Bennie Fowler – Denver Broncos, WR (1.7%)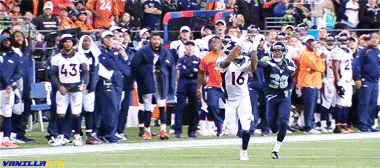 Remember Bennie Fowler from his Week 1 explosion that put him on your fantasy radar? He may have overstayed his welcome on many watch lists thus far, but it's finally time to give the man a chance. As you may have realized, building a team is solely based on opportunity. Sunday night, whatever injury bug that has a personal vendetta against wide receivers made the trip with the Giants and laid waste to the Broncos' wideouts.
It's not great for multiple owners who saw Demaryius Thomas and Emanuel Sanders hit the sideline with different injuries, but it does open the door for Fowler.
Bennie Fowler (61 snaps, 75% of off.) played the most of any Broncos WR. Thomas #2 (57, 70%).

— Nicki Jhabvala (@NickiJhabvala) October 16, 2017
What's important for Fowler is the team's commitment to passing. Even though people may not love Trevor Siemian, Denver still throws the ball an average of 36 times per game. With Emmanuel Sanders out, it's clear that he'll take over as the next man up.
His three catches for 21 yards shouldn't be what you focus on. It's his eight targets against a good Giants secondary that should give you hope. With a much easier matchup against the Chargers on the horizon, Fowler should prove he's worthy of a fantasy roster spot this week.
9. Jack Doyle – Indianapolis Colts, TE (34.9%)
Jack Doyle may have been a sleeper favorite heading into this season and has flat out not lived up to the hype yet. Blame it on the fact that he's on a truly horrific offense or the fact that superstar quarterback Andrew Luck's injury could be bringing him down, but Doyle finally showed some signs of life against a Titans team that has kept tight ends out of the end zone while keeping them under 60 yards in five of their six contests.
Many will talk about his two drops or his fumble as takeaways from this game, but he still managed to put up a solid stat line. His seven catches on 11 targets for 50 yards and a score should be what you actually remember. Whether Luck or Brissett line up behind center next week, it's time to take a shot on a tight end that has a ton of upside for the rest of your fantasy season.
8. Kenny Golladay – Detroit Lions, WR (18.4%)
With Fowler and Golladay making this list, you probably thought you stumbled upon a list following Week 1. Don't worry, you won't find Kerwynn Williams on this list anywhere, you're still in the right place. The rookie wideout has been extremely quiet after loudly announcing his arrival into the NFL with four catches for 69 yards and two touchdowns mostly due to an injury that has sidelined him for the past few weeks.
Not only is he expected to return soon after practicing last week, but he's coming back into a wide receiver corps that will be without Golden Tate for a number of weeks.
With Tate out, following the Lions Wk 7 bye, Marvin Jones, Kenny Golladay, TJ Jones would be the 1-2-3 at WR for a few weeks.

— Mike Clay (@MikeClayNFL) October 16, 2017
He does have a bye week coming up, so waiting on this talented wideout is completely reasonable. Still, you might want to add him now and stash him on your bench for a week before another waiver wire hawk snatches him up.
7. CJ Beathard – San Francisco 49ers, QB (.1%)
For those of you who stuck around to read this article and didn't leave this page in a fit of rage after realizing a 49ers QB was on this list, thanks for staying here. For those still looking for an answer on why Beathard is here, just take a look at the mess around you that is considered the quarterback position this year.
We've already seen a number of big-time QBs get hurt like Aaron Rodgers while others like Derek Carr have struggled. Add in the fact that the Matthew Stafford and Deshaun Watson are both heading into their bye weeks and it's a perfect time to stream a QB.
Beathard may not be the household name you were looking for, but the rookie had a solid outing in his first major NFL appearance. The 49ers' brand new starter still managed to rack up 245 yards and a touchdown in limited time, while adding a pick during desperation time late.
That's a solid outing for a man who is getting his first taste of NFL action. Add the fact that he's playing a Cowboys defense that made quarterbacks like Trevor Siemian and Jared Goff look like solid fantasy starters, and it's hard to ignore his upside this week.
6. De'Anthony Thomas – Kansas City Chiefs, WR (.1%)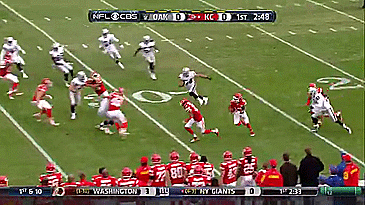 Anytime you can add someone from the best offense in the NFL to your fantasy team, it's normally an easy thing to sell. In Thomas' case, it's easy to overlook him.
Outside of Alex Smith and Kareem Hunt, it's been hard to find consistency on this offense, but the poor man's Tyreek Hill has actually been somewhat reliable, finding the end zone in the past two weeks.
#PITvsKC Con pase de Alex Smith de 44 yardas a De'Athony Thomas, los @Chiefs se acercan 12-10 a los @Steelers pic.twitter.com/1bEv87GfuS

— NFL México (@nflmx) October 15, 2017
For those who don't speak Spanish, please ignore the language difference and watch as that lightning quick spitfire finds the end zone once again. It's still hard to count on Thomas, but it's hard to overlook the fact that he's scored in back to back weeks.
He played a season-high 36 snaps this past week, a number that could go up with Tyreek Hill and Charcandrick West going down with concussions. You normally want to stay away from gadget players, but those in deeper fantasy leagues might want to take a risk and stash one of the more explosive players in football.
5. Alex Collins – Baltimore Ravens, RB (29%)
For those of you who remember Collins' appearance two weeks ago, apologies for the repeat. Still, it seems like people don't get the fact that he's good, including those in charge of calling plays for the Ravens. So far this season, he's averaged a ridiculous 6.4 yards per carry, thanks to so big gains like the one below.
Alex Collins hits the jets. #RavensFlock pic.twitter.com/AdfnPbE78b

— Baltimore Ravens (@Ravens) October 15, 2017
It's hard to figure out what the man has to do to get the ball. The Ravens have the most vanilla offensive attack in football, have a budding fantasy star at running back, but don't give him the ball. He received just 22 snaps this week and still managed to finish with 74 yards on 15 carries. That's pretty much the definition of producing when called upon.
Collins' fantasy ceiling is clearly limited thanks to the geniuses calling plays in Baltimore, but here's your reminder that he can break out if he gets a real shot.
4. Chris Ivory – Jacksonville Jaguars, RB (5.3%)
You know it means when it starts getting colder outside. It's time to put away the summer clothes, bundle up, and get ready for cuffing season! This normally refers to dating life for those who are single, but the phrase couldn't be more important in fantasy football and Ivory is just one important handcuff for this week.
The running back is only thought of as Leonard Fournette's backup and rightfully so, but he has had a solid season still behind him.
Chris Ivory is #29 in fantasy points at RB. Super-underrated bench stash/cuff. This week's Fournette scare will make him a hot waiver name

— Mike Clay (@MikeClayNFL) October 16, 2017
After Fournette went down with what looked like a hyperextended knee but was reported as a high ankle sprain, Ivory took over. He finished with nine catches for 74 yards and a score as this team was in passing mode for the end of the game.
If the Jags' superstar misses any time, he'll easily step in as the team's bell cow and handle the extremely large workload he was dealing with. If not, he's still one of the better and more productive handcuffs available in your fantasy league.
3. Orleans Darkwa – New York Giants, RB (4.3%)
Staying a full timezone away from the Giants' backfield is normally the right thing to do, but Darkwa has done nothing but make himself relevant in fantasy over the past few weeks. He's been dealing with injuries and suffering behind brutal game calling by Ben McAdoo, but had a huge day on a heavy workload against the Broncos last week.
Rushing 21 times for 117 yards would get you a spot on this list no matter what, but doing it against Denver's defense proves how talented you are.
How special was Orleans Darkwa last night? He crossed the century mark against a DEN D that stacked the line 80.9% of the time. Unreal.

— Brad Evans (@YahooNoise) October 16, 2017
Darkwa has now scored double-digit fantasy points in back to back weeks and is clearly the top dog in the Giants' backfield. That's not exactly a huge compliment, but it is a reason to pick him up and add him to your fantasy team.
2. Mike Williams – Los Angeles Chargers, WR (13.9%)
This isn't a pick up you're going to love right away but it is a move that could be one of the best waiver wire signings of your season. Mike Williams came into this season as one of the most exciting rookies in football, but has been sidelined until now. Williams quietly made his career debut this week, which is all you need to know. It does not matter that he only had nine snaps and one catch. It matters that one of the most explosive players on the Chargers roster is healthy enough to get on the field.
Even if LA plans to slow him into the process of playing, it's time to stash him on your bench. He has the chance to be huge towards the end of the fantasy season one he starts getting a full workload and larger snap count. Instead of trying to find a mediocre option on the wire, swing for the fences with the most talented player available right now.
1. Darren McFadden and Alfred Morris – Dallas Cowboys, RB (49.7%, 43.9%)
Should Cowboys continue to go with Alfred Morris or switch to Darren McFadden as RB2? https://t.co/vbSlw6YCid pic.twitter.com/vBRjdNckvm

— Zesty NFL Cowboys (@zesty_cowboys) September 14, 2017
Both of these players are owned in a high percentage of leagues already, but if you're in a league that still hasn't foolishly picked up one or both of these players, consider yourself lucky. With the Ezekiel Elliott process speeding up, it's finally nearing the time where the Cowboys' superstar could serve his six-game suspension. That immediately makes both Morris and McFadden smart waiver wire pick ups.
Owners are always looking for the most star potential when picking players up in fantasy, and there are no options with higher ceilings than these two. With bye weeks in full swing, adding a talented running back behind the best offensive line in football is a no-brainer. It's a huge addition for six weeks and is absolutely worth the risk at this point in your fantasy season.
For last week's list, look no further.