As we reach the half-way point in the fantasy football season, it's important to know who you can rely on to get you that championship. There have been some non-injury let downs (Where are you Michael Thomas?) and some pleasant surprises (Alex Smith + Deshaun Watson). In the end those surprises may get you into the playoffs, but consistency is what wins it all.
Here are four things to keep an eye on in Week 7 that may give you that consistency you've been hoping for.
LeSean McCoy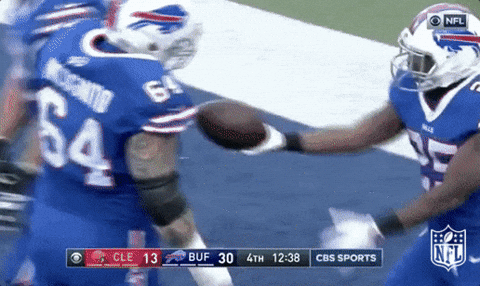 There has not been a lot of dancing so far from the All-Pro running back.
Shady was the third or fourth rated running back coming into the season. Up to this point, however, he has really failed to live up to expectations.
McCoy has no touchdowns and has only rushed over 100 yards once this season. Those stats are a far cry from the 14 touchdowns and over 1,600 all-purpose yards he racked up last year.
These things have a way of working their ways back to the mean. The Bills transformed their offense to a zone blocking scheme this season and there has to be an expected transition period. Coming off a bye, look for McCoy to get more comfortable with how to read the holes and make a bigger impact in the Buffalo offense.
The Bills run the ball more than any other team outside of Jacksonville. The opportunities will be there. There's no reason not to expect McCoy to explode in the second half of the season. He is a buy-low candidate and should be pursued like the force and passion of one-thousand shoppers on Black Friday.
Leonard Fournette
The top 5 draft pick and second round fantasy pick has done exactly what everyone expected him to do in his first six games as a Jaguar. Fournette is averaging 21.7 carries and 99.3 yards per game. He is on pace for 1589 rushing yards on 347 carries.
Those 1,500+ rushing yards would be the sixth most for a rookie. Those 347 carries would be the most by anyone since DeMarco Murray carried the ball 392 times in 2014.
Fournette came into the season with a foot injury. Now he's nursing an ankle injury. While he rebounded quickly and effectively from his preseason ailments, this ankle injury is something that has bothered him throughout his career at LSU. Reports out of Baton Rouge stated Fournette's ankles were a "chronic problem."
It may be difficult to imagine trading the second best points scorer at the running back position, but there seems to be a lot of red flags waiving. Jacksonville relies solely on the running game with no other offensive threats. After the Jags bye in Week 9, they will face stout run defenses in more than half of their games. Finally, there's very little chance Fournette and Jacksonville can keep up this pace. Then again, it is Jacksonville.
New Orleans Targets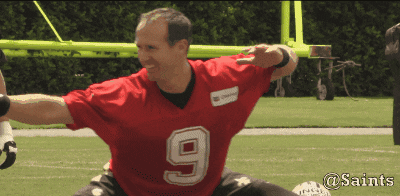 No one completes more passes per game–outside of Arizona and New England–than the Saints. The problem is Drew Brees has never met a pass catcher he doesn't like. Brees targeted seven different receivers multiple times in the Saints game against the Lions. Thomas received the most targets and ended up with second fewest catches out of that group.
With Willie Snead coming back from injury and suspension, Alvin Kamara's emergence as a pass-catching threat out of the backfield and Teddy Ginn's continued usage, it's almost impossible to pick one player who will become the go-to receiver for the Saints and their high-powered offense going forward.
Much like was asked of you a few weeks ago with Arizona's John and Jaron Brown, keep an eye on targets between the half-dozen players Brees hits per game. While Thomas, Ingram and Kamara are probably taken in your league, Snead, Ginn and Brandon Coleman could all play a significant role in the offense going forward. In a game where Brees threw the ball only 30 times, all three of those players received multiple looks. You should look their way as well.
Tyrod Taylor
Piggy-backing on what was discussed earlier with regard to LeSean McCoy, Taylor should be someone you look at going forward. Buffalo faces NO top tier defenses the rest of the season. NONE. ZIP. ZERO.
Not much has been asked of Taylor so far this season. The Bills have relied on the defense to lead the way. Buffalo's D is allowing the least amount of points per game. Taylor's offensive production has suffered because of it. Taylor has passed for over 200 yards just twice this season. Those two games are also the only times Taylor has thrown multiple touchdowns.
Having said all that, fantasy football is as much about match ups as it is talent. Taylor's ability to run and pass make him a uniquely qualified fantasy football asset who can get you points multiple ways. Add to that Buffalo has yet to field a completely healthy offense and its all there for Taylor to be a major weapon for you down the stretch.
Keep in mind Taylor had just as many 200+ yard games last year at this time. Over the past two season, Taylor has been one of the most consistent quarterbacks in fantasy football. In week 16 of last year (championship week for most fantasy football leagues) he reeled off almost 400 yards of total offense.