There are a number of different tactics to win your fantasy football league, but a lot of it has to do with repetition. Whether it's starting the same players over and over as they have become rocks in your lineup, continuously staying away from players when they approach certain matchups like running backs against the Denver Broncos, or constantly having more faith in your lineup than you should, repeating isn't always a bad thing.
While this week's waiver wire is ripe with talent, many of them have been on these lists before. Just because they've been repeated doesn't mean you've made the right decision the first time. This may seem like a broken record, but sometimes, you need to hear about fantasy stars more than once before it finally clicks in your head.
10. Juju Smith-Schuster – Pittsburgh Steelers, WR (owned in 7.7% of ESPN leagues)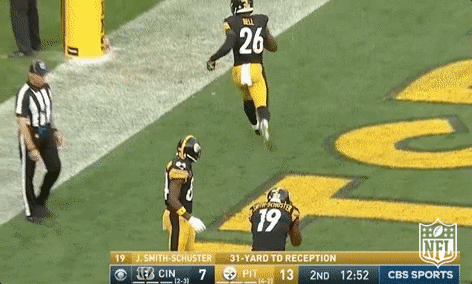 Smith-Schuster's Hall of Fame worthy celebrations may have put him on your radar, but he should've been there all season. While the youngest player in the NFL may not consistently get targets, he gets them when it matters: in the red zone. With all the talent on this team, you wouldn't expect him to be tied with Antonio Brown for the most touchdowns on this offense, but here we are.
Fantasy football is an unpredictable beast that allows players like JSS to vulture touchdowns from your team, but instead of getting angry, just get better. Adding Smith-Schuster gives you a player with boom-or-bust potential, but he could receive a larger role in this offense with Martavis Bryant possibly on the way out.
On @SportsCenter, @JosinaAnderson reports she spoke with Martavis Bryant, who says if role in Steelers O doesn't change, he wants out, citing need to support family. If nothing changes and no trade, according to Anderson, he's prepared to play out contract and leave after '18.

— Jeremy Fowler (@JFowlerESPN) October 24, 2017
Instead of just enjoying his touchdowns because of the clever celebrations that follow, join him by dancing in your living room when he scores for your fantasy team this season.
9. OJ Howard – Tampa Bay Buccaneers, TE (9.2%)
There may be other tight ends like Tyler Kroft (10,8%) that make sense as a streaming option, but if you're someone who has reoccurring tight end problems, you might want to take the risk with Howard here.
Yes, he's extremely streaky, as he's only cracked double-digits in just two outings this season, but his most recent performance with six catches and two touchdowns should give you hope that there is more of that coming in the future. The Bucs selected him in the first round in order to work him in as a focal point of this offense, not to be Cameron Brate's backup.
With only five to six solid tight ends proving their worth this fantasy season, picking up Howard and hoping for a second-half surge based on this past week is a calculated decision.
8. Chris Moore – Baltimore Ravens, WR (0%)
We've done it once again, another person owned in zero leagues that is ripe for the taking! Chris Moore may be the "who the f*ck is this guy" entry of the week, but he's one player who has seen his production increase drastically as the injury bug lays waste to the rest of his coworkers.
That said, #Ravens top WR/TE options: Chris Moore (58 snaps), Griff Whalen (58), Ben Watson (52), Nick Boyle (47) & Michael Campanaro (32). https://t.co/JIsDvYnLya

— Josh Moore (@4for4_Josh) October 23, 2017
Moore wasn't expected to make much of an impact for this team, but that was before Jemery Maclin, Mike Wallace, Breshad Perriman and Michael Campanaro all went down with injuries. There are a whopping six teams that are currently on byes this week, which could leave someone desperate for a wideout. With every receiver listed previously currently questionable heading into a short week, Moore could be the perfect pick-up and stream option for your fantasy team.
7. Dion Lewis – New England Patriots, RB (20.4%)
Lewis is the first guy who has come up on multiple lists, which should already tell you he's become one of the most consistent fantasy options that is still available in the majority of leagues. While he hasn't been lighting the league on fire, his stability and increased opportunity are two things that make him a viable fantasy pick up.
He's had over 50 yards in three straight weeks and has watched his touches continuously rise over that time. It's a crowded backfield with James White, Rex Burkhead, and Mike Gilislee all getting opportunities of their own each and every week, but Lewis still manages to produce each time he's called upon. Most players that collect dust on your bench aren't streamable as they need an injury to be relevant, which is what separates this Patriot running back from the rest.
6. Josh McCown – New York Jets, QB (12%)
Let's just get this all out of the way now. Yes, Josh McCown is synonymous with mediocrity at best and plays for the Jets, but you can't ignore what he's done this season. He's currently 13th in ESPN Standard Scoring Leagues amongst quarterbacks, and has put up two straight weeks of 20+ points. As much as you'd like to ignore it and just consider him as yet another unwatchable Jet, that's simply not the case.
While Atlanta's defense may be solid against opposing quarterbacks in fantasy this season, McCown is still one of the best options available. This offense is finally clicking, and should be expected to throw the ball in order to keep up or catch up to the Falcons this week. Believe it or not, this Jet quarterback should be picked up in most fantasy leagues this week.
5. Corey Davis – Tennessee Titans, WR (23.2%)
That above gif is pretty much the only thing we've gotten from Corey Davis this season. Ever since Week 1, the top-five pick has been sidelined with an injury. If you're one team that is already set with a lineup this week and just want to build for the future, Davis is the perfect pickup for you this week.
He may be on his bye week, but for certain situations, it's all about preparing for the rest of the season. In his debut, he had six catches on ten targets for 69 yards. We already know he's going to be part of this offense, we just haven't had a clue on when he could return. Adding a WR1 this late in the season is hard to do, but you might be able to do so by picking up an incredible talent like Davis and storing him on your bench for a week.
4. Marlon Mack – Indianapolis Colts, RB (26.5%)
Mack is constantly a reoccurring guest on this list which would normally mean he is being completely undervalued by the majority of fantasy leagues, but it's reasonable in this case considering just how awful the Colts have been. There's never been a doubt about how talented he is, just the fact that Indy doesn't realize it yet. Chuck Pagano may be a bit slow on the trigger, but it looks like he is finally understanding how to handle this running back situation.
Marlon Mack truthers rejoice. The rookie out-snapped Frank Gore for the first time ever in Week 7 (32 to 22)

— Mike Clay (@MikeClayNFL) October 23, 2017
The Colts aren't winning and need to focus on the future. While everyone else knows that, it sounds like this is news to Pagano. He's starting to realize he has to focus on younger players like Mack, which makes him a must-own running back in all fantasy formats. He's replaced Turbin as the receiving option in the backfield, and should supplant Gore as the top dog soon enough.
3. DeAndre Washington – Oakland Raiders, RB (3%)
.@dwa5hington will NOT be denied.

The @Raiders take the lead! #KCvsOAK #RaiderNation pic.twitter.com/wlfzhuHx3y

— NFL (@NFL) October 20, 2017
Washington is one of the most interesting pickups in fantasy football right now as a possible stream candidate and beyond. Normally he shouldn't be touched in most leagues, but the suspension of Marshawn Lynch could not come at a more opportune time.
Marshawn Lynch one game suspension upheld

— Lowell Cohn (@LowellCohn) October 24, 2017
As mentioned earlier in this article, there are a high number of teams on a bye week which makes picking up Washington even more important. He'll likely be the goal line back for a team that desperately needs to continue their winning ways. Buffalo may have only given up three touchdowns on the ground this season, but with such few options available, Washington should still be the guy to plug into your lineup.
2. Kenny Stills – Miami Dolphins, WR (15.4%)
Stills is another player that's heading into a bye week so he cannot be streamed, but is definitely worth stashing on your bench. In the last two games without DeVante Parker in the mix, Stills has racked up 10 catches for 134 yards and three scores.
You always like people who can help you right away, but that doesn't mean you should simply ignore his production over the past two weeks. There's no reason to assume his stats will decline even if Parker comes back while Matt Moore remains the QB. He's finally getting the opportunities a player of his caliber deserves, and will continue to be a viable fantasy option moving forward.
1. Jalen Richard – Oakland Raiders, RB (5%)
Jalen Richard has arguably been the best player who hasn't been used correctly in football this season. He's a home run threat every time he touches the ball, has a ridiculous 4.5 yards per carry despite playing behind a questionable offensive line at this point and even has over 12 yards per catch. He's been wasting away behind the artist formerly known as Beast Mode all season, and now finally has his chance to take the top spot while he serves his suspension.
Lynch hasn't done enough this season to prove he should be the lead back, so Richard could dethrone him if he ends up having a huge day against the Bills. That makes Richard worthy of an immediate pickup and stream option, as well as a possible hero for your fantasy team from here on out.
For last week's picks, look here.