There's a pretty solid chance you're looking at your opponent's fantasy lineup this week with a sh*t-eating grin on your face, knowing you're going to win. That's when you take a look at your projected score and quietly mutter the word "f**k" under your breath as you finally understand why.
Week 8 is the first of two straight weeks where six teams have byes at the same time. It may not be a big deal, unless of course, you have stars like Todd Gurley, Demarco Murray, Leonard Fournette, Adrian Peterson, Jordy Nelson, and more. With the Giants, Titans, Rams, Jaguars, Packers, and Cardinals all on a bye, it's time to find the out which fantasy options to roll with and which to keep on the bench.
Start Em
Jay Ajayi 
Ajayi has been extremely frustrating for owners considering how hot and cold he's been. You have to love consistency on your fantasy team, and the Dolphins' running back simply hasn't had any this season. Predicting how good he's going to be is like predicting which teammate Ben Roethlisberger is going to call out this week, but it does get easier with a Thursday Night Football matchup against the Ravens coming up.
Baltimore may still be considered a good defense by some, but the fact of the matter is this team gets destroyed by running backs. They've given up the most yards per game on the ground this season and have given up five touchdowns in the past five weeks. Ajayi is going to get plenty of looks as he's sixth in touches per game, and should capitalize and start your fantasy week off on a good note.
Nelson Agholor
The phrase "don't fix what's not broken" could easily be applied here, but for some reason, the Eagles' wideout is only owned in two-thirds of fantasy football leagues on ESPN. Whether he's on your team or is sitting and collecting dust as a free agent, it's time to realize just what the man has done in the last few games. Since Week 5, Agholor has 12 catches for 193 yards and a touchdown in three straight contests. You know what's great for consistency? Going up against a defense that is 24th in receiving touchdowns and 25th in passing yards allowed. When in doubt, ride the hot hand.
Andy Dalton
It's pretty easy to cast Dalton to the side like the ginger outcast he is, but it's much harder to do so if you're panicking to find a quarterback to play this week. Luckily for you, the Red Rifle is here to bury the Colts as they can't stop anybody this season. People continue to ask when Luck is coming back, but many should focus on when Indy's pass defense is gonna show up. Their defense has allowed 15 or more in six out of seven weeks this season and are 31st in passing yards. Dalton may have had a rough week against a tough Steelers' defense, but he should have a nice bounce-back week as a streaming fantasy option.
Alvin Kamara 
If you're looking for a rant about consistency, go back and double up on the reason you should start Nelson Agholor. If you want a running back to start, look no further than Kamara. In four straight weeks, he's had eight or more points in standard scoring non-PPR leagues. You can't really bank on that kind of consistency with any running back that isn't considered an RB1, let alone one that shares carries.
Highest Week 7 RB YACs: 1) Dion Lewis (4.92), 2T) Alvin Kamara (4.22), 2T) Latavius Murray (4.22), 4) Devonta Freeman (3.92), 5) Hunt (3.67)

— Brad Evans (@YahooNoise) October 23, 2017
Even though the Bears may be 17th in fantasy football against running backs, it's not something that should concern Kamara owners. His involvement in both the ground and passing game gives him opportunities to make people miss on a weekly basis. 
Demaryius Thomas
Thomas is another guy who has been a huge disappointment and likely has caused an incredible amount of stress for you. Grab a stress ball, allow your blood pressure to go back down, and plug in Thomas once more. It might be considered risky, but believe it or not, the Chiefs have actually been horrible against wide receivers this fantasy season. You'd think great matchups only come around when the Browns of 49ers attempt to play football, but Kansas City has actually allowed some monstrous fantasy days for wideouts as of late.
Owners have been desperate for a Thomas touchdown as he's been kept out of the end zone all season, and is now facing the defense that has been giving them up regularly. They were exposed by Antonio Brown, gave up three scores to DeAndre Hopkins, and even made Amari Cooper look like a talented wide receiver this past week. They revitalized Cooper's season, and now they'll do the same for Thomas.
Sit Em
DeShaun Watson
Watson has been the saving grace for many fantasy owners this season, but he'll remind them of his Week 2 dud with this performance. Yes, the man may have 14 touchdowns over the past couple of weeks, but those defenses don't even come close to comparing to Seattle.
The Seahawks team is known for being one of the best in the NFL, but they've truly been a terror for quarterbacks. Over their last three contests, no QB has gotten even 10 points in standard scoring ESPN leagues. Watson may be talented, but it's hard to overcome this kind of matchup as a rookie. It's tough benching your fantasy savior, but maybe wait for next week if you expect him to pick it up.
Amari Cooper
Don't do it. Do not let Amari Cooper suck you up into this land of make-believe. Treat this situation like you're dealing with your ex who keeps leading you on. Sure, this might be a nice gesture as his 11 catches and 210 yards were definitely accepted, but let's not forget about the pain he's caused you in the past. He had more touchdowns and yards in this one game than he had the rest of the season. It's not something you can expect him to repeat.
He exploited a Chiefs defense that is accustomed to giving up huge days to wideouts, but the Bills are not that type of team. They've given up the second-fewest touchdowns to wideouts this season, and have been locking down receivers all year. Don't have a short-term memory, and don't let Cooper ruin your fantasy season more than he has.
James White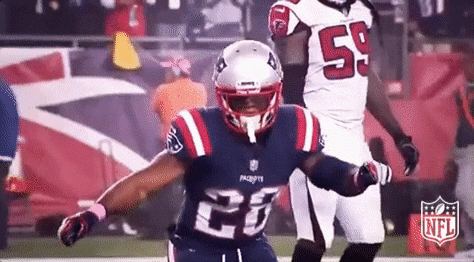 This right here is an accurate depiction of how James White owners looked when he scored his first touchdown. That sort of dance should probably never be used by most as some can't pull it off without bringing negative attention to themselves, but it shouldn't be used by even White fantasy owners with the most rhythm. You may be sensing a pattern here about remembering the entirety of the season and not just this past week, and White will certainly continue that trend. You may want to bank on a productive running back after one week, but it's more reasonable to bank on a defense that has been hotter for longer.
Chargers' defense holds Broncos to 31 yards rushing in first half https://t.co/xsnfGTi4yc via @thechargerswire

— Will Reeve Jr. (@WillReeveJr) October 22, 2017
Over the last two weeks, the Chargers have held their opponents to under 60 rushing yards. That's not exactly what you want to hear when your running back who's upside is clearly limited thanks to the amount of bodies in the backfield. With Gilislee handling goal-line duties, Burkhead cutting into touches and targets, and Dion Lewis watching his carries rise each and every week, there's no reason to think White will receive the opportunities to find success against a constantly improving defense.
Marvin Jones
Opportunity usually results in production which then creates happy fantasy owners who can gloat to their coworkers about how they were the geniuses to start Marvin Jones this week, but this isn't one of those regular occurrences. Maybe think of another topic for cooler talk this week, as Jones is due for a stinker.
It's not the Lions' wideout's fault. He is coming off his best outing and now should get more targets with Golden Tate remaining on the sidelines, but it just so happens to come at a time where the Lions are going against the best defense against wideouts in fantasy, the Steelers.
Pittsburgh has shut down receivers like Tyreek Hill (34 yards), AJ Green (31 yards), and Stephon Diggs (27 yards). They always manage to take the top option out of the game, and Jones is currently filling in those shoes. Time to close that window of opportunity.
Carlos Hyde
It's just been a roller coaster for Hyde owners this season, but not one you want to ride again. It's one of those rides that makes you question eating before hand while you pop pills to dull the pain like your favorite NFL player. Hyde may have bounced back from his recent backfield sharing duties with Matt Breida all while trade rumors swirled around, this kart is about to go off the tracks with the Eagles looming on the schedule.
Philly hasn't just been tough against running backs. They've been the reason you've probably lost a number of close fantasy games. They've given up just 67 yards on the ground per game this season, easily the best in the league thus far. Some people can still get past that kind of obstacle, but Hyde simply doesn't get the workload to inspire that kind of confidence. With just 11.6 touches on the ground over the last three weeks, he could get even less carries if this team gets down early. It's time to get off the roller coaster for the week, as you bench Hyde and ride a different ride.