Marshawn Lynch is a gift that never stops giving. He used to give us yards after contact, runs that shook the earth, and he even hand-delivered a Super Bowl to Seattle. But now, at the ripe old age of 31, his best football days are behind him. He's only on the field as a public service to Oakland before the Raiders bolt out of the Town and head to Vegas.
Lynch's football legacy is secure. Whether the Raiders win the Super Bowl this year or fail to make the playoffs, 'Shawn is going down as an all-time great on the field.
Off the field, his legend continues to grow. He inked a multi-million dollar reality TV deal with Bleacher Report and Facebook this year, parlaying his notorious distaste for media and cameras into cold, hard cash.
The show is called Unscripted and focuses on Marshawn being Marshawn.
It's entertaining, but once you commodify "having fun," you adulterate some of the magic that comes with spontaneity. There weren't any producers around when Marshawn stole that golf cart Husky Stadium after finding the end zone for Cal.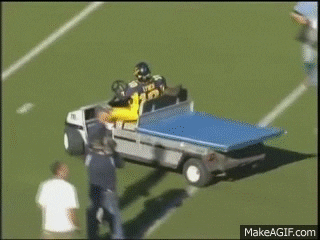 To appease the corporate bigwigs that green-lit a show whose protagonist just got suspended for putting his hands on a ref during an NFL game, each installment has a few bits — Marshawn training with a calisthenics expert or pretending to be Darth Vader — that are hodgepodged into something quasi-coherent; a 15-minute "episode."
The real beauty of the show, though, is that there are cameras on Marshawn all the time, which yields incredible footage, just not suitable for a project backed by Facebook and Bleacher Report. "Cool" companies though they may be, there is still a corporate sanitization that occurs, stripping away Marshawn's sauce at a molecular level in the edit room. It's like how vegetables lose some of their nutrients when they're cooked. Boiled spinach? Still good for you, but with decidedly less nutrients than its raw counterpart.
Case in point: Marshawn Lynch and Marcus Peters riding the BART home together after the Raiders beat the Chiefs on a last-second play.
You see the camera homegirl is holding in the background of this shot with the scope and the laser sight? That's a production-quality camera, not your grandad's Camcorder. Obviously, none of her footage has hit the internet, but best believe she was rolling.
Another gem that Marshawn blessed us with: footage of him showing up at his old high school's practice in full Raiders gear.
Neither of those clips will make it into an episode of Unscripted, but it's those candid moments — actually candid, not "candid" with a gaggle of producers on set and in his ear — why we love Marshawn.
He's a savvy businessman. It's a poorly kept secret that he's never cashed a game check and lives off endorsement money. His Beast Mode clothing line is a license to print money in perpetuity. And his reality show is literally people in suits (the ones writing the checks, anyway) throwing money at him for being himself.
His show is a gambit by Facebook to prove that they are a cool company. In other words: a money grab; but one where Marshawn is holding all the cash at the end of the season.