Despite reaching the midway point in the NFL season, fantasy football's top players are still as murky they were before the season started.
The mid way point int he season typically signifies some sort of consistency. While teams have started to separate from each other, fantasy football has had the opposite effect. This is a wonky year for fantasy. Defenses are scoring at a monster clip, including Baltimore scoring two defensive touchdowns against Miami in this week's Thursday Night Football game.
The top three scoring players were not drafted in the first round and two of them are rookies (Leonard Fournette and Kareem Hunt). Washington's Chris Thompson has scored the eighth most points in fantasy this season, and went undrafted in most leagues. Mr. Reliable Aaron Rodgers is out for the year. Andrew Luck has yet to play a game. Jacksonville has the best defense in the league. It's Week 8 and Lesean McCoy scored his first two touchdowns last week.
In this week's scouting report we take a look at four players/teams who may be disguised as something more or less than what they appear.
Pittsburgh Offense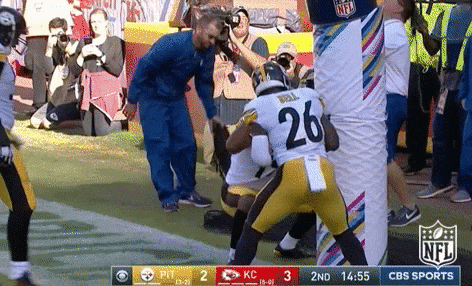 Can you remember the last time Pittsburgh wasn't considered one of the best fantasy offenses? This year was supposed to be no different. Le'Veon Bell and Antonio Brown were top five picks. Martavis Bryant was supposed to have a break out year. Ben Roethlisberger was supposed to continue doing what he's done for the last 10 years once the Steelers became more aggressive on offense.
Bell and Brown have held up their end of the bargain. Brown is the top wide receiver in football again and Bell ranks third. Bell has racked up 30+ carries in three out of the last four games. Brown has double digit targets in six of the team's first seven games.
Quietly though, the Steelers have gone from an explosive offense to a conservative plodder. The Steelers are 18th in points per game and have no one outside of Bell and Brown who you can count on to significantly impact your team. Bryant was demoted to scout team, his replacement JuJu Smith-Schuster is a rookie who has yet to gain over 60 yards through the air. Roethlisberger is the 20th ranked quarterback in fantasy football. He ranks below luminaries like Eli Manning and Blake Bortles.
It's hard to believe but Bell and Brown are the only players worth having, unless you are in a very deep league. Then Smith-Schuster should be picked up based on his twitter game alone.
Oh hell nah, I'm not fallin for this lol. I'm young not stupid 😂😂😂 https://t.co/i2rmgT2pqt

— JuJu Smith-Schuster (@TeamJuJu) October 25, 2017
Washington Offense
Kirk Cousins and company came into this season with higher expectations than ever this century. Washington scored the 11th most points and tallied the third most yards last year. Despite losing Pierre Garcon and DeSean Jackson, the arrival of Terrelle Pryor, Sr. and Jamison Crowder's emergence was supposed to negate any ill affects. The Washington duo has been a dud. Somehow, Cousins has continued to put up respectable numbers.
When Martavis Bryant and Terrelle Pryor see each other pic.twitter.com/3UnwJec9VY

— Bruce Gibson (@BruceJdub) October 24, 2017
The Michigan State product is fifth in QBR, third in passer rating (107.2) and third in YPA (8.3). While Pryor and Crowder have struggled, Cousins has made Thompson a top ten fantasy running back with no other real threats. Washington is still 11th in points per game and eight in yards.
Cousins isn't a household fantasy name, but he's putting up the numbers to warrant a "must start" declaration.
Josh McCown
Sam Darnold's name was already being stitched into the back of a New York Jets jersey before the season began. Now, not so much.
The Jets are one game out of first in the AFC East and McCown is earning every dollar he's being paid. According to Stats LLC, McCown is the NFL's most accurate passer (his percentage of poor throws is the lowest). Over the last three games, McCown is the seventh best passer in fantasy football. With injuries continuing to dismantle starting quarterback around the league, McCown is still mostly available on almost all platforms.
Josh McCown is rapidly climbing up the ladder of Greatest Jets QBs ever. I think he just passed Neil O'Donnell.

— Bill Simmons (@BillSimmons) October 22, 2017
Due to McCown's game, Austin Sefarian-Jenkins is a must start each week. Given the putridity of offenses across the league, Jermaine Kearse should be started. They have a very favorable schedule the rest of the way. It's hard to imagine, but the Jets might win you your fantasy league.
Christian McCaffrey
McCaffrey was a second round draft pick for many fantasy owner, and up to this point has not lived up his Average Draft Position. Having said that there is a ton of upside for the rest of the year for the rookie out of Stanford. No other running back has been targeted as much as McCaffrey and Carolina has yet to really use him as a running threat. Should the Panthers decide to do that, McCaffrey could go from a RB2/Flex to RB1.
For all the talk about Christian McCaffrey's rushing stats, he's currently the RB10 in PPR formats. If you're selling, I'm buying.

— Addison Hayes (@amazehayes_roto) October 26, 2017
McCaffrey has two touchdowns in his last three games and has almost double the amount of catches as he does rushing attempts. Do not give up on McCaffrey. More touches for him could mean more glory for you.