Finally, we've had a week where we didn't deal with a ton of major injuries. While a few players that are normally regulars in your lineups may have left Sunday's games early, there wasn't an injury to an early-round selection that made you want to put a hole in the nearest wall to you.
Still, there's always room for improvement, and always a need to pick up players on the fantasy waiver wire. With another six teams heading towards their bye week and a number of talented players still on the waiver wire, it's time to capitalize and bolster your roster for the second half of the season Instead of letting all of these talented players that were on last week's list to slip by once again, take the risk and open up your roster.
Honorable Mention: Corey Davis – Tennessee Titans, WR (24%)
10. Jimmy Garoppolo – San Francisco 49ers, QB (owned in .8% of ESPN leagues)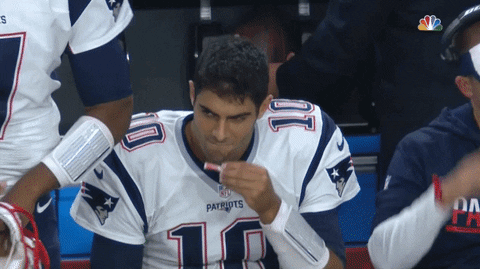 Wake up Jimmy boy! Grab all the smelling salts in the world, because sitting on the bench for your entire life is no longer your occupation! Sure, he got plenty of time to catch up on Netflix shows and probably already flew through season two of "Stranger Things" because he had nothing else to worry about, but now he'll have his hands full being the face of the San Francisco 49ers franchise.
To repeat: 49ers are trading a 2018 2nd-round draft pick for Patriots QB Jimmy Garoppolo, sources tell ESPN.

— Adam Schefter (@AdamSchefter) October 31, 2017
Before you get excited and pick up Brady's official clipboard holder, you have to understand what you're getting into. Garoppolo won't be starting this upcoming week against the Cardinals, as he knows zero plays and has never thrown a football to anyone on the roster.
He'll have to sit at least a week, but he may be able to help you down the road. Those in two quarterback leagues that need a spark can hopefully rely on Garoppolo for the second half of the season. If you need him right now due to all the byes going on, definitely steer clear. If you're someone who wants to take a risk and possibly pick up your fantasy QB for the playoffs, Jimmy G could be your guy. Regardless, expect to see him much higher on the list next week.
9. Vernon Davis – Washington Redskins, TE (13.8%)
Remember how I said there were no big names that got hurt this week? If you're a Jordan Reed fantasy owner, I completely take that back and offer my apologies. After injuring his hamstring in the Redskins' loss to the Cowboys, it looks like the star tight end won't be able to suit up against the Seahawks. For those looking to stream a tight end, there are few people in the league that will be better than this man right here.
#Redskins receiving yards leaders over last 4 games:

Vernon Davis: 241 yds
Chris Thompson 211 yds

— Matt Franciscovich (@MattFranchise) October 30, 2017
Davis may be considered a slight bust considered how high he was drafted, but he's certainly not without talent. He will slip in as the team's top tight end seamlessly and possesses the capability to bust off big plays. With Gronk, Hunter Henry and Kyle Rudolph heading into their bye week, Davis should be your streaming target for fantasy this week.
8. Sterling Shepard – New York Giants, WR (58.7%)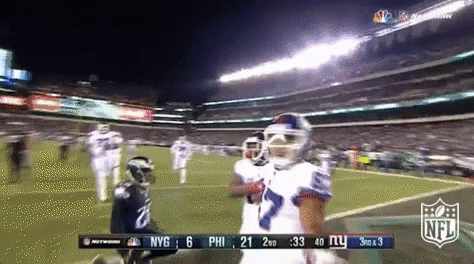 His percentage owned is a little high to be on this list, but we'll make an exception to remind everyone to pick him up if available. Shepard has been wildly inconsistent which has caused for him to be available in many leagues, but there is an opportunity for him to bounce back in the team's last few games. As a friendly reminder, there is no one talented playing wide receiver currently for the Giants. No one at all. Now that Shepard could possibly return from injury, he's expected to get a ton of attention.
WR Sterling Shepard (ankle) was working in practice inside the field house.

— Paul Schwartz (@NYPost_Schwartz) October 30, 2017
In fantasy football, all you can ask for is an opportunity. He's going to get plenty of chances to score for a team that desperately needs firepower, and would be a perfect pickup if available.
7. Paul Richardson – Seattle Seahawks, RB (10.3%)
Richardson is the first of several players who have been on this list before. It's not always easy risking a waiver wire pickup based on potential alone, but it's time to start paying attention to Richardson's numbers. Over the last two weeks, he has eight catches for 166 yards and three touchdowns. You can't really get much better than that on the free agency market.
Some huge plays from Paul Richardson this afternoon pic.twitter.com/x46A043CLl

— Pro Football Focus (@PFF) October 29, 2017
As we've seen in the past, Wilson is surging in the second half of the season. He's thrown seven touchdowns in two weeks, a trend that likely isn't going to stop. As he continues to let it fly, Richardson's fantasy stock will continue to go up. Don't make the mistake of waiting for another big performance to snag him.
6. Robby Anderson – New York Jets, WR (29.1%)
Every time a Jet gets mentioned as a viable fantasy option, an angel somewhere loses its wings. Hopefully, that angel will forgive me, but Anderson is a legitimate option these days. In the past three weeks, he's had a minimum of seven points in standard scoring fantasy leagues and has found the end zone in back-to-back contests. He's certainly on a bad offense, but the Jets may not be as bad as you think.
Robby Anderson is on pace to finish his sophomore year with 54 catches, 870 yards, 6 TDs and a 16.1 YPC #Jets

— Joe Caporoso (@JCaporoso) October 30, 2017
Say what you want, but those are decent numbers for someone who's still on the market after this many weeks of play. With bad secondaries such as Tampa Bay, New England, New Orleans, and Kansas City on the remaining schedule, Anderson could be a huge help down the stretch for your fantasy team.
5. Marlon Mack – Indianapolis Colts, RB (29%)
You might be sick of seeing his name here on this list, but for some reason, people still aren't buying into the hype. He may be on one of the worst teams in football, but even bad teams have players that put up fantasy points. He's clearly the more talented back in Indy, and his touches have done nothing but increase.
Marlon Mack has now out-snapped Frank Gore in back-to-back weeks. Gore 215 rushing yards from #5 all time (Tomlinson). #Colts

— Josh Moore (@4for4_Josh) October 30, 2017
What's important to notice about Mack's touches going up is when it's occurring. The trade deadline is here, and the Colts are reportedly looking to move Gore during their fire sale. They needed to see if he was top-back material, and he's shown that and more. Once Gore is completely out of the picture and begins getting 20+ touches per game, he'll be a solid start almost every week. Don't miss out once again, because once he's the starter, he won't be on the waiver wire anymore.
4. Alex Collins – Baltimore Ravens, RB (32.1%)
You think it's getting a little repetitive reading Collins' name each and every week? Try finding new words to make the same exact point, because people still don't seem to get it. Instead of hitting you with a number of complex words and heavy stats that you don't know, we'll try to put it in the simplest form possible.
Collins is the best running back in Baltimore. He runs like a f**king freight train and Irish step-dances his way past defenders on a regular basis while everyone murmurs "wow he's good" as if this is still a surprise.
Alex Collins has led the Ravens in rushing yards 5 of the last 7 weeks.

10 #FantasyFootball Waiver Wire Targets ➡️ https://t.co/DJTMfVW5F5 pic.twitter.com/zyTVRTOWcj

— numberFire (@numberFire) October 30, 2017
It's absurd that these things are just being noticed by the Ravens coaching staff. Here's a really easy math problem for you: when the Ravens gave the running back with the highest yards per carry on the team the most touches he's seen all season, what is the result? You guessed it, he had his best game of the season. After a 143 yard performance, expect Baltimore to finally figure it out and feed the beast, making him a fantastic fantasy pickup once again.
3. Damien Williams and Kenyan Drake – Miami Dolphins, RB  (.3%, .4%)
For those of you who are too deeply entrenched in the idea that Tuesday is just as bad as Monday, you may have been wallowing in your own misery when one of the biggest deals of the year impacted your fantasy season.
Eagles trade for Dolphins RB Jay Ajayi, sending draft pick to Miami https://t.co/iuC34dt13x

— Zach Berman (@ZBerm) October 31, 2017
Right away, you know this means the door is opening for somebody in Miami. The real question is, who is it going to be? This team will likely run a running back by committee during the first week or two following the trade until one player proves he's the best of the two.
Neither player has really touched the ball too much this season as Ajayi was supposed to be Miami's workhorse, but it looks like Drake could be the top dog considering he recently carried the ball six times this past week as opposed to Williams' zero. HOWEVER, Williams has more than double the catches Drake has over the past two seasons, making him the likely receiving candidate. This gives Williams the edge in most fantasy leagues, especially in PPR settings. If you can't grab one, grab the other, and hope for the best.
2. JuJu Smith-Schuster – Pittsburgh Steelers, WR  (29.1%)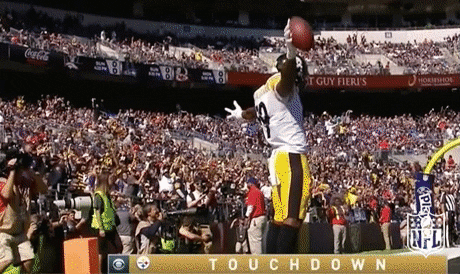 Luckily for you, over 70% of leagues didn't listen to my advice about grabbing JSS before his stock skyrocketed. Now here we are, one week later, and he's arguably the best player in the league to pick up. Ever since Martavis Bryant's downfall in Pittsburgh, the youngest player in the league has proved he's not needed any longer. People believed the Steelers would miss his big play ability, but it looks like Smith-Schuster has that covered.
💨💨 on em one time! Learned from the 🐐 @AB84 on this one 😂😂 pic.twitter.com/qptgPwixjN

— JuJu Smith-Schuster (@TeamJuJu) October 30, 2017
He's shown signs of being a touchdown vulture in the past, but this week was the real introduction to what he can become. His seven catches for 193 yards and a touchdown gave him one of the best totals around the league, proving he should be owned in every single league. He's heading into his bye week so he won't be able to help you right away, but he's still worth stashing for a week.
1. Darren McFadden and Alfred Morris – Dallas Cowboys, RB (34.7%, 30%)
Don't start celebrating just yet, but it looks like we might have finally beat this thing. Our long national nightmare is over. There's a decent chance we can finally begin Ezekiel Elliott's suspension, and put this ridiculous back and forth issue behind us. While there will likely be another 40 different appeals that we've yet to see, it still looks like Elliott might not be able to suit up, for at least this week.
NFL says that, pending further court action, Ezekiel Elliott is suspended for Week Nine https://t.co/1WueKLrHYV

— ProFootballTalk (@ProFootballTalk) October 31, 2017
For those of you who held on to Darren McFadden and Alfred Morris throughout this entire process, you're finally getting rewarded. It hasn't been easy keeping those two on your bench as they take up space, but they now both immediately become attractive flex options. It'll be interesting to see how the Cowboys handle the carries between these two, but there's absolutely no doubt they should be on your fantasy roster.