For a brief moment last week, we lived a life of fantasy and wonderment. No. Not Halloween. Calvin Johnson, AKA Megatron, almost made a comeback. The news was surprising and fleeting but it wasn't even close to the only news that rocked the NFL and fantasy football. It was a trade deadline to remember for all the right reasons. Big name players have new destinations and Ezekiel Elliot's unknown future continues.
In this week's Scouting Report, we'll again breakdown the stats and information you need. Only eight weeks remain in the regular season and each of these players will play a significant role.
Jay Ajayi
Too much has been written about Ajayi week-to-week. He is a walking, real-life version of that WorldStar video you can't get enough of. You know it's bad and you know someone got really hurt, but you still watch.  He has been an ultimate bust in relation to where he was drafted.
Yet you had to hold on to him. He has racked up the seventh most carries to this point, but 32nd in fantasy points. Yet here we are again. After dominating the carries week-to-week in Miami, Ajayi was shipped to Philadelphia and the team with the best record in football. As bad as Ajayi has been, he is a buy low candidate.
Eagles exec VP Howie Roseman says LeGarrette Blount remains starting RB. So if Ajayi wasn't happy at times while starting …

— Hal Habib (@gunnerhal) October 31, 2017
Eagles head coach Doug Pederson is committed to the run despite a top-five quarterback. While GM Howie Roseman has stated LeGarrette Blount "remains the starting running back," one has to believe they did not bring in Ajayi as a back up. Blount has been serviceable but there have been several drives that have stalled inside the five-yard line due to Blount's inability to punch it in.
LeGarrette Blount is averaging 4.7 YPC this season, including an NFL-best 2.9 after initial contact (min. 80 carries) #Eagles

— Mike Clay (@MikeClayNFL) October 31, 2017
Ajayi will have a terrible game this week as he gets used to the new playbook. Then the Eagles are on a bye. Can the owner in your league who has Ajayi wait two weeks?
Wouldn't hurt to ask.
This is great for Ajayi. Has another bye week BUT behind a much better O line / offense…back as a legit RB1. Hurts Blount in a big way obv

— Matthew Berry (@MatthewBerryTMR) October 31, 2017
Kelvin Benjamin
Benjamin was dealt to the Buffalo Bills at the deadline, leaving many in Carolina in shock. In Buffalo it is an instant upgrade for the entire offense.
Bills trade for WR Kelvin Benjaminhttps://t.co/wPn7rI6z2B pic.twitter.com/H2lPz2qvwD

— Pro Football Focus (@PFF) October 31, 2017
Tyrod Taylor gets a massive target that will provide major dividends in the red zone. Benjamin's targets will relatively stay the same. As mentioned above, though he should see an uptick in the red zone. The Bills have thrown more in the red zone than the Panthers.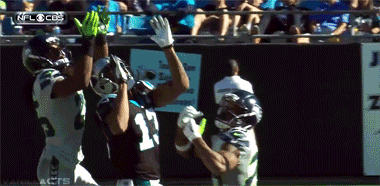 Also, Buffalo's schedule down the stretch is much more favorable. Bills face New Orleans at home, at Chargers, at Kansas City, New England, Indianapolis and Miami at home and at New England in week 16. Five of those seven rank in the bottom half in passing defense. Kansas City, New England and Indianapolis rank 29, 31 and 32 respectively.
As you reach the home stretch, it's all about match ups. Mike Evans was the top wide receiver in fantasy football last year. Evans' last four weeks he scored 5, 4, 4 and 15. Adam Thielen was a flex wide receiver at best in 2016. Against Green Bay — the worst defense against the pass in 2016 — Thielan had 202 yards and two touchdowns.
Duane Brown
While you can't start Brown obviously, although that would be a cool wrinkle in fantasy football. You could get points for pancake blocks and sheer domination, while losing points for missed assignments (fantasy football gods are you listening?). Brown's insertion into the porous Seahawks offensive line should give Russell Wilson more time to throw.
When Russell Wilson had time to throw off of play action, he was 💲 in 2016 pic.twitter.com/BGPuOlLO6D

— Pro Football Focus (@PFF) June 28, 2017
The Seahawks have already adapted to a slow start. It all came together last week when Wilson threw for over 450 yards through the air and four touchdowns. Look for more of the same as Brown provides security to Wilson's blind side, something the quarterback has lacked for a couple of years now.