We didn't see many high scores in fantasy this week, as you hopefully squeaked by to live another day. Fans were treated to fight club members wearing football jerseys as brawls broke out in three different games, but that didn't help people rack up points unless you have some extremely strange scoring settings.
What we did see when we weren't looking at replays of haymakers were a few windows of opportunities opening across the league. Don't let these players blindside you like AJ Green to Jalen Ramsey this week. Instead, look below and find the ten best fantasy options on your waiver wire this week.
For last week's picks, look here.
10. Devontae Booker – Denver Broncos, RB (Owned in 5.5% of ESPN Leagues)
Considering the fact that it's Week 10 of your fantasy season, you understand the deal. The Broncos are going in one direction as they've embarrassingly lost four games in a row, but that doesn't mean they're taking everyone down with them. You should definitely stay away from anyone that would even be considered a quarterback on that team and you've noticed how bad they've been if you have some of their key playmakers, but Booker is actually slowly but surely making his way up the depth chart.
Against PHI, Devontae Booker paced the Broncos RBs in snaps for the first time this season

— Mike Clay (@MikeClayNFL) November 6, 2017
Booker may have faired just like the rest of the Broncos running backs this past week against the Eagles, but he still managed to have the most rushing yards. With CJ Anderson failing to make any sort of impression while injured his ankle this past week, Booker could end up surpassing him as the official top dog. He's great in the passing game and still has a high ceiling on the ground, making him a high-upside pickup this week.
9. C.J. Fiedorowicz – Houston Texans, TE (1.5%) 
Here's your first "remember this f**kin guy?" inclusion for this week. Fiedorowicz was picked by many to be a sleeper for this season but unfortunately was lost for a number of games after a brutal concussion. The Texans definitely haven't had a lot of luck now that DeShaun Watson is gone for the year, but they did get a little four leaf clover handed to this team in the form of Fiedorowicz.
O'Brien: good chance TE C.J. Fiedorowicz (concussion) plays at Los Angeles next week.

— Drew Dougherty (@DoughertyDrew) November 2, 2017
Last season, the man had 54 catches for 559 yards and four scores, and that was before he was prior to the big leap he was expected to take this year. His ceiling would be higher if Watson wasn't hurt, but Savage checking down to his tight end could be beneficial to Fiedorowicz. If you're in a tight end pickle, let him be your fantasy answer.
8. Danny Woodhead – Baltimore Ravens, RB (24.4%)
Two in a row! We have another player that could've ruined a fantasy season when he went out early in his first game of the season, but we don't have to reflect on Woodhead's past. We just have to acknowledge the fact that his fantasy relevancy is about to skyrocket now that he's back practicing.
#Ravens will have both Terrance West and Danny Woodhead practicing this week

— Ebony Bird (@Ebony_Bird) November 6, 2017
He realistically could come back this past week, except for the pesky little detail that involves the Ravens' bye week. Still, having Woodhead practice already shows he's well on his way to playing against the Packers on November 19th. He's been hurt pretty much exclusively over the past two seasons, but let's not forget his 80 catches when he was fully healthy back in 2015. Woodhead's brief showing Week 1 included three catches extremely early into the game. His upside is huge in PPR leagues and should be snagged this week to avoid fantasy issues next week.
7. Marquise Goodwin – San Francisco 49ers, WR (9.3%)
Goodwin is like the rest of the 49ers- extremely unforgettable. There's a reason why he's owned in less than 10% of leagues, especially after his goose egg against the Eagles recently. Yet there are some things you can't afford to ignore, and in Goodwin's case, it's the fact that there isn't a single relevant receiving option on this team anymore.
#49ers WR/TE corps heading into Week 10:
WR Marquise Goodwin
WR Aldrick Robinson
WR Kendrick Bourne
WR Victor Bolden
TE Garrett Celek

— Graham Barfield (@GrahamBarfield) November 7, 2017
With Pierre Garcon slated to miss the rest of the season, Goodwin has officially become the top dog on this roster. That is an extremely nauseating fact to accept so there's no harm done if you lost your lunch in the process, but his fantasy upside clearly goes up with fewer receivers over him on the depth chart. Plus, things could shake up even further once the 49ers have an actual quarterback lining up behind center. It's unclear when Jimmy Garropolo will come in this season, if at all, but when he does, it will open up the passing game for San Fran. Try to scoop Goodwin before that happens.
6. Marqise Lee – Jacksonville Jaguars, WR (34.7%)
Please do not let the above gif fool you as there are no punters on this list. Lee just got a bit excited when he realized he moved up from an honorable mention last week. To be fair to the man doing his best Marquette King impersonation, he deserves it. Everyone may be fawning over the Jaguars defense or their rushing attack, but Lee has quietly been an extremely important factor for this offense over the last three weeks.
Jaguars WR Marqise Lee has 70+ receiving yards in 3 straight games. Also owns a 28% target share in that stretch. Staying busy.

— Field Yates (@FieldYates) November 6, 2017
What makes Lee an even more intriguing fantasy option is his remaining schedule. He does have some tough matchups against teams like Arizona and Seattle, but he also has games against the Colts, Browns, Chargers, and 49ers on the horizon. If a wideout on your team gets injured late in this season and you're in a pinch, Lee would be an ideal replacement candidate in your fantasy lineup.
5. Peyton Barber – Tampa Bay Buccaneers, RB (0%)
It's always fun to find a player who has quickly become relevant when absolutely no one had this player on their roster for any sort of reason last week, but it's time to focus on the people affected by this. For those owning Doug Martin who watched their starting running back put up as many points as the dude handing out food at the Burger King drive-through, it can't be easy seeing this. Martin wasn't playing well this past week and immediately suffered the consequences.
Only 18 snaps for Doug Martin yesterday, who was benched for Peyton Barber who received 23 snaps & 13 touches. 🤷‍♀️

— Josh Moore (@4for4_Josh) November 6, 2017
Barber is certainly an interesting pickup for a number of reasons. Firstly, he's been pretty productive every time he gets a shot. Last season when called upon, he averaged a solid 4.1 yards per carry, clearly an upgrade over Martin's 3.5 mark this year. It's evident the Bucs' season is pretty much over now that they're benching Jameis Winston to rest up, which is also a fancy way of saying "we don't need to win games anymore."
Teams shake things up and hand out opportunities and pink slips when they're heading in a downward spiral, meaning Barber could get his shot. He'll at best be in a running back by committee situation to start, but he clearly has the lead in this race, making him relevant in all fantasy settings.
4. Jacoby Brissett – Indianapolis Colts, QB (19.9%)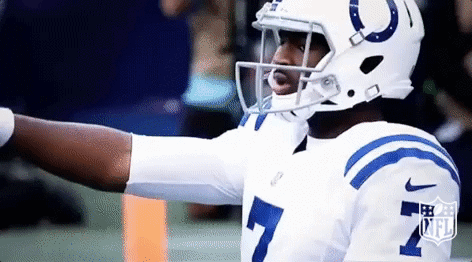 Out of the ashes of Andrew Luck's 2017 season, Jacoby Brissett's fantasy value rises like a phoenix. We have plenty of situations on our hands where we've seen a small sample size for quarterbacks who have recently been thrust into a starting role. The Tom Savages and Ryan Fitzpatricks of the world may be intriguing for those who are desperate for a quarterback, but don't get lured in by the mystery. We already know the type of quarterback Brissett is, and he's someone who can actually help out your fantasy team.
Also, this is huge: Jacoby Brissett getting better every week (via @PFF) pic.twitter.com/Ts68uBMOZj

— Zak Keefer (@zkeefer) November 6, 2017
The difference between Brissett and those above is that he isn't a placeholder. He's someone who can easily earn a starting job next season wherever that may be. That isn't the part that impacts your fantasy season. It's the fact that he's continuously getting better. He just posted his best stats as a starter with 308 yards and two touchdowns to pad his stats. Believe it or not, he's already the 14th best quarterback in ESPN standard scoring leagues. Whether he's your backup or a fringe starter during trying times, he clearly deserves to be owned in all leagues with 10 or more owners.
3. Cole Beasley – Dallas Cowboys, WR (17.2%)
For players like Beasley, it's often not smart to focus on their one big outing and going all in when the production clearly isn't consistently there. This season, the Cowboys' wide receiver has never posted more than 33 yards and four catches. He's pretty much only relevant when he scores two touchdowns, something you can't exactly predict. What makes him an intriguing pickup and streaming option is the injuries to players in front of him.
Jason Garrett says Dez Bryant is day-to-day (knee, ankle), as is Terrance Williams (ankle). #Cowboys

— Patrik Walker (@VoiceOfTheStar) November 6, 2017
While they're both day-to-day, we all know how that can go sometimes. Even if they do suit up, one or both wideouts can be limited which would open the door up for Beasley. He isn't much more than a streaming option this week unless one of these injuries gets significantly worse, but you'd have to expect for him to have a big role in the passing offense in what will likely be a shootout against the Falcons.
2. Robert Woods – LA Rams, WR (26.1%)
Woods is similar to Beasley in the fashion that his two touchdowns put him on the map, but it's actually been Woods' production over a four-game stretch that should put him towards the top of your fantasy radar. He may not be the multi-score option you'd hope for him to be moving forward, but he is as solid as they come in PPR settings. He's had four-straight contests of at least five catches and 59 yards. Putting up 10 points each week isn't something that jumps out at you, so maybe this will.
Robert Woods leads the highest scoring offense in the NFL in targets (49), receptions (31) & receiving yards (451) #LARams

— Matt Franciscovich (@MattFranchise) November 7, 2017
It's always a plus to add a great player on a great offense, and somehow, that's what Woods has become. You should never ignore the top dog, especially when he's putting up solid numbers as consistently as Woods is. With just a few weeks before playoffs, you'll want to take every fantasy point you can get.
1. C.J. Prosise – Seattle Seahawks, RB (8.6%)
Prosise has a pretty fair response to his placement on top of this list, but hear me out. The second-year running back is pretty much made of glass and will likely get hurt if a swift breeze comes through in the stadium, but it's hard to ignore his talent. During two starts last season, he had 142 rushing yards, 92 receiving yards on nine catches, and a touchdown. It's easy to forget considering he's been healthy for a grand total of four minutes over his NFL career, but he could be getting healthy at the perfect time.
Eddie Lacy is a long-shot to play Thursday in Arizona, but C.J. Prosise is in line to return for the @Seahawks. https://t.co/wpgYgK3x1Z

— 710 ESPN Seattle (@710ESPNSeattle) November 6, 2017
As of right now, the Seahawks backfield has been horrible, Through eight games, this team averages just 70 yards on the ground per game if you remove Russell Wilson from the equation. As you could've guessed, that is dead last in the NFL. Thomas Rawles clearly isn't the man for the job, Carson is injured, and Lacy is somehow a combination of the two. The only thing in Prosise's way is his own health. He may not be as consistent as those behind him on this list, but no one nearly has the home run waiver wire potential as the Seahawks running back.