The Miami Hurricanes' turnover chain is a five-and-a-half pound throwback to the city's glory days as a cocaine paradise. In the 1980s, Miami was a boomtown powered by drug money — think Grand Theft Auto: Vice City. The Hurricanes also won four national championships in less than a decade. Miami's football team was an analog for the city: a prosperous den of iniquity.
Operative word being "prosperous."
Defensive Coordinator Manny Diaz II (interesting aside: Diaz's dad was the mayor of Miami for 8 years from 2001 to 2009) sought to channel the spirit of that '80s dynasty when he commissioned the chain from the King of Bling, government name AJ Machado. Miami cornerbacks coach Mike Rumph knew Machado, a well-known custom jeweler in NFL circles, and made the call after Diaz explained what he wanted.
By happenstance, Vince Wilfork, former Miami Hurricane defensive tackle and man of impeccable taste (see below)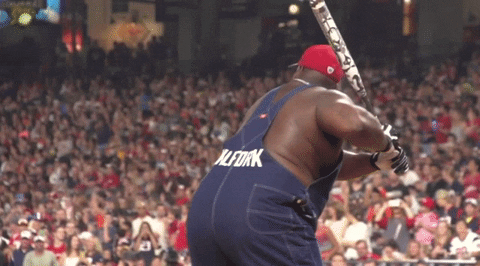 was in the shop when Rumph called. Together, they decided an oversized 10K Cuban link chain with a giant "U" pendant filled with green and orange sapphires would really capture the essence of The U's glory days and the King of Bling went to work.
The final product is immaculate:
The chain's final cost is a secret, but it wasn't cheap. 10 Karat gold is barely gold (41.7% gold, 58.3% not gold) but assuming the price of gold is $1,280 per ounce, the gold itself in the chain is worth over $46,000, or roughly one quarter's tuition. That doesn't include the stones or the labor.
The irony (damn thing's nearly 60% iron!) of having a ridiculously expensive piece jewelry that screams "drug money" for a school-related endeavor is rich, but hypocrisy is the NCAA's bread and butter.
In any case, the players love it, the fans love it, and Miami's been playing great this year.