It's hard to ignore how difficult this season has been to predict. On a weekly basis, we'll see huge upsets and fantasy performances that make you immediately regret changing your team name to something insulting regarding your opponent.
You now have to wear the cone of shame that comes with talking smack and not being able to back it up. While it sucks, it's not something we're going to relive. Just take the sh*t talking you deserve, and truck forward with some things you can absolutely count on this year. It's time to ride the right matchups, and set yourself up for a huge victory late in your fantasy season with the best start/sit options for Week 10.
START
Lamar Miller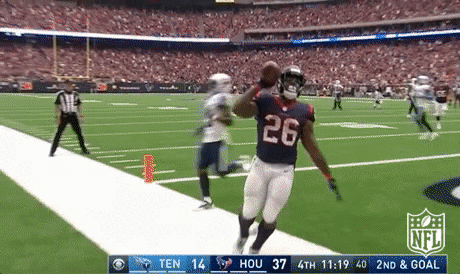 To truly enforce the fact that we're betting on those who have been tried and true in the past, we are going with one of the most consistent players in fantasy football at the moment, Lamar Miller. He hasn't blown the doors off teams each and every week, but he has been solid for the better part of five straight games. Anytime you can rattle off at least eight-point fantasy performances over a streak that long, it's something you can't ignore.
#Texans RB @millertime_6 is over 60 scrimmage yards for the 10th game in a row #TexansSalute

— Texans PR (@TexansPR) November 5, 2017
It might be difficult to bank on that kind of performance if Miller was going against someone like the Broncos, but the fantasy Gods have graced him with the Los Angeles Rams. Even though this team has been steamrolling their competition as of late, that doesn't mean they haven't given up solid performances in the process. They're the 31st ranked defense against running backs in fantasy, which should make you feel pretty good starting Mr. Reliable this week.
JuJu Smith-Schuster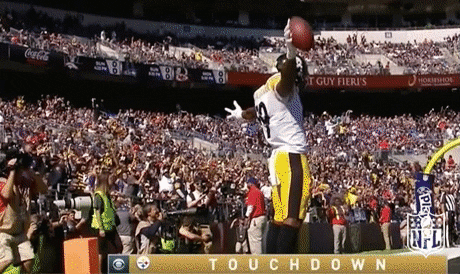 The most loveable player in the NFL is about to be loved even more when he goes off once again for his fantasy owners. Throughout the season, he was nothing more than a touchdown vulture and a gadget player near the goal line. He has since emerged into the America's Sweetheart from his bicycle story to his celebration antics. Now, he's just going to be a flat-out nightmare for defenses.
His seven catches for 193 yards two weeks ago shouldn't be seen as a fluke. It should be seen as a player cashing in on the opportunity that was presented to him thanks to Martavis Bryant being a jackass. He has quickly become a key part of an offense that is 8th in yards per attempt, and 9th in passing yards per game.
Moving the ball through the air is huge for this team, and Antonio Brown can't be the only one to handle the workload. Throw in the 26th ranked defense that just lost their top cornerback Vontae Davis for the season, and this seems like a must-start situation for JuJu.
Jordan Howard
If we're talking about consistency, we can say the Bears have been consistently bad for the majority of the season. However, that hasn't stopped Howard from being a viable play. The second-year running back has had nothing but opportunities for this team, receiving 19 or more touches in every game since Week 3. The perfect diet for a top fantasy running back.
Jordan Howard has been a true workhorse for the Bears this season https://t.co/KFOqzvlAiq

— numberFire NFL (@numberFire_NFL) November 7, 2017
Still, he his output is still mostly based on matchups. He normally has a lower ceiling because of the fact that the Bears don't run the ball once they're losing, which happens on a weekly basis. For possibly the first time in his career, the Bears could be the favorite thanks to Brett Hundley.  Chicago probably won't be down by a big margin like they normally are when they take on Green Bay. Even if he is down by a ton, he's still managed to do well against this team in the past. Over the last two meetings, he's had a total of 176 yards and two scores. Pencil him in for another solid fantasy day.
Garrett Celek
Let's get past the fact that you definitely have no idea who he is, and focus on the things you can count on this season. You can count on people screaming in your ear about their protest opinions, Chris Collinsworth forcing folks at home to put their television on mute every Sunday night, and the Giants giving up scores to tight ends. George Kittle is out, but that won't stop someone else from filling his place.
NFL: 49ers TEs Kittle out Week 10, Hikutini to IR https://t.co/dCTImkHCx1

— Rotoworld (@rotoworld) November 7, 2017
Enter Garrett Celek. He may not be the household name you'd like to start, but for those in a pickle at tight end, he's your man this week. It doesn't matter if it's you, me, the pizza delivery man, or some sort of animal starting at tight end. If they're playing the Giants, they're going to score.
Sterling Shepard
That's right, there are two players that are worth starting between teams that have one total win between them. You may not be watching the game for actual football purposes as both sides will likely try as hard as they can to lose this game, but there is plenty of fantasy implications in this matchup. Shepard has mostly been a disappointment this season, but is clearly on his way back. The team may be quitting on Ben McAdoo since he continuously presses every wrong button possible, but he still should walk out of the smoke coming from this dumpster fire season with a pretty good chance of scoring.
Sterling Shepard racks up 70 yards in Giants' Week 9 loss https://t.co/ZuaNbBUYka

— numberFire NFL (@numberFire_NFL) November 6, 2017
In his first game back from the purge of Giants wideouts, he had a team-high nine targets. That's pretty good on an offense as inept as the Giants. Opportunity breeds fantasy success, and against a defense that has given up a touchdown in every week but one to wideouts, it seems like this is a prime-time breakout game waiting to happen.
SIT EM
Philip Rivers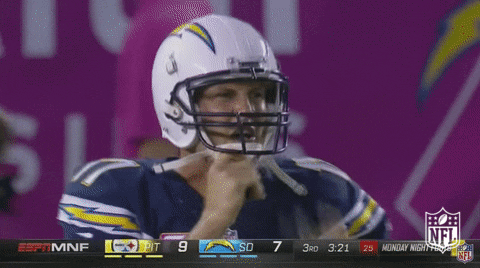 Don't forget, we're going with the obvious this week. Rivers is no longer the must-start quarterback he used to be. Unless you're clearly struggling at quarterback you normally don't trot out this man, but this is a week you have to stay away from him at all costs. Rivers has put up poor showing after poor showing, failing to get 20 points in the last three weeks. You can expect that to continue with a matchup against the league's best defense, the Jaguars.
Philip Rivers has produced 4 passing touchdowns in both of the last two meetings against the #Jaguars. Jacksonville's defense has allowed just 4 passing touchdowns through 8 games this season.

— Mike Kaye (@mike_e_kaye) November 9, 2017
Calling them the best defense is a tough pill to swallow, but it's hard to ignore the facts. This team hasn't given up 12 fantasy points once to quarterbacks this season. If you think Rivers is going to be the one to snap that streak, then you haven't been paying attention.
Damien Williams
With Jay Ajayi out of the way, everyone and their mother rushed to pick up Dolphins running backs. The former Pro Bowler's departure opened up a whole new door for players like Damien Williams, but that shouldn't be a window of opportunity that is open on a regular basis. You'd like to pencil him as a "must start" each and every week, but let's not get ahead of ourselves here.
Williams is still the kind of player that is matchup dependent, and he definitely has a tough defense in front of him. The Panthers are third in fantasy against opposing running backs, which doesn't really bode well for a player who has just 14 yards on seven carries. He may have been a factor in the passing game last week, but his success was based on his touchdown. That's quite the risk for a player who hasn't proven himself. He's definitely earned a spot on the bench.
Jordy Nelson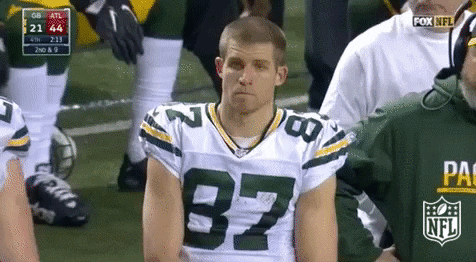 Seeing this probably isn't easy for Jordy Nelson owners, but you understand what's happening here. Anytime your superstar first rounder is out for the year, it makes you miserable, but at least the pain is over. You don't have to pretend to rely on that player anymore, because it simply isn't possible unless you're trying to pull a Cleveland Browns and get the top pick next season. Unfortunately, you don't have that luxury with Nelson. You have to decide whether or not to start him, even though you know just how low his ceiling is.
As a Jordy Nelson owner … pic.twitter.com/9quQegS3Le

— Tyler Sullivan (@TylerSully) November 8, 2017
It's going to suck benching him when he goes off, which is why many people would consider starting him against a Bears team that truly isn't good. Believe it or not, they've actually been brutal to go up against for wideouts. With only eight touchdowns given up through the air this season, you don't want to play someone who's been struggling. With just 11 catches for 108 yards and no touchdowns since Hundley took over, it's time to let go of the dream.
Dez Bryant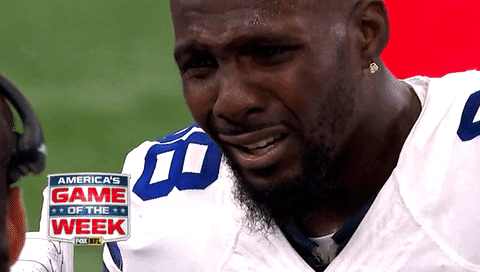 Bryant is in an extremely similar situation as Nelson. No, he's not dealing with a backup quarterback, so those Dak Prescott owners who just felt their heart drop can relax. He's completely healthy, which is not something you can say for the Cowboys top wide receiver as he deals with an ankle injury.
Dez Bryant AND Tyron Smith did not practice today. Dez believes he will play but will always listening to the medical staff. #DallasCowboys

— Edward Egros (@EdwardEgrosFox4) November 9, 2017
Even though he's expected to play, it's not a risk you want to take. We've seen Dez deal with injuries poorly before, as he's missed a number of games over his career. You don't want to try to bank on him being a hero, especially since he's going against an underrated defense. The Falcons may have the identity of a team that is constantly in shootouts because of how bad their secondary is, but that certainly isn't the case. Atlanta is surprisingly 8th in passing yards allowed, and have only given up 11 touchdowns this season. He's a risky play this week, and isn't worth it at this point.
DeMarco Murray
The above gif is probably what Murray does when he's starring at the mirror, wondering how he's lost control of this backfield. He was supposed to be a huge piece of the offensive puzzle for this team, and has done pretty close to nothing over the past few weeks. Murray hasn't scored double-digit points in two straight weeks, and saw Henry outperform him on fewer touches.
DeMarco Murray inefficient on 11 touches in Titans' Week 9 win https://t.co/IfdEvH9iOr

— numberFire NFL (@numberFire_NFL) November 6, 2017
You haven't been able to rely on Murray all season, as he's very touchdown dependent. Considering the fact that he's going against a defense that has only allowed three all season, it doesn't look like he's a great fantasy option. Move up from Murray, and hope matchups in the future favor him much, much more.