We're in the home stretch boys and girls. Depending on how the fantasy gods have felt about you this season, you may just be praying you deal with know injuries before your march throughout the playoffs. If they haven't been favorable, you could be scurrying along the waiver wire looking for someone who can save your season and buy you the right to call yourself a playoff team.
Regardless, we've come to the point of the season where free agents are still extremely important for certain teams. Don't panic and keep your same roster if you have holes. Find the right player, plug that crater in your lineup, and finish strong. Here are the best waiver wire pickups for Week 11.
10. Maurice Lynell-Harris – Washington Redskins, WR (owned in 0.0% of ESPN Leagues)
To be fair, Harris is on this list because of his potential catch of the year. He was an absolute no one heading into this week, mostly because of the tiny fact that he was never a factor in this offense. In fact, he got called up off the practice squad and has now made a name for himself right away. We've seen big weeks out of players before out of nowhere, but there is still upside here.
Yeah, that's a TD. Way to haul it in @maurice3harris! #HTTR #MINvsWAS pic.twitter.com/R5aOuXnJxW

— Washington Redskins (@Redskins) November 12, 2017
If you look at Washington's wide receiver corps, there's actually room for Harris to make a move and climb upwards. Crowder is expected to still get targets, as is Josh Doctson. Other than that, this once loaded receiving unit is now pretty bare. Terrelle Pryor has been one of the biggest busts in fantasy football this season, and Ryan Grant left Sunday's game and is now in concussion protocol. Considering the fact that the Redskins are under .500 and have little to play for, they might give a rookie his shot. You may not want to pick him up right away, but at least put him on your watch list and keep an eye out for further development.
9. Samaje Perine – Washington Redskins, RB (6%)
Harris isn't the only Redskins rookie that appears on this list. Washington fans definitely wouldn't want to find themselves in this position at this point in the season considering how much upside this offense had heading into the season. It's actually brutal how far some of their stars have gone, yet that's the name of the game in fantasy football. It's a game that constantly opens and closes doors. Perine had his chance earlier in the season, but the running back is about to get a second chance now that Fat Rob is out once again.
Gruden expects Samaje Perine to get a lot more carries now that Rob Kelley is hurt. Coach wants to see more production

— JP Finlay (@JPFinlayNBCS) November 13, 2017
He's only had 50+ yards in two games this entire season while finding the end zone just once. It's not a very exciting thing to get on board with and waste a waiver pick up, but opportunity leads to success. Thompson will likely receive more touches out of the backfield as the primary receiving option, but that doesn't mean Perine won't have his shot. All he needs to do is improve his ball security, and he could be a huge late-season fantasy success.
8. Bruce Ellington – Houston Texans, WR (.2%)
For those who are paying attention, you might've realized the theme thus far. No, it's not players who had no business being drafted or those who were deemed irrelevant heading into the season in most leagues. It's about players who can benefit now that those in front of them in the depth chart are either struggling, or injured. For Ellington, it's the latter. Will Fuller's injury definitely makes him much more relevant in all fantasy settings, but he's actually been more consistent over the past three weeks than you'd originally think.
If you're digging deep for a Week 11 WR, consider Bruce Ellington. His stats the past 3 weeks:

20 targets (15th among WRs)
4 red-zone targets (3rd-tied)
2 end-zone targets (12th-tied)
38 snaps/G (24th)

He's available in 99.8% of ESPN leagues.

— Tristan H. Cockcroft (@SultanofStat) November 13, 2017
You're not exactly picking up the next OBJ or Julio Jones, but you can't really argue with that kind of production coming off the waiver wire. That's only expected to increase if Fuller can't suit up this weekend, even if his upside is limited by Tom "21" Savage slinging the ball for Houston. Take what you can get, and ride the production provided by Ellington.
7. Rod Smith- Dallas Cowboys, RB (14.5%)
We've finally reached the point everyone. We can stop fantasizing about a world where Ezekiel Elliott's carebear looking face wasn't the poster child of the Cowboys backfield. Fantasy owners who haven't owned Zeke have been licking their lips like a lion stalking a gazelle waiting to figure out who is the top running back for Dallas. This team definitely didn't have a regular week, but some light was shed on how this backfield will be used moving forward.
#Cowboys sans-Elliot RB snaps: Rod Smith (38/63), Morris (22), McFadden 1. So Alfred is the starter & Smith the passing-down back with McFadden droppable.

— Josh Moore (@4for4_Josh) November 13, 2017
Now, this definitely needs to be taken with a grain of salt. If the Cowboys weren't losing for the majority of the game, we likely would've seen Morris dominate snaps. Even so, it's important to realize Smith's role with this team for the rest of Zeke's suspension. He's the second running back in this unit, and should definitely be considered the top receiving back after he had 100% of the targets coming out of the backfield. Smith should be considered a must-own option in PPR fantasy leagues, and a high-upside handcuff behind Morris. Don't be surprised if the Cowboys end up rolling with the hot hand in the future, which could easily be Smith.
6. Austin Ekeler – Los Angeles Chargers, RB (1.9%)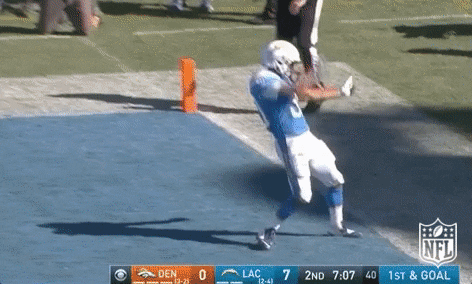 Melvin Gordon owners probably left their local Emergency Care late last night after after punching a hole in some sort of drywall following the situation in the Chargers backfield during Week 10. While their bones may be injured, it's safe to say Melvin Gordon's status as the team's top back isn't. HOWEVER (Stephen A. Smith voice), this last week should at least make Ekeler one of the best handcuffs in fantasy considering how much time he spends on the field.
Melvin Gordon's massive usage has propped up his value last 1.5 years. But last three games only played on 69%, 59%, 68% of snaps.

— Adam Levitan (@adamlevitan) November 13, 2017
This past week, the undrafted rookie showed exactly what he can bring to this offense. He had more rushing yards and receiving yards than Gordon, while receiving fewer targets and carries. A performance like that is something that could have the Chargers thinking about using the rookie in a Danny Woodhead-type role moving forward. That is clearly speculation and should by no means considered factual, but teams are more open to trying things when they have a losing record like LA. He is a must-own handcuff and could be more in the following weeks.
5. Case Keenum- Minnesota Vikings, QB (13.3%)
It's already strange living in a world where the Packers aren't even close to being the best team in the NFC North. It's even stranger when you realize the team that's leading the division has Case Keenum at the helm. Many people have wavered about Keenum for good reason, but we've even come to a point where people are still looking for Teddy Bridgewater to take his spot sooner rather than later. This is a bold reminder telling you that will not happen.
If Minnesota is really thinking about returning to Teddy Bridgewater this is what they're benching in Case Keenum: 5-2 as a starter, 65% complete, 11 TDs vs only 5 INT & 239 yards per game. Not to mention great chemistry with Thielen & Diggs.

— trey wingo (@wingoz) November 13, 2017
Those numbers might not completely jump out at you, but they should consider what he's done over his past two games. His 592 yards and six touchdowns speak louder than anything regarding a Bridgewater comeback. This is a "what have you done for me lately" league, and always will be.
Jerick McKinnon and Latavius Murray have been helpful for the Vikings offense, but it's been Keenum that has driven them to five straight wins. With matchups against teams like Detroit, Green Bay, and Atlanta coming up, don't expect Minnesota to give up on the passing game by any definition of the phrase. He's a borderline starter, and should be scooped up if available in your fantasy league.
Greg Olsen – Carolina Panthers, TE (51.3%)
That gif above is exactly what fantasy owners who kept Greg Olsen want to do to their supposedly superstar tight end. He was supposed to be a staple on every team across fantasy leagues everywhere but was swallowed up by the massive injury bug that has been plaguing the NFL. He was quickly considered an afterthought since his injury seems like it occurred a million weeks ago, but he could come back as soon as Week 12 following the Panthers' bye.
Greg Olsen (foot) targeting Week 12 return for Panthers https://t.co/s8ZYh51dCv

— numberFire NFL (@numberFire_NFL) November 9, 2017
Olsen is owned by the majority of leagues and shouldn't make this list by those standards, but there is always an exception to the rule. In this case, it comes in the form of one of the best tight ends in football. If Olsen happens to be available in your league, he should be a must-pickup for you. Stash him for one week, wait to see how he returns, and then enjoy having a top-tier tight end penciled into your lineup come playoff time.
3. Rex Burkhead – New England Patriots, RB (11.7%)
Have you ever done something painful like put your hands close to an open flame or touch something that your waiter or waitress just said "be careful, it's hot" about? Well, that's exactly how it's like when you pick up a Patriots' running back. You know you're going to get hurt by Belichick's continuous carousel, but there's always a reason to get on board. This time, it's Burkhead who has us on his leash.
Rex Burkhead's touches have increased each week since returning from a four-game absence due to a rib injury. 📶

10 Fantasy Football Waiver Wire Targets Heading Into Week 11 ➡️ https://t.co/IltJou6nzw pic.twitter.com/92ENA0CHfm

— numberFire (@numberFire) November 13, 2017
There are definitely a lot of chefs in that kitchen, but Burkhead's consistent increase in touches, as well as his recent play, should make him a top target for you this week. He had the most snaps, most total yards, and a score against a tough Denver defense. You can expect that to happen with another running back in the future for New England, but it was his red zone work that truly separates him from the pack at this point.
Mike Gilislee was once viewed as the team's goal-line option, and did not dress against the Broncos. Burkhead has taken over that duty, thus giving him value on an offense that has their fair share of red zone trips. There's a chance Belichick burns your fantasy team once again, but it looks like a pretty reasonable risk.
2. Marqise Lee – Jacksonville Jaguars, WR (42.6%) 
Lee may have had one of the worst penalties you'll ever see that almost cost the Jaguars their game, but you know how many points you lose for that in fantasy football? Not a damn one. Lee was mentioned on this list for the past two weeks, and this will be the final time you'll be told to pick him up. It's been fun reminding you each and every week how good he is on this Jacksonville offense, but it is time to move him up as a player who is owned by the majority.
For those who for some reason are still looking for a reason why Lee should be scooped up, all you have to do is look at his performances over the past four weeks. He's had at least seven points in standard scoring leagues over that span, and has found the end zone in back to back contests. Stop ignoring the production, and be thankful that he's still available.
1. Jamaal Williams- Green Bay Packers, RB (2.3%)
This has to be the easiest person on the list to get on board with. It's rare to see a third-string running back leap up the depth chart and become the team's lead back, yet we've somehow seen it happen to the Packers twice this year. When Green Bay faced the Bears on Monday Night Football, it was Aaron Jones' time to shine. Now, it's time to cue Jamaal Williams' music.
The Packers have lost Aaron Jones and Ty Montgomery due to injuries. Jamaal Williams now the lead back.

— Michael Fabiano (@Michael_Fabiano) November 12, 2017
With both Jones and Montgomery out, it's going to be Williams' show. He had 21 total touches in his first showing as the team's top dog, and will likely receive a similar dosage of work this week. Green Bay still can't expect Brett Hundley to take a game over as he needs a steady rushing attack. The player at the top of that backfield may not be consistent, but that opportunity is. Put Williams atop your list as the best waiver wire option available.