The iconic red and green Sriracha bottle has disrupted the condiment industry. The conspiracy by Big Sauce is over. Gone are the ketchup-mayo-mustard days of old. Sriracha has bootstrapped itself to the top of Sauce Mountain. It's a must-have in any fridge — all thanks to David Tran, the King of Sriracha.
Tran didn't invent sriracha, but he makes it better than anyone else. Huy Fong Foods, Tran's self-built, family-owned hot sauce empire, sells more than 20 million bottles of Sriracha a year. The recipe for Sriracha is secret, but the reasons for its popularity are clear.
Huy Fong makes the best product using the freshest ingredients for the lowest price. Common sense is what Tran's billion dollar sauce dynasty is built on. "Sriracha" takes its name from a city called Si Racha in Thailand, "Huy Fong Foods" is named for the boat (the "Huey Fong") that Tran, a Vietnamese refugee, came to America on, and the rooster logo is his Zodiac sign.
I'm so excited. First bottle of #Sriracha in over a year. 🙌❤️ pic.twitter.com/5f4A1Wk8pi

— Nuala (@riotgeek) June 11, 2017
The chili peppers used to make Sriracha are sourced from a farm just 70 miles away from the factory.
"From the time they're picked until they're ground it's about six hours. And that's important to David. He wants it fresh, he wants it red, he wants 'em spicy, and he wants 'em tasty."

Craig Underwood, owner of Underwood Farms
Underwood has been growing the peppers that Tran uses in Sriracha for nearly 30 years. They started with 50 acres of peppers, now they plant over 4,000 acres per year. What started out as a mom-and-pop operation has reached industrial scale, though Huy Fong Foods is still run by eight members of the Tran family.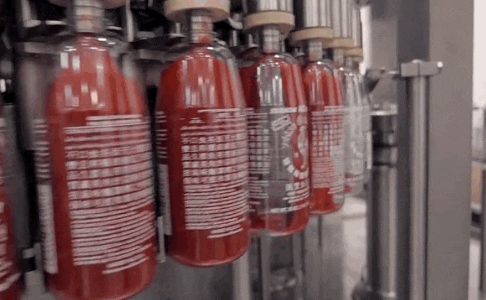 And Huy Fong doesn't advertise. At all. Like zero dollars spent on marketing, ever. The company's growth has strictly been from word of mouth. The irony is rich; Huy Fong's Sriracha has become iconic in pop culture while other brands spend millions in a losing battle for hearts and minds.
Now, everyone is trying to ride the wave. Subway has "sriracha mayo" and McDonald's has its own proprietary Sriracha Mac Sauce; "real" Sriracha is an ingredient in neither of those.
This "Flying Goose" wannabe is prime example of imitation sriracha. Don't touch it with a ten foot pole.
FOLLOW & RT to enter our #Competition…

You could #WIN a load of our #Sriracha sauce!#FreebieFriday pic.twitter.com/C1LvE9q1Am

— FlyingGoose Sriracha (@Sriracha_FG) November 10, 2017
Don't allow corporate America to co-opt Sriracha into its cesspool of consumption. Patronize David Tran, the true King of Sriracha. It's Huy Fong or bust.