For those who grew up watching the NBA, you essentially grew up with certain heroes. It's like the sports fans version of watching someone like Opera walk away from the game. Women everyone broke down and cried for what seemed like years when she stepped away.
That's the same thing with NBA fans when it comes to their favorite stars walking off into the sunset for retirement. Crying over a bowl of your favorite ice cream as you watch Harwood Classics featuring the superstar that walked out of your life of fandom is the only appropriate response. In order to avoid hardships like that, here are the top five remaining superstars we don't want to see retire.
Tony Parker 
Parker is an easy start to this list considering we're already seeing how bleak life without him is. The 35-year old Frenchman has yet to play this year after rupturing a tendon in his quad during the playoffs.
We're seeing Dejounte Murray and Brandon Paul do a solid job replacing him at the moment, but that's not a life we want to live. We want to continue to reside in a world where he's leading the charge for the Spurs as they continue to pump out 60-win seasons.
San Antonio are like the White Walkers in Game of Thrones: you don't truly understand them and you don't even know how to kill it, but for the most part, you accept it. Tony Parker is a huge factor of that; we already see the change happening, and we have to hold off as long as we can.
Jamal Crawford
Anytime you go to your local park or gym to play some pickup basketball, there are a few stereotypes that always seem to show up. There's the guy who calls too many fouls, the guy who wears authentic NBA gear like he's practicing for his game at the Staples Center later that night, and the one guy who seems much older than everyone else yet is likely going to embarrass someone at some point.
That last guy is absolutely Jamal Crawford.
"37 years old and still dancing." Vintage Jamal Crawford on display with this crossover and drive #NBAChinaGames pic.twitter.com/gj0hk9BBvM

— NBA (@NBA) October 8, 2017
This dude is going to be 100 years old and we'll still be seeing highlights of him putting people in blenders. Crawford has never been the best player on any team, has never been an All-Star and has never carried a franchise, but he has been one of the most fun players to watch for over a decade.
From dagger threes when people are right in his kitchen to making people crumble to the ground like the Cavs' chances of keeping LeBron this offseason after their brutal start; he's a human highlight reel and needs to stay in this league as long as possible.
Manu Ginobili 
In a world that is constantly changing before our eyes as the things we know and love die out, there are three things you can count on: death, taxes, and the San Antonio Spurs being good.
The last time the Spurs didn't make the playoffs, it was 1997 and the movie Titanic had just come out. That's right, the last time the Spurs weren't good, that nasty old lady was throwing her locket into the water for the first time.
While Ginobili hasn't been there the entire time, he has been around long enough for us to remember him as one of the faces of this incredible unit. He's been around so long, that the current rookies that were in the NBA were infants when he first entered the league.
When Manu Ginobili made his pro debut, this year's NBA rookies were… pic.twitter.com/wY3gokcgwG

— HoopsHype (@hoopshype) November 15, 2017
Lonzo Ball was just a twinkle in his dad's eye when Manu was taking the league by storm. Over the years we've seen him win rings, Sixth Man of the Year awards, and he's even captured a bat in the process.
Anyone who swats a bat out of the air like that needs to stay in the league for an eternity.
Dirk Nowitzki 
There is not a single person on this list as successful as the Tall Baller from the G. He's a 13-time All-Star, was the 2007 league MVP, brought down LeBron and the Heatles in the NBA Finals, won Finals MVP, and is 6th all-time in points.
All of that solidifies him as one of the best players to ever pick up a basketball, but it's how he sticks out in our minds that will last forever.
We've seen him take over the color commentary for a Mavs game and continuously yelled "TAKE THAT WITH YOU" into the microphone, give Mavericks fans countless memories, and change the lives of tall lanky foreign players forever. Seriously, every single person from Europe who is 6'10 or higher with a jumper gets called "the next Dirk". Yet above all else, the most important thing Dirk gave us was his trademark turnaround fade with the leg kick.
That Dirk Nowitzki fade away! 👌💦 #NBA00s pic.twitter.com/teLTzcxSNx

— NBA UK (@NBAUK) September 15, 2017
When you were a kid messing around, you always pretended to be pros. You could've been yelling "Kobe!" when you took a jumper or backing someone down in the post, but every child growing up watching Dirk mimicked his signature leg kick at least once. It's going to be a sad day when he retires, leaving us with highlights and a hole in our hearts where that turnaround used to be.
Vince Carter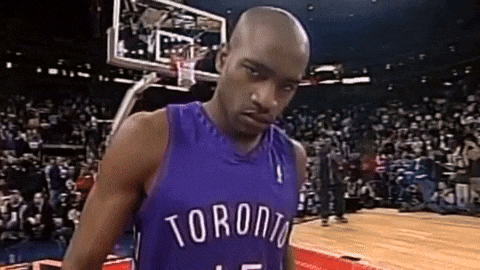 There are few NBA legends that have impacted childhoods like Vince Carter. He was a perennial All-Star that not only took over games but embarrassed people in the process. There is no player in history that put people on posters more than this man. Night after night, he would destroy the rim in a way we've never seen before. His Dunk Contest back in 2000 was a peak childhood moment for kids everywhere.
Vince Carter looks back at his LEGENDARY performance in the 2000 NBA Slam Dunk Contest! ✈️🙌 pic.twitter.com/Jyzp2RAPHl

— NBA UK (@NBAUK) August 31, 2017
Now, he's the oldest player in the entire league. While he isn't baptizing anyone foolish enough to meet him under the hoop, he's one of the only stars who has seamlessly gone from franchise player to solid role piece throughout his career. Even if he isn't murdering those trying to block him, just seeing him on the court is enough.
The day Vince Carter retires will be the day the dunk dies.