In an era where using social media is a daily habit, it comes to a surprise that music is a primary driver of our interactions with social media across the board. A new study from MusicWatch highlighted the contribution of music to engagement on social media platforms recently, proving that music is the leading activity on just about every platform that's use day-to-day. In fact, 9 out of 10 regular social media users partake in some music- or artist-related activity on the most popular social applications every day.
According to the data collected by research and analysis firm MusicWatch, the data was compiled in April via a survey of 800 people who use one of Facebook, Twitter, Instagram or Snapchat at least once a month, with the majority of those users interacting with the social media networking site(s) daily. The research results surprised researchers, and showcased  the true importance of music to the social platforms. The results read that 53 percent of Twitter users are viewing or interacting with trending topics or want to view posts from friends. Following, 51 percent are using Twitter to follow or get updates from music artists and (or) bands. Around half of Instagram users are viewing posts from artists and bands, or viewing their updates and two-thirds of Snapchat users are sending or viewing photos and videos from live events including music shows, concerts or music festivals. All these interactions highlight just how big of an impact music has on our daily lives, and how much individuals really do love to share it with their following.
As reported by MusicWatch, fame may be fleeting on social media, but music artists and bands have staying power- and influence. It turns out that out of all the types of celebrities in Hollywood today, artists are at the top in #1  position when it comes to pull. It turns out, we as consumers (or fans!) are twice as likely to be following bands as politicians, or other famous influencers. The reason is pretty simple – users have a sustained interest and desire to be involved in the careers of their favourite artists and want updates on their music projects, live tours and their extravagant (or relatable) lifestyles.
While many aspire to become an "influencer" on social media, it's now music that challenges it for the top spot.  Together, social media sites like Facebook and Twitter are collaborating with the music industry to create a unique social harmony that influences individuals globally.
Two out of three (63 percent) of users agree that they are discovering new artists and music on social media. Around 60 percent of social media users are now visiting streaming services to listen to music after they see an update, tweet or post, more than of course the "old school" way of listening to music through downloaded content. On Facebook, the most valued music activity is being able to share links to music from streaming services, including playlists.
The new data collected now shows that social media derives a substantial benefit from the music industry and how consumers interact with both parties. The music interacted with in itself is a vital ingredient to the social conversation by creating constant and fresh content, like new releases, tour announcements and more.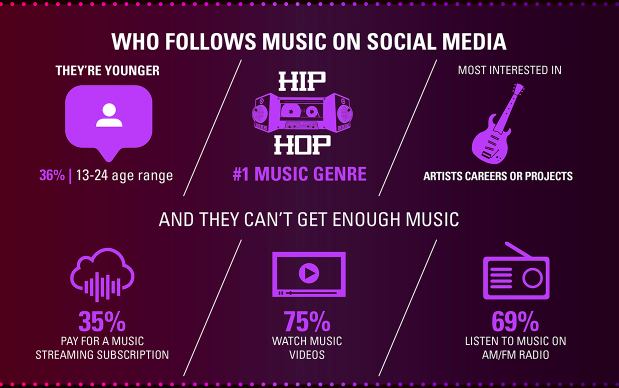 The listed benefits align to each of the social media platforms in a fresh and unique way, particularly with nearly half of Facebook's daily users (47 percent) liking a music artist or band on the platform. One of three Instagram users aged 13-34 listen to songs that are included in posts they see on their feeds, or posts in general recommended by their friends on social media, over half of Snapchat users are also using music to drive engagement by subscribing to artist feeds, using lyrics for captions or including in mentions or hashtags. Twitter is also a major part of the study, showcasing that it's users use music to unlock the potential of Periscope where you'll find one in five live stream live performances or videos from bands.